Undergraduate Departmental Representatives
The neuroscience undergraduate departmental representatives can help with communications between undergraduates and faculty members. They can also provide academic and career information to current and prospective neuroscience students.
Meet the 2020-21 Neuroscience UDRs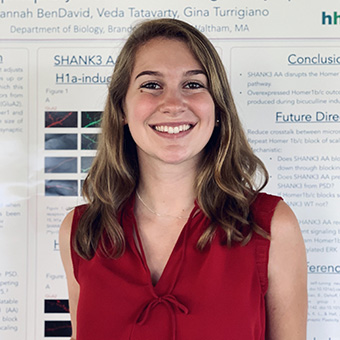 Hannah BenDavid
Neuroscience Undergraduate Dept. Representative (UDR)
Hannah BenDavid is a junior majoring in Neuroscience and minoring in French and Francophone studies. She works in the Turrigiano lab studying the effects of mutations in synaptic proteins on homeostatic plasticity mechanisms. She loves neuroscience for its ability to explain how we experience the world and ourselves. Outside of class and lab, she is on the board of the Brandeis Mountain Club and volunteers with Companions to Elders. When not staring into a microscope, you can find her at the local rock climbing gym or off somewhere going hiking, skiing, or fishing. She is planning to go to grad school to earn a PhD in Neuroscience. Feel free to reach out to her with any questions regarding course scheduling, career options, research opportunities, or Brandeis in general.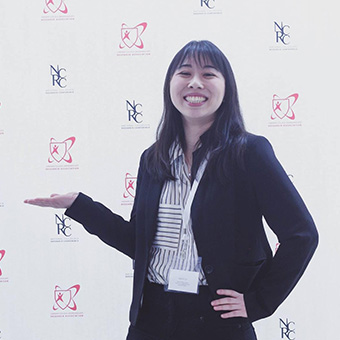 Janis Li
Neuroscience Undergraduate Dept. Representative (UDR)
Janis Li is serving as a Neuroscience UDR for a third year. She is a senior pursuing a B.S/M.S in Neuroscience, a B.S. in Biology and Biochemistry, with minors in Hispanic Studies and Chemistry. In her free time, she works with the local homeless shelter in Waltham and through Hunger and Homelessness in the Waltham Group. She also spends a majority of her time working on projects in the Marder Lab (located on campus) that deals with small motor circuits in crabs and lobsters. In her future, she is planning to apply to MD/Ph.D programs in Neuroscience or Neurobiology. Her other hobbies include drawing, painting, dancing, and learning new languages. Feel free to email her anytime with questions about labs, research, class scheduling, pre-med struggles, graduate school struggles, multi-majoring, or navigating life around campus as a Neuroscience student!