Undergraduate Departmental Representatives
The neuroscience undergraduate departmental representatives can help with communications between undergraduates and faculty members. They can also provide academic and career information to current and prospective neuroscience students.
Meet the 2023-24 Neuroscience UDRs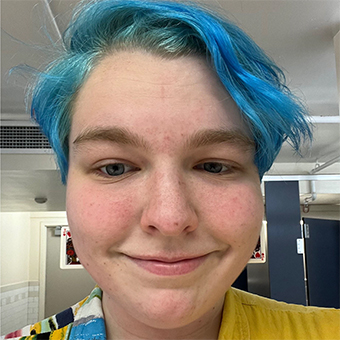 Caspian Keys
Neuroscience Undergraduate Dept. Representative (UDR)
Hello! I'm Caspian. I am a Junior majoring in Neuroscience and Biology. My main interests are in glial cells, neurodevelopment, and plasticity, as I am fascinated in how the brain comes together to make an efficient and functioning system. I work on homeostatic plasticity in the Nelson Lab on campus. We are currently investigating the possibility that the PAR bZip transcription factors, as well as CLOCK and NPAS2, play a role in responding to activity deprivation and/or activity increases. 
Outside of lab, I enjoy volunteering for Habitat for Humanity and going to Pottery Club on campus.
My future goals include receiving a PhD in Neuroscience and going into industry research.
Please reach out to me if you have anything you think I can help with! I would love to discuss how to get into labs, how to apply for summer research fellowships, neuroscience or other science classes, writing personal statements, or anything else that you think would help you!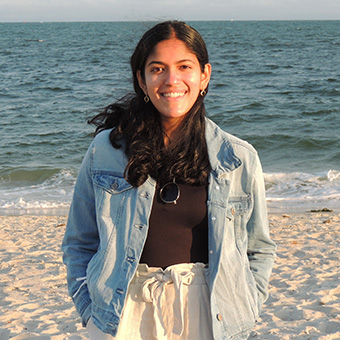 Roshni Ray
Neuroscience Undergraduate Dept. Representative (UDR)
I am a junior in the Quantitative Biology Research Community (QBReC) program majoring in neuroscience and minoring in computer science. I'm endlessly fascinated by how the orchestration of millions of neurons at the microscopic scale underpins our physiology, behavior and personal characteristics. To that end, I'm conducting developmental neurobiology research at the Paradis Lab where I'm studying how Sema4 ligands and PlexinB receptors initiate excitatory and inhibitory synapse formation in the mammalian brain.
My future goals include earning a PhD in neuroscience, conducting research, teaching and being involved in science entrepreneurship.
Outside of the lab, I'm on the editorial board of the student newspaper The Hoot and I work on developing equitable science education resources for high school students. I enjoy spending time outdoors, exploring local restaurants and stores, listening to music, watching movies and reading books! I'm happy to be a sounding board for you and help you navigate academic experiences at Brandeis! Chat with me about coursework, research, career opportunities in STEM and any other questions you may have!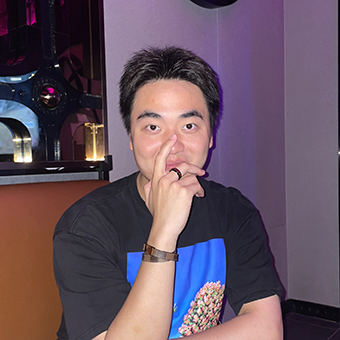 Qihao Xie
Neuroscience Undergraduate Dept. Representative (UDR)
I am a junior majoring in neuroscience and psychology. I am always intrigued by research questions associated with pain & neuroinflammation, cross-cultural differences & self-enhancement, and intimate partner violence & brain injuries/neuromarkers. I am also passionate about conducting research from neurological, computational, and psychological perspectives. I am currently a Research Assistant at the Aging, Culture, and Cognition Laboratory and Knight Laboratory at Brandeis, with a deep focus on studying acculturation, self-enhancement, and depression through behavioral, EEG, and ERP analysis as well as qualitative examination of sexual aggression. I also work as RA at the Depression Clinical and Research (DCRP) Program and Pain and Neuroinflammation Laboratory, where I study digital phenotyping and machine learning algorithms intending to develop guided imagery & mindfulness practices and investigate bio markers & behavioral markers to personalize precision medicine and the role of glial activation in knee osteoarthritis.
My future goals include pursuing a Ph.D. degree in neurobiology or associated fields. I'm also interested in working in both clinical and industrious settings! Please feel free to reach out if you have any questions and I am really happy to help connect/discuss topics in administration, course requirements, academia/labs, and career opportunities!