Undergraduate Departmental Representatives
The neuroscience undergraduate departmental representatives can help with communications between undergraduates and faculty members. They can also provide academic and career information to current and prospective neuroscience students.
Meet the 2022-23 Neuroscience UDRs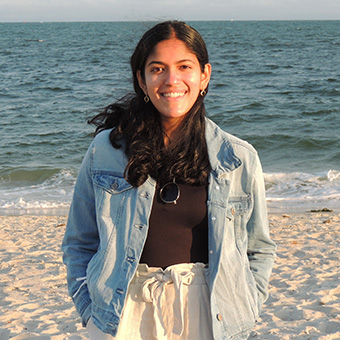 Roshni Ray
Neuroscience Undergraduate Dept. Representative (UDR)
I am a junior in the Quantitative Biology Research Community (QBReC) program majoring in Neuroscience and minoring in Computer Science. I'm endlessly fascinated by how the orchestration of millions of neurons at the microscopic scale underpins our physiology, behavior, and personal characteristics. To that end, I'm conducting developmental neurobiology research at the Paradis Lab where I'm studying how Sema4 ligands and PlexinB receptors initiate excitatory and inhibitory synapse formation in the mammalian brain. My future goals include earning a PhD in Neuroscience, conducting research, teaching, and being involved in science entrepreneurship. Outside of the lab, I'm on the editorial board of the student newspaper The Hoot and I work on developing equitable science education resources for high school students. I enjoy spending time outdoors, exploring local restaurants and stores, listening to music, watching movies, and reading books! I'm happy to be a sounding board for you and help you navigate academic experiences at Brandeis! Come chat with me about coursework, research, career opportunities in STEM, and any other questions you may have!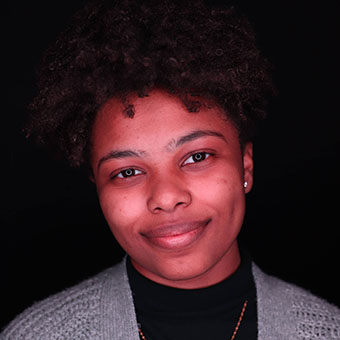 Nathalie Vieux-Gresham
Neuroscience Undergraduate Dept. Representative (UDR)
Nathalie Vieux-Gresham is a junior majoring in Neuroscience on the B.S/M.S track and hopes to pursue an M.D/Ph.D. in the future. Something she absolutely loves about neuroscience is how multifaceted and diverse neuroscience is pertaining to the way we can study and understand it, so she has incorporated computer science alongside biology-, psychology-, and chemistry-related coursework within the major.
She is a member of the Birren Lab investigating the effect that satellite glial cells have on cholinergic neuronal development and plasticity in the peripheral nervous system. Nathalie is also a Bridge to Wellness peer health educator, a Roosevelt Fellow, and a Community Advisor. Outside of her coursework and responsibilities, Nathalie enjoys cruising around on her longboard and skating with friends, biking, playing the guitar, playing volleyball or soccer, playing video games, and searching for new good music! Feel free to reach out to Nathalie about neuroscience coursework and schedule planning, the many ways to major in neuroscience, research opportunities on-campus, internship opportunities during the summer, career options, and any college "life hacks". She also enjoys neuroscience jokes or puns (or STEM in general), so if you have any, send them her way!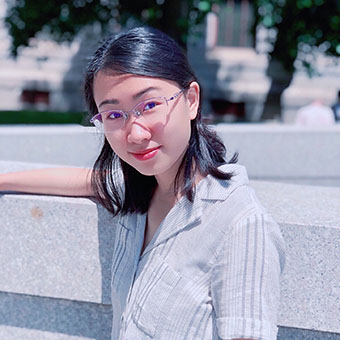 Joanna Xiong
Neuroscience Undergraduate Dept. Representative (UDR)
Joanna Xiong is a senior majoring in Neuroscience and minoring in HSSP. She aspires to become a physician-scientist, as she is fascinated by the way that learning and experience rewires neural circuits and redefines neurobiological properties. She is currently investigating molecular mechanisms of memory formation in amygdala-striatal circuits at the Nelson lab, and her work has been awarded a Blavatnik Summer Science Research Fellowship and a Division of Science Prize for Outstanding Research Accomplishment. Aside from academics, she is also former president of the Neuroscience Club, active BEMCo Tertiary, and Brandeis Tennis Club player. Having served in multiple Waltham Groups, she was inspired to establish Buddies for Emotional Support and Transitional Assistance (BESTA) during her Rich/Collins Fellowship. This passion to give back to the community also translates into her persistence in proposing initiatives that are geared towards improving accessibility of undergraduate research. She is well-versed in the ins and outs of major requirements and course selections, and she would be more than happy to help you figure out how you could get the most out of the neuro major AND the Brandeis experience. Feel free to reach out to Joanna for questions regarding coursework, 4-year plans, research opportunities, the pre-med track, or ANYTHING that you're curious about!