Undergraduate Departmental Representatives
The neuroscience undergraduate departmental representatives can help with communications between undergraduates and faculty members. They can also provide academic and career information to current and prospective neuroscience students.
Meet the 2021-22 Neuroscience UDRs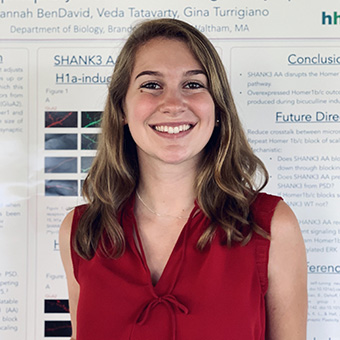 Hannah BenDavid
Neuroscience Undergraduate Dept. Representative (UDR)
Hannah BenDavid is a senior majoring in Neuroscience and minoring in French and Francophone studies. She works in the Turrigiano lab studying the effects of mutations in synaptic proteins on homeostatic plasticity mechanisms. She loves neuroscience for its ability to explain how we experience the world and ourselves. Outside of class and lab, she is on the board of the Brandeis Mountain Club and volunteers with Companions to Elders. When not staring into a microscope, you can find her at the local rock climbing gym or off somewhere going hiking, skiing, or fishing. She is planning to go to grad school to earn a PhD in Neuroscience. Feel free to reach out to her with any questions regarding course scheduling, career options, research opportunities, or Brandeis in general.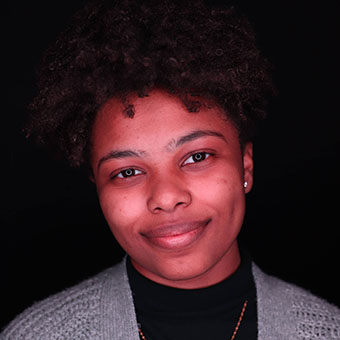 Nathalie Vieux-Gresham
Neuroscience Undergraduate Dept. Representative (UDR)
Nathalie Vieux-Gresham is a junior majoring in Neuroscience on the B.S/M.S track and hopes to pursue an M.D/Ph.D. in the future. Something she absolutely loves about neuroscience is how multifaceted and diverse neuroscience is pertaining to the way we can study and understand it, so she has incorporated computer science alongside biology-, psychology-, and chemistry-related coursework within the major.
She is a member of the Birren Lab investigating the effect that satellite glial cells have on cholinergic neuronal development and plasticity in the peripheral nervous system. Nathalie is also a Bridge to Wellness peer health educator, a Roosevelt Fellow, and a Community Advisor. Outside of her coursework and responsibilities, Nathalie enjoys cruising around on her longboard and skating with friends, biking, playing the guitar, playing volleyball or soccer, playing video games, and searching for new good music! Feel free to reach out to Nathalie about neuroscience coursework and schedule planning, the many ways to major in neuroscience, research opportunities on-campus, internship opportunities during the summer, career options, and any college "life hacks". She also enjoys neuroscience jokes or puns (or STEM in general), so if you have any, send them her way!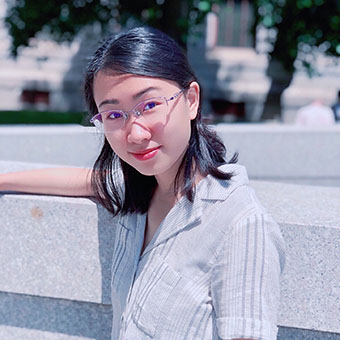 Joanna Xiong
Neuroscience Undergraduate Dept. Representative (UDR)
Joanna Xiong is a junior majoring in Neuroscience and minoring in HSSP, and she aspires to become a physician-scientist. As a member of the Nelson lab, her research focuses on long-term aversive memory formation impairments induced by inhibition of activity-dependent transcriptional pathways in the basolateral amygdala. Neuroscience fascinates her because it continuously challenges her understanding of the connection between mind and body. Aside from academics, she is the new president of the Neuroscience Club. You might also see her around supporting department and student events with sound and lighting, as she is a coordinator/technician at Student Production Services (SPS). Additionally, she has served in 5 Waltham Group organizations, and this experience greatly inspired her Rich/Collins Fellowship project Buddies for Emotional Support and Transitional Assistance (BESTA). In her spare time, she enjoys drawing, reading, exploring local restaurants, and playing card games. She has an eclectic taste in music, so she is always open to recommendations. Feel free to reach out to Joanna about course scheduling, research opportunities, 4-year planning, the pre-med track, or anything you're curious about!