Class of 1989
If it seems a little quiet on the Class of '89 front, it's because we are still basking in the glow of our 2014 Reunion. There were about 100 of us there. We raised more than $200,000 for Brandeis and had an amazing time. For pictures and updates, please join our Facebook group (which has more than 250 members). In summer 2014, a bunch of us D.C. folks had brunch at Avner Shapiro's home. Lovely to see David Bernstein, Dan Levin, Michelle Weisberg Cohen, Steve Schulman, Alexandra Ainsztein and David Weinstein. Alexandra recently visited my home for some wine and jewelry shopping. How wonderful to now be friends with someone I didn't really know in college. Michelle shared that she and new friend Lori Bring met in Manhattan for lunch recently. These connections were brought to you by the Class of '89 Reunion: Bringing Folks Together. In other news, I was cast in two plays — "God of Carnage" (September 2014 opening) and "Othello" (February 2015 opening). I'm busy, but never too busy for a visit, so bring your family to D.C.

David Zwicker says that after earning a master's degree in critical and creative thinking from the University of Massachusetts, Boston, he "worked for 'the man' in corporate America, and still works for 'the man' in corporate real estate (doing administrative work at Jones Lang LaSalle property management)." He was recently certified as a holistic nutrition educator, and is working toward becoming a nutritionist, health coach and trainer. He lives in Santa Rosa, Calif., with his wife, Annemarie, a Waldorf School teacher, and daughters Sophie, 9, and Emma, 6. Rick Licht is engaged to model/photographer Lanisha Cole (who made her first Brandeis visit in June 2014 to attend Reunion). Rick, the CEO of Hero Ventures, created the Marvel Experience, a traveling theme park in a 50,000-square-foot mobile dome complex.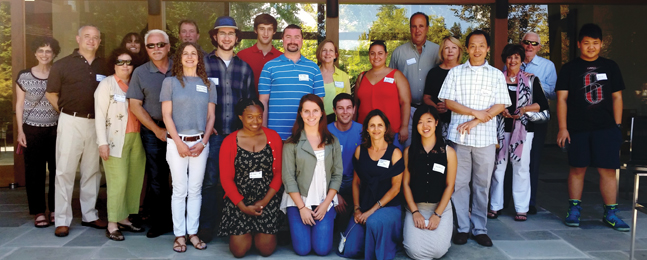 BY THE BAY: Incoming students from the San Francisco Bay Area — along with parents and alumni — gathered at the home of Len Rosenberg '89 and his wife, Arlene, for words of advice and encouragement from fellow Brandeisians.
Submit a Class Note