Class of 2013
Class Correspondent
Ellyn Getz, Robyn Spector and Amanda Winn
Robyn works in campaign management and media operations at Cablevision and is a freelance photographer for Live Nation. She recently started her studies in computer science and journalism at Columbia. In her free time, she checks out New York's arts events, goes on trips with other Brandeis alumni, and plays with her new puppy, Katie Mae, a rescue dog from Tennessee. Amanda is studying nutrition at Columbia. She recently started volunteering as a health educator at the New York-Presbyterian Hospital free clinic. She enjoys spending time with fellow alumni and searching for the best slice of New York pizza.

Jessie Stettin, IBS MA'14, works as a mortgage banker at Greystone & Co. He enjoys the New York dance party scene and is hoping to start playing squash again soon. Sarah Azarchi is a first-year student at New York University's School of Medicine — along with a few other Brandeisians. She is learning American Sign Language, practicing yoga and discovering new coffee shops around NYC. Keith Barry is the coach of the Middlebury College debate team. David Lasher is an associate sales engineer at Box, a startup in San Francisco. "Always, Rachel," a co-production of Jessie Field and her brother Jared Field '11, was selected for a reading at the New York Musical Theatre Festival. Jessie wrote the book and lyrics, and Jared wrote the music for the play, which tells the story of Rachel Carson, the author of "Silent Spring," the 1962 book that sparked the modern environmental movement. The play was first staged during the 2013 Senior Festival, hosted by the Brandeis theater arts department to showcase the work of graduating seniors. David Fisch works as a sales planner at CollegeHumor. In his free time, he enjoys cheering on the Syracuse Orange. Rozi Levi is pursuing a doctorate in psychology at Case Western Reserve University. She spent her first post-Brandeis year working; serving as an intern; and traveling in the United States, Israel, Turkey and Ethiopia. Her favorite place to live was her apartment near the shuk (bazaar) Mahane Yehuda in Jerusalem, close to many other Brandeis alumni. Halee Brown is pursuing an MSW from the Smith College School for Social Work. Halee continues to be active in Jewish and queer community spaces, and enjoys playing board games and going on adventures. Aziz Sohail moved to Lahore, Pakistan, to work as the studio director for Rashid Rana, Pakistan's most prominent contemporary artist. He also spent August 2014 in Vienna as an organizer for the Muslim Jewish Conference. Jonathan Steinberg started his first year of medical school at New York University. He recently earned an MA in bioethics and had an article published in the Rutgers Journal of Bioethics. After cycling across the northern U.S. to support affordable housing with the nonprofit Bike & Build, Harrison Goldspiel relocated to Florida to study amphibians and wetland ecology at Archbold Biological Station. Harrison explored the state, searched for shark teeth and learned how to wakeboard. When he completes his internship in fall 2014, he plans to return to the Northeast, home of his favorite climate and many Brandeis friends. Dillon Ang began a doctoral program in school psychology at Indiana University. After four years of living in Waltham, Yan Chu has moved to Boston, where she assists with clinical trials at Tufts Medical Center. She enjoys meeting new people and exploring various cuisines in the city. Gordy Stillman earned an MS in journalism from Northwestern University's Medill School of Journalism. He spent his final term working in Washington, D.C., as a sports and technology reporter at Medilldc.net. His stories ran on the SB Nation and MarketWatch websites. Iyvon Edebiri spent 11 months in Italy as a Fulbright scholar. She traveled to 14 countries in Europe and Africa, conducted ethnographic work with African immigrants living in Italy, and served as assistant director of the national premiere of "Ragtime" in Bologna's famed Teatro Comunale opera house. Denny Poliferno is in the second year of a pathologists' assistant graduate program at Quinnipiac. He is working at various hospitals in Connecticut and Massachusetts. Steven Wong lives the bicoastal life, flying between Boston and Los Angeles. He works as a lead in operations at the Disneyland Resort, while balancing a second job as an administrator and bookkeeper at a private dental office. Hanna Switlekowski is pursuing a master's degree in public administration from Northeastern. She works as a legislative aide to Louis Kafka, her hometown state representative, and is involved with the Sharon (Mass.) Democratic town committee. She hopes to run for local or state office someday. Jonathan Jecker lives and works in San Francisco.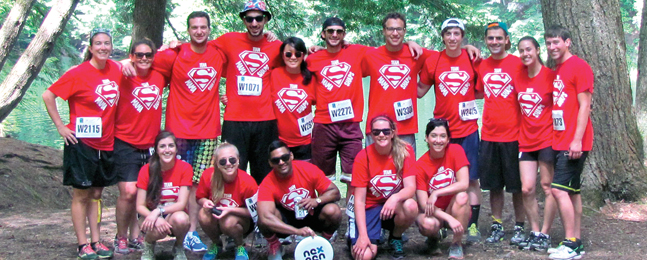 IN GEAR: For the fifth consecutive year, members of Team Mama Shaps made a midsummer trek to Hanover, N.H., for the Prouty cycling fundraiser, which benefits the Dartmouth-Hitchcock Norris Cotton Cancer Center. The group rides in memory of Rhonda "Mama Shaps" Shapiro, P'13, beloved mother of Alexandra Shapiro '13. Front row, from left: Karla Alvidrez '13, Kelsey Herrmann, Gaurab Reja '13, Courtney Ness '13 and Alexandra. Back row: Bri Barnes, Jillian Barney, Alex Margolis '13, Jeff Boxer '13, Bella Hu '13, Victor Zhivich '13, Elliot Lustig '13, Noah Aschen '13, Dan Rosner '13, Ell Getz '13 and Ryan Slade '13.
Submit a Class Note