Ulka Anjaria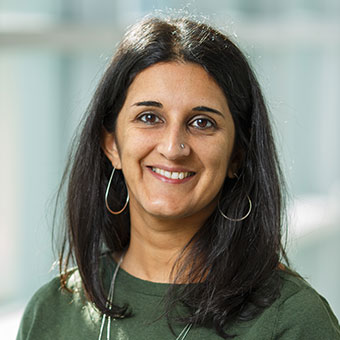 Professor of English
Director, Mandel Center for the Humanities
PhD, Stanford University
www.ulkaanjaria.com
Meet Professor Anjaria through OpenBook: An English Department Podcast.

Research Interests
South Asian literatures and film; postcolonial literature and theory; the global novel; interdisciplinary approaches; literary theory.
Books
Articles for a General Readership
Selected Scholarly Articles
Introduction to a special section of South Asia: Journal of South Asian Studies 43(2), "Mazaa: Rethinking Fun, Pleasure and Play in South Asia," guest edited by Ulka Anjaria and Jonathan Shapiro Anjaria.
"Queering the Indian Novel." Wasafiri 34.2(2019): 26-32.
"Global Pakistan in the Wake of 9/11." The Routledge Companion to Pakistani Anglophone Writing. Eds. Aroosa Kanwal and Saiyma Aslam. London: Routledge, 2018. 49-57.
"Amitabh Bachchan in Deewaar." Close Up: Great Cinematic Performances, Vol. 2 (International). Eds. Murray Pomerance and Kyle Stevens. Edinburgh: Edinburgh University Press, 2018.
"21st-Century Realism." Oxford Research Encyclopedia of Literature. July 2017.
"Madhur Bhandarkar and the New Bollywood Social." Behind the Scenes: Contemporary Bollywood Directions and Their Cinema. Eds. Aysha Iqbal Viswamohan and Vimal Mohan John. New Delhi: Sage, 2017. 272-287.
"The Realist Impulse and the Future of Postcoloniality." NOVEL: A Forum in Fiction, 49.2(2016): 278-294.
"Introduction: Literary Pasts, Presents, and Futures." A History of the Indian Novel in English. Ed. Ulka Anjaria. Cambridge University Press, 2015. 1-30.
"Chetan Bhagat and the New Provincialism." American Book Review, September-October (2015): 6-22.
"Realist Hieroglyphics: Aravind Adiga and the New Social Novel." Modern Fiction Studies, 61.1(Spring 2015): 112-135.
"The Fractured Spaces of Entrepreneurialism in Post-Liberalization India" (co-authored with Jonathan Shapiro Anjaria). Enterprise Culture in Neoliberal India: Studies of Youth, Class, Work and Media. Ed. Nandini Gooptu. London: Routledge, 2013. 190-205.
"Slumdog Millionaire and Epistemologies of the City" (co-authored with Jonathan Shapiro Anjaria). The Slumdog Phenomenon: A Critical Anthology. Ed. Ajay Gehlawat. London: Anthem, 2013. 53-68.
"'Relationships Which Have No Name:' Family and Sexuality in 1970s Popular Film." Journal of South Asian Popular Culture 12.1(2012): 23-35.
"'Why Don't You Speak?': The Narrative Politics of Silence in Three South Asian Novels." Colonialism, Modernity and Literature: A View From India. Ed. Satya P. Mohanty. New York: Palgrave-Macmillan, 2011. 153-170.
"Staging Realism and the Ambivalence of Nationalism in the Colonial Novel." NOVEL: A Forum for Fiction. 44.2(2011): 186-207.''
"Text, Genre, Society: Hindi Youth Films and Postcolonial Desire" (co-authored with Jonathan Shapiro Anjaria). Journal of South Asian Popular Culture, 6.2 (2008): 125-140.
"On Beauty and Being Postcolonial: Aesthetics and form in Zadie Smith." Zadie Smith: Critical Essays. Ed., Tracey Lorraine Walters. New York: Peter Lang, 2008.
"Satire, Literary Realism, and the Indian State: Six Acres and a Third and Raag Darbari." Economic and Political Weekly, 41.46(2006): 4795-4800.
Recent Book Reviews
"Dystopian Realities." Review of " Nacohus" by Purushottam Agrawal. The Book Review

, May 14, 2019

"Indian Queer Futures." Review of "Murder in Mahim" by Jerry Pinto and Mohanaswamy by Vasundhendra. Public Books, Feb. 2, 2018.
"Great Aspirations." Review of "One Indian Girl" by Chetan Bhagat. Public Books, July 31, 2017.
Review of "Planetary Modernisms: Provocations on Modernity Across Time" by Susan Stanford Friedman. Journal of the Society for Contemporary Thought and the Islamicate World. Oct. 11, 2016.
"India's First Bollywood Film." Review of "Amar Akbar Anthony: Bollywood, Brotherhood, and the Nation" by William Elison, Christian Lee Novestzke, and Andy Rotman. Biblio: A Review of Books. 21.4 (April 2016).
"Pakistan's Place in World Literature." Review of Mushtaq Ahmed Yousufi's "Mirages of the Mind." Public Books, March 15, 2016.
Awards
Mellon Foundation grant on behalf of Brandeis Univesrity for "Re-envisioning the Role of the Humanities Center in the 21st-Century University," 2022
Provost's Teaching Innovation Grant for "Pedagogies of Anti-Blackness in Literary Studies"
Dean of Arts and Sciences Mentoring Award, 2021
Mandel Faculty Grant in the Humanities, 2018
ACLS/Charles A. Ryskamp Research Fellowship, 2014
Visiting Fellowship, Delhi University, 2014
Selected Courses Taught
Indian Love Stories (ENG 152a)
Bollywood (ENG 20a)
21st-Century Global Fiction: A Basic Course (ENG 32a)
Decolonizing Fictions (ENG 167a)
Selected Podcast Appearances
New Books Network for The Academic Life podcast series, "The Connected PhD."
Recall This Book episode 80: "We are Not Digested: Rajiv Mohabir"
OpenBook: An English Department Podcast