Elizabeth Bradfield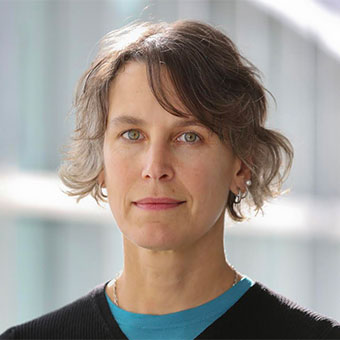 Co-Director of Creative Writing
Associate Professor in the Practice of English
Meet Professor Bradfield through OpenBook: An English Department Podcast.
Pronouns: she / her / hers
Selected Publications
Cascadia Field Guide: Art Ecology Poetry
"Theorem," Poetry, Northwest Editions, 2020
"Toward Antarctica: An Exploration," Boreal Books/Red Hen Press, 2019.
"Once Removed," Persea Books, 2015.
"Approaching Ice," Persea Books, 2010.
"Interpretive Work," Arktoi Books/Red Hen Press, 2008.
Poems in The New Yorker, Poetry magazine, Ploughshares, The Atlantic, Orion magazine and elsewhere.
Essays in "Up Here: The North at the Center of the World" (U. Washington Press, 2016), "The Poem's Country: Place and Poetic Practice" (Pleiades Press, 2018), "Permanent Vacation, Vol. 2" (Bona Fide Books, 2018).
Selected Awards
Finalist, James Laughlin Award from the Academy of American Poets, 2010.
Audre Lorde Award, 2009.
Finalist, Lambda Literary Award, 2008.
Wallace Stegner Fellowship, 2007-09.
Selected Anthologies
"When Birds Are Near: Dispatches from Contemporary Writers," Cornell University Press, 2020.
"The Echoing Green: Poems of Fields, Grasses, and Meadows," Knopf/Everyman, 2016.
"Environmental and Nature Writing: A Writer's Guide and Anthology," Bloomsbury, 2016.
"Poem-a-Day: 365 Poems for Every Occasion," Academy of American Poets, 2015.
"This Assignment Is So Gay: LGBTIQ Poets on the Art of Teaching," Sibling Rivalry Press, 2013.
"The Ecopoetry Anthology," Trinity University Press, 2013.
"Collective Brightness: LGBTIQ Poets on Faith, Religion & Spirituality," Sibling Rivalry Press, 2011.
"Cold Flashes: Literary Snapshots of Alaska," University of Alaska Press, 2010.
"New Poets of the American West," Many Voices Press, 2010.
"Best New Poets 2006," Meridian Press, 2006.
Current Projects
"Theorem," which began as a book-form collaboration, is now a performance-based installation in development with Composer Eliza Brown, Violinist Clara Lyon, Animator Joseph Merideth, and Director Andrew Boyce.
Founder and editor-in-chief of Broadsided Press, a grassroots-distributed project featuring collaborations between writers and visual artists.
Contributing editor to Alaska Quarterly Review.
The Haul Out: A blog started in 2013 that discusses seals (mostly) on Cape Cod (and elsewhere). Topical, a bit political, the posts come from my experiences as a naturalist and resident of the Cape.
Naturalist and guide on expedition ships; whale watch naturalist on Cape Cod.
Website: www.ebradfield.com
Selected Courses Taught
Poetry Workshop (ENG 109a, ENG 119b).
Publishing Workshop (ENG 139a).
Selected Podcast Appearance
Recall This Book episode 75: "Sean Hill talks about bodies in space and time with Elizabeth Bradfield"