Brandon Callender
Assistant Professor of English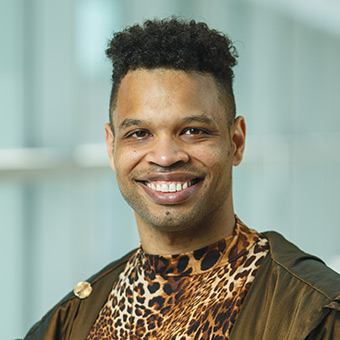 PhD, University of California, Berkeley
Meet Professor Callender through OpenBook: An English Department Podcast — Part 1 and Part 2.
Pronouns: he / him / his
Research Interests
Brandon Callender specializes in black queer and black horror studies. He is completing a manuscript on black queer men's intimacies and belongings entitled Getting Behind in Black Gay Men's Literatures.
Selected Publications
"The Devil Finds Use: Black Queers Do The Exorcist." Qui Parle 31. 1 (2022): 67–98.
"Getting it, Together," The Bigness of Things: New Narrative and Visual Culture, ed. Daniel Benjamin and Eric Sneathen (Wolfman Books, 2017) 47-59
"The House that Beam Built," Black Gay Genius: Answering Joseph Beam's Call, ed. Steven Fullwood and Charles Stevens. (Vintage Entity Press, 2014) 128-138.
Selected Courses Taught
ENG 15b Black Joy
ENG 42a Blackness and Horror
ENG 102a Ghosts of Race
ENG 167b Writing the Nation: James Baldwin, Richard Wright, Toni Morrison
Radio Appearance