Jennifer Factor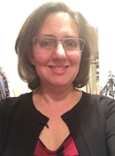 PhD - Fourth Year
MA, Brandeis University
BA, Harvard College
MFA, Bennington College
jfactor@brandeis.edu
Research Interests
Literary artifacts and media, gender and language, sex and sexuality, contemporary poetry, 17th and 18th centuries.
Teaching
ENG 14a, Media Stories: Circulating Love, Hate, Revolution (Fall 2021) 

Conferences & Presentations
One Mighty Sepulchre: Scales of Death in Literature, Environment, and Culture Principle Member of a Small Organizing Committee, English and Interdisciplinary Humanities Graduate Conference March 2020, delayed, forthcoming. 
"Not a Love Letter: modeling creative collaboration in Virginia Woolf and Vita Sackville-West's Orlando," Second Year Symposium, Brandeis, 2019. 
"Phillis Wheatley and Peripheral Liberty," CUNY Graduate Conference on Peripheral Matters, City University New York, 2017. 
"The Sentence and the Line: A Journey Meaning Makes," Association of Writers and Writing Programs Conference, AWP, Seattle, March 2015
"Great Difficult Poets," Association of Writers and Writing Programs Conference, AWP, New York, January 2008
Publications
"Introduction,"Touching Creatures, Touching Spirit: Living in a Sentient World,by Judy Grahn, Red Hen Press,forthcoming in 2021.
"Alicia Ostriker, World-Builder:The Imaginary Lover, Green Age,and other points of fusion with William Blake,"Every Woman Her Own Theology: On the Poetry of Alicia Ostriker,Martha Nell Smith and Julie Enszer (eds), University of Michigan Press, 2018. 
"Inhabiting: Learning Spaciousness and Architecture from the Poetry of Jane Cooper,"Essays on Jane Cooper,Martha Collins and Celia Bland (eds), University of Michigan Press, 2019. 
"That Gift. This Burning." (a tribute to Adrienne Rich)Sinister Wisdom, Julie Enszer (ed), 2012.Selected as the one essay from the festschrift to be translated into Italian 
Working Groups
Lyric Studies Reading Group.Brandeis University, 2018-2020. 
German Romanticism.Brandeis University, 2017-2018. 
Forgotten Women Poets of the 1940's,West Chester University, by invitation only, 2004. 
Awards
Shirle Dorothy Robbins Writing Fellowship
Lambda Literary Award in Poetry, Finalist
Summa Cum Laude
Phi Beta Kappa
Creative Publications
Want, the Lake, Red Hen Press, 2021, forthcoming 
Unraveling at the Name. Copper Canyon Press, 2002
Poems have appeared in the Prairie Schooner, Poetry 180, Paris Review, Ploughshares, Shenandoah, and more.
Courses Taught And Assisted
English 85: Poetry Writing, Lecturer in Poetry at Caltech, 2018-present
Humanities 75: Intro to Reading and Writing Poetry, 
Lecturer in Poetry, Caltech, Spring 2017
CRW 530: Graduate Advising, Poetry Manuscripts, Core Faculty in Poetry, Antioch University Los Angeles, 2006-2017
CRW 560: Lecture and Workshop in the Art of Poetry, Core Faculty in Poetry, Antioch University Los Angeles, 2006-2018
Eng 61B: Philosophical Approaches to Film Theory (TA), Fall 2019, William Flesch
Eng 27B: Classic Hollywood Cinema (TA), Fall 2019, Paul Morrisson
Favorite Work
James Baldwin, "Tell Me How Long the Train's Been Gone"
Marilyn Hacker, "Love, Death, and the Changing of the Seasons"
Adrienne Rich, "Some Notes on Lying"
Phillis Wheatley, Collected Works