Elizabeth Cayouette '19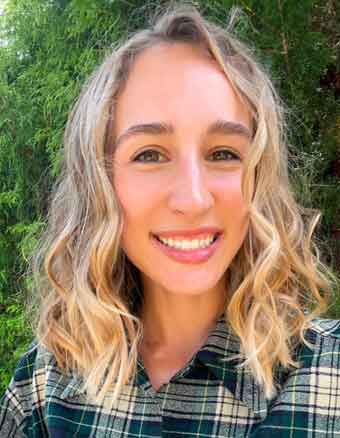 I often joke to my friends that I'm 25 and on my third career. Immediately after graduating from Brandeis I started working at Aerie by American Eagle. I put my film degree to good use, shooting and directing all of their video content. While there I went viral for acting out the plot of books as the main character on TikTok, which launched a social media career and a following of almost half a million. And now, I announced my first ever book deal, a major deal for my debut romance novel.

And the wild thing is, my time at Brandeis prepared me for, and led me to, all of these very different and rewarding paths. In my three years at Brandeis I took a wide variety of video production courses, learned from my phenomenal film mentor Mark Dellelo (to whom I must give credit for basically every video I will ever make!), studied everything from marketing to love, and took my first ever creative writing class.

And that one creative writing class with Stephen McCauley was the reason that a few years later I actually believed I could write a novel, despite not having written since, and having found myself in a job in which I didn't write anything longer than editorial notes on a video. And one of the first people to read the first draft of each new novel I write is a friend I met in that class!

This past year, I sold my first novel. It's a romance between childhood best friends who haven't talked in a decade. Now, he's a photographer and she's a supermodel, and they have one week on a photoshoot in Italy to reconnect. It's titled ONE LAST SHOT and will be sold worldwide in various languages.

I think the most valuable thing about my time at Brandeis is that it taught me resilience and confidence. I believed I could do everything from shoot a lingerie ad for Hulu to write a novel that people will buy in bookstores everywhere, regardless of my experience level or prior training. Brandeis teaches you that, actually, yes, you can and should do whatever you want to. That you should be creative in your dreams. And that with hard work you are capable of whatever you want.