Matan Gold '12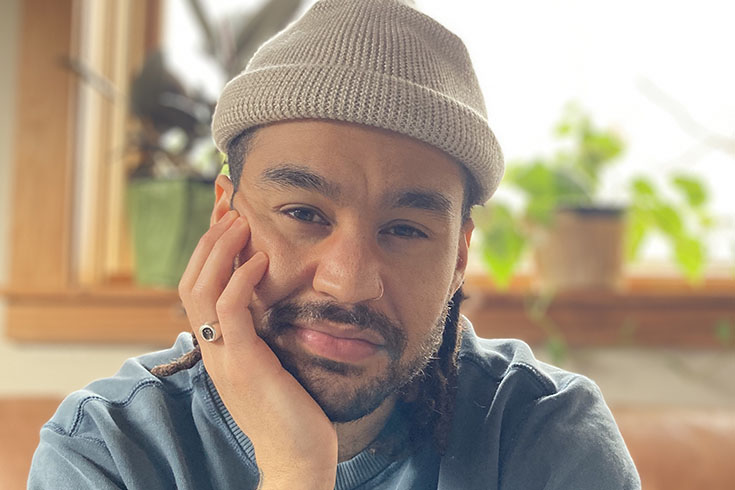 Can you describe your career path and how it has led to your current work?
It would be generous to call the last decade a 'career path'. I have stumbled my way, plodded along, as if in the dark, and amassed small, medium, and at times, spectacular failures.

Right before my current position, I was mopping floors and making grilled cheese sandwiches at a bar in NE Portland. Before that I was working two jobs: at a grocery store and for a catering company.
Now I work for local government in Portland, Oregon where I do community engagement for the Parks and Nature department. Elevator pitch of what I do: I try and leverage my power within a historically white institution for the liberation and restoration of power for communities most harmed by white supremacy and (neo)colonialism—as well as, facilitating access to natural spaces for those communities.
And then a great portion of the time afforded outside of my 9-5 is spent writing, which of course is a labor of love and delusion. I have been taking writing seriously since my junior year when I had the privilege of writing under Colin Channer.
I could not tell you what my expectations have been of a 'writing life'. I know that it has been spent attempting beauty and forgive me, truth. Mainly I have racked up piles of rejections but by some grace a story here, an essay there, have turned out—okay—even being read by strangers, which I think was all I wanted in the first place. My essay 'We Real Cool' was placed on 2020 Best American Essays 'Notable List' and my essay 'Wade in the Water' was a finalist for Black Warrior Review's 2020 Nonfiction Prize. If you have the time and feel gracious, you can read those (among other things) at www.matangold.com

What skills that you learned from your time at Brandeis have you found most valuable in your current work?
My first semester at Brandeis (I was a transfer student) I took David Sherman's class 'Literary Witnessing and the Poetics of Memory', which I maintain is the best course I have taken at any institution. It is easy to see how that course contributed to my writing—David Sherman made me a better writer—but I also bring a sense of justice from that course into my community engagement work. In that class we read Zahkor by Yosef Yerushalmi. In it he writes, "Is it possible that the antonym of "forgetting" is not "remembering," but justice?" I remember being floored by the line; nearly throwing the book across the room.
To live under late capitalism and neoliberalism is to live within a culture of atemporality and ahistoricity. White supremacy feeds on this 'forgetting'. The radical act of witnessing, of attempting to understand the technologies, systems, and mechanisms of oppression that have led to fascistic, racialized inequity, is something that I bring into my daily work.
What advice do you have for current students as they embark on their career exploration or job search?
Abstract advice:
Remain open and curious (I could never have imagined enjoying the current position I have—or even being well-suited for it. Expand the idea of what work could bring you meaning and joy.)
Take risks; don't concede (In the last decade I have moved—with zero dollars in my pocket—no less than 11 times. I have lived in three different continents and failed in all three. I have held probably at least 8 jobs, if not more—many that I hated. But the stumbling paid off).
Be kind to yourself (Trying to get hired is an awful process that takes too long. Be graceful and patient with yourself.)

Concrete advice:
Do internships (I have my current job because I started as a summer temp. I cannot stress this enough—build your resume through internships.)
Do not write boring cover letters (Now that I am full time, I have been a part of a number of hiring processes. For any given position, there are at least 100+ applications that have made it through HR and now are at my desk to read. Do not make me read boring stuff.)
Do take risks (Be bold. Stand out. Put your values in application.)

Good luck. You will be fine—even if it does not feel like it.