Dan Truong '15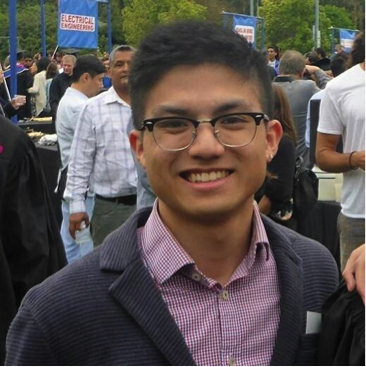 I grew up in Boston, Massachusetts — specifically, in a little town near the southernmost edge of the city called Hyde Park.
When I was a senior in high school, Brandeis seemed like the right choice for me. It was close enough to my home so that I wouldn't be too far from my family and all that was familiar to me, but far enough to feel like I would be on my own. In addition to this, I had heard stellar reviews from two of my uncles who had attended the university back in the '80s. The way they talked about Brandeis made it seem almost mythical. One of my uncles worked as a DJ for WBRS, and enthusiastically asked me after I got in if the radio station was still around (it is, and is still bumping an eclectic and fresh selection of songs). The same goes for my other uncle, who asked me if The Castle, where he lived sophomore year, was still around (I had some bad news for him). The lesson I learned from my uncles was the same: the memories they made at this college continue to last them a lifetime.
In high school, I loved studying English because of literature's ability to make people feel less alone. To me, studying a book is studying how another person's mind works. When you really dissect an author's labor and see what they are trying to convey, you start to see how similar people are. Reading a good book has the ability to make you realize that an emotion you think you've felt in isolation is actually shared by at least one other person. I think of Holden's great quote in The Catcher in the Rye, "What really knocks me out is a book that, when you're all done reading it, you wish the author that wrote it was a terrific friend of yours and you could call him up on the phone whenever you felt like it."
There is also a special comfort in the analytic qualities of studying literature. I consider the field more scientific than people give it credit for. There is a certain methodical approach about breaking down a work of art into its discrete parts and then seeing how it relates to the whole — similar to analyzing how individual chemicals interact in a solution.
I can admit now that I had a struggle when I first entered Brandeis. Because I chose to study English early in my college career, and was quite adamant about it, I learned very quickly that college-level English was unlike anything I had ever faced before in high school. I realized that Brandeis' English courses required me to think three-dimensionally, and this was a tough thing to come to terms with. But what does three-dimensional thinking actually mean? High school English is about following directions — what did this character do, what was she wearing, what does this symbol represent, etc. — while college English is about the complete opposite: thinking originally. These courses now required me to think about the why — why did this character do this, why was she wearing this, why did the author choose this symbol, and so on. Brandeis quickly showed me that having a single original thought is more difficult than following a 100-step set of instructions — and that it is much more valuable.
The first class that truly taught me the academic way of thinking was Studies in Popular Culture with Professor Paul Morrison. In this class, we studied things such as Disney films, Lady Gaga songs, and Cosmo advertisements, through the lens of philosophy. This was a class that was all about pushing past the framework that society has imposed. Because pop culture is so pervasive, the very nature of the course was about questioning literally everything. This class taught us how to analyze and scrutinize the tricks that popular culture uses in order to maintain its status as a dominant mode of discourse, and awareness of these tricks allows you to unsubscribe from it. For example, my final essay for that course argued that Disney's The Lion King integrates concepts from philosopher Louis Althusser's Ideology and Ideological State Apparatuses by deceiving its viewers with illusions of free will to allow them to believe they can be both master and slave. This deception ultimately perpetuates the status quo through the complicity of the audience. I've never looked at that movie about talking lions the same way ever since.
It's hard to overstate the effect that the English department's courses had on my way of thinking. I think of Dorothy in The Wizard of Oz, who sees the world in color after seeing it in black and white. That's why in my latter years, I became an English tutor for Brandeis' Gateway Scholars Program. As a tutor, I met with Brandeis' international students from China every week to help them improve their essay writing and English skills. This was an especially rewarding experience for me during my time at Brandeis. It was my chance to give back to this university that had given me so much. To continue the Wizard of Oz metaphor, I felt like I was helping these students reach the end of rainbow, where I was. But it also happened that my tutees taught me just as much as I taught them. They taught me how to become a better writer and how to better articulate my thoughts. By the end of our sessions, I hoped that my enthusiasm and love for the study of English shined through.
I currently work for an elected official at the Massachusetts State House as the assistant director of communications, putting my English degree to good use. In my current position, I am tasked with drafting press releases, media advisories, overseeing the social media, and occasionally talking to reporters. Ideas of narrative and word choice that I studied at Brandeis benefit me greatly in my job. In this capacity, every single word spoken to the press has to be perfectly curated and considered. Every word has the power to shape the narrative in people's minds, affecting the way they view a subject or consider a matter — similar to how a poet chooses the perfect word to evoke an emotion.
Currently, I am a member of Boston Chinatown's Asian American Resource Workshop and am currently working on publishing our second collection of short stories and personal essays titled Under A Boston Sky, which is due out this spring. This collection hopes to shed a light on what it means to be an Asian in America. It includes essays from a Korean adoptee, a lifelong Boston Chinatown resident, and an Asian spoken word group. It's been one of my lifelong goals to add more Asian American voices to literature, whether it's my own voice or others'. I fully believe that when more voices are added in, more diverse and interesting stories can be told. I hope that this collection breaks the mould and provides a fresh new perspective on America. In many ways, this collection seems like a logical extension of the work I did at Brandeis. While there, I co-founded and served as the first editor-in-chief of Jaded, a literary and arts publication that featured work from the student body regarding questions of what it means to be an immigrant in America. I hope you pick up Under A Boston Sky when it comes out!