Art History Courses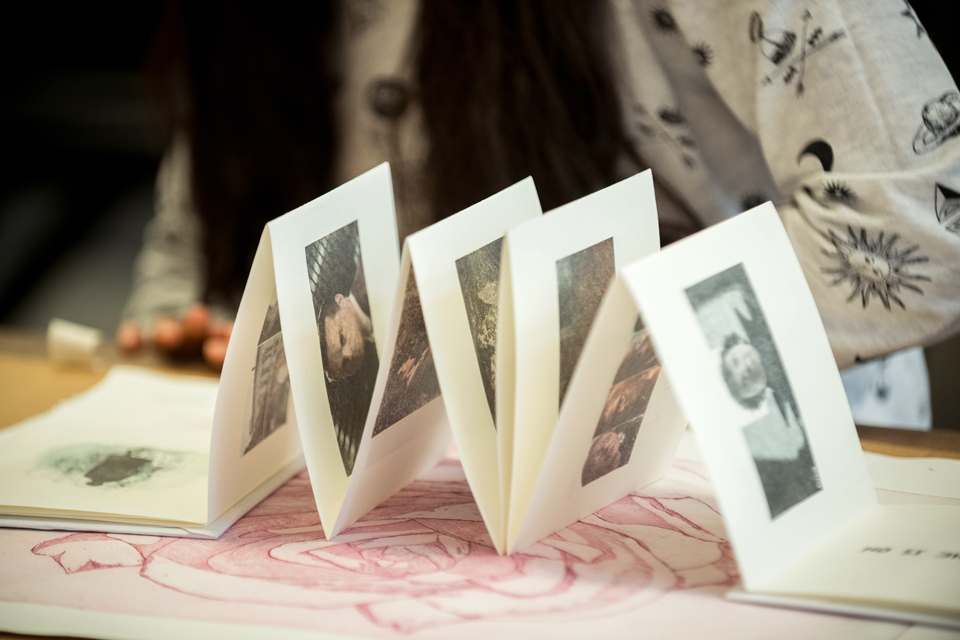 FA 30a History of Art I: From Antiquity to the Middle Ages
[ ca ]
Open to all students; first-year students and sophomores are encouraged to enroll. 
A survey of the artistic and architectural traditions of the peoples of Europe, North Africa and the Middle East from prehistory to the end of the Middle Ages with an emphasis on their cultural context, meaning and stylistic characteristics.
Charles McClendon
FA 30b History of Art II: From the Renaissance to the Modern Age
[ ca ]
Open to all students; first-year students and sophomores are encouraged to enroll. 
A study of the major styles in architecture, painting, and sculpture of the West from the Renaissance to the early twentieth century. 
Peter Kalb or Jonathan Unglaub
FA 33b Islamic Art and Architecture
[ ca nw ]
Through case studies of cities, sites, and monuments, the course presents an overview of the art and the architecture of the Islamic world beginning from the seventh century up to the present. Some of the themes include, but are not limited to, Islamic material culture, orientalist imaginations, systems of governance and the colonial present, search for the local identity, urban modernity and nationalism, and globalization. Usually offered every third year.
Muna Guvenc
FA 34a History of Asian Art
[ ca nw ]
A selective survey of the art of the three major Asian areas: India, China, and Japan. Usually offered every second year.
Aida Wong
FA 42b The Age of Cathedrals
[ ca ]
Architecture, sculpture, and painting (including stained glass) in Western Europe from the twelfth to the fifteenth century, with particular attention to the great churches of medieval France. Usually offered every second year.
Charles McClendon
FA 45a Early Renaissance Art in Tuscany from the Age of Dante to the Medici
[ ca ]
Examines the development of late Medieval and Renaissance Art and Architecture between 1200 and 1500, with an emphasis on the centers of Siena and Florence, and artists who worked in these cities. Offered as part of Brandeis in Siena Study Abroad program.
Jonathan Unglaub
FA 45b Art of the Early Renaissance in Italy
[ ca ]
May not be taken for credit by students who took FA45a in prior years.
Examines major painters, sculptors, and architects in Florence, Rome, and Venice from Giotto to Bellini (1290-1500). Important themes include the revival of Antiquity, the visual arts and the culture of Humanism, the rise of the Medici, art and the ideal of the Republic, the development of art theory and criticism, Naturalism and the sacred image, and the relation of artists and patrons during times of crisis (Black Death, Pazzi Conspiracy, and Savonarola). Usually offered every second year.
Jonathan Unglaub
FA 46b High and Late Renaissance in Italy
[ ca ]
May not be taken for credit by students who took FA 58b in prior years.
Examines the major works of art produced in Italy in the sixteenth century. It focuses on the principal centers of Florence, Rome, and Venice. The foremost artists of the age, Leonardo da Vinci, Michelangelo, Raphael, and Titian, receive in-depth coverage. The course also considers the social institutions, ecclesiastical, courtly and civic, that furnished the patronage opportunities and promoted the ideas that occasioned, even demanded, new artistic forms of grace and harmony, energy and torsion. Usually offered every year.
Jonathan Unglaub
FA 47b Renaissance Art in Northern Europe
[ ca ]
May not be taken for credit by students who took FA 54b in prior years.
A survey of the art of the Netherlands, Germany, and France in the fifteenth and sixteenth centuries. Cultural developments such as the invention of printing, the Protestant Reformation, and the practices of alchemy and witchcraft will be considered through the work of major artists. Usually offered every fourth year.
Jonathan Unglaub
FA 48a Baroque Art and Architecture in Italy
[ ca ]
Examines the artistic spectacle of Papal Rome, focusing on the works and legacy of Caravaggio and Bernini as the prevailing artistic forces, with major contributions by the Carracci, Poussin, Borromini, and Cortona. Apart from Rome and the patronage strategies of successive Popes, we will consider artistic and architectural production in such diverse centers as Venice, Naples, Bologna, and Turin. Usually offered every third year.
Jonathan Unglaub
FA 56a American Art
[ ca ]
May not be taken for credit by students who took FA 123a in prior years.
A survey of American painting from the colonial period to the early twentieth-century. Usually offered every third year.
Peter Kalb
FA 57a Paris/New York: Revolutions of Modernism
[ ca ]
May not be taken for credit by students who took FA 70a in prior years.
A chronological survey of painting and sculpture from the French Revolution to the emergence of Pop Art and Minimalism. Principal periods: Manet and the Impressionists, Picasso and Cubism, Matisse, expressionism, Dada and Surrealism, abstract expressionism and Pop avant-garde in America. Usually offered every second year.
Nancy Scott
FA 58a Politics on a Pedestal: Statues, Sculpture, Monuments
[ ca ]
Recent controversies and demonstrations at the sites of Confederate monuments highlight the power that politics has often exercised creating statues or memorials when shaping the public sphere. This course charts the many functions of sculpture, from recent controversies, to great masters such as Rodin, and on to street art, graffiti on the last remnants of the Berlin Wall. We analyze the history and symbolic role of monuments, memorials and installations in contemporary times. Usually offered every third year.
Nancy Scott 
FA 59a Modern Art and Modern Culture
[ ca ] 
May not be taken for credit by students who took FA 71a in prior years.
A thematic study of modernism in twentieth-century painting and sculpture, emphasizing three trends: primitivism, spiritualism, and the redefinition of reality. Individual artists and art movements will be examined in the context of literature, politics, and aesthetic theory. Artists include Picasso, Matisse, Kandinsky, and Duchamp. Usually offered every second year.
Peter Kalb
FA 61a History of Photography
[ ca ]
The history of photography from its invention in 1839 to the present, with an emphasis on developments in America. Photography is studied as a documentary and an artistic medium. Topics include Alfred Stieglitz and the photo-secession, Depression-era documentary, Robert Frank and street photography, and postmodern photography. Usually offered every second year.
Peter Kalb
FA 62a Art since 1945
[ ca ]
May not be taken for credit by students who took FA 74a in prior years.
Survey of developments in painting and sculpture since World War II. Consideration of major trends of the period, including abstract expressionism, pop art, minimalism, color field painting, and realism. Usually offered every second year.
Peter Kalb
FA 68a Israeli Art and Visual Culture: Forging Identities Between East and West 
[ ca ] 
An examination of the visual arts created in Israel since the beginning of the twentieth century. Combines a chronological overview of major trends with an in-depth examination of select case studies of individual artists and specific themes. Ususally offered every third year.
Gannit Ankori
FA 69b Inventing Tradition: Women as Artists, Women as Art
[ ca ]
Provides an art-historical overview and a feminist critique of gender and representation followed by select case studies of the art and life of women artists. Examples include non-Western art. Usually offered every second year.
Gannit Ankori
FA 70b The Art of China
[ ca nw ]
A survey of Chinese art from antiquity to the Ch'ing dynasty. Usually offered every second year.
Aida Wong
FA 71b The Art of Japan
[ ca nw ]
A survey of Japanese art from antiquity to the modern period. Usually offered every second year.
Aida Wong
FA 72b Introduction to Korean Art
[ ca nw ]
Surveys Korean arts and material culture, from the Neolithic to the mid-20th century. Covers archaeology, religious and secular arta/artifacts of the Three Kingdoms, United Silla, and Koryo periods. Covers Choson dynasty and Colonial period. Usually offered every second year.
Staff
AAAS/FA 74b Introduction to African Art
[ ca nw ss ]
Surveys the visual artistic traditions of Africa. Investigates the different forms of visual art in relation to their historical and socio-cultural context. Symbolism and complexity of Africa's visual art traditions are explored through analysis of myth, ritual, cosmology, and history. Usually offered every second year.
Salah Hassan
FA 76a Palestinian and Israeli Art, Film and Visual Culture: Intersecting Visions
[ ca ]
Israelis and Palestinians have been creating vibrant and bold works of art that both reflect and transcend the region's conflict-ridden history. This course offers a critical comparative study of Israeli and Palestinian art, exploring contentious expressions of pain and trauma as well as shared visions of hope and peace. Usually offered every second year.
Gannit Ankori
FA 77b Twentieth-Century and Contemporary Latin American Art
[ ca nw ]
May not be taken for credit by students who took FA 24b in prior years.
This course is a selective survey of the outstanding figures and movements that have made significant contributions to the history of Latin American art. Special focus will be on Mexican, Argentinean, Brazilian, Venezuelan and Cuban artists. Usually offered every third year.
Staff
FA 80a Modern Architecture
[ ca ]
Explores major architectural developments from the 19th to the 21st century. While tracing major stylistic developments and new building types that have characterized "modernism" in architecture, the course also studies new forms of global dominance (via colonialism), expression of new sovereignties around the world (via the nationalist movements) and the creation of the new spaces of capitalism and consumption (the highway, the mall, the suburb, etc.). Usually offered every second year.
Muna Guvenc
FA 85a History of Boston Architecture
[ ca ]
May not be taken for credit by students who took FA 22b in prior years.
A survey of the history of modern and contemporary Boston architecture and urban planning from the immigration of great European modernist architects to the contemporary city. The presentation will be chronological and focused on the last two centuries. Usually offered every second year.
Muna Guvenc
FA 86b Museum Studies
[ ca ]
May not be taken for credit by students who took FA 85b in prior years.
An experiential learning seminar focused on the art object in the context of the museum; the history of museums (architecture, educational mission, curatorial presentation); museum ethics and provenance studies; new theories of museums and their expanded role in the community. Usually offered every second year.
Staff
ECON/FA 87a Economics and the Arts
Prerequisite: ECON 2a or 10a; FA 30a, 30b, 57a, 59a or 62a. The FA course may be taken concurrently with ECON/FA 87a.
Economics and art history provide dual lenses for studying the mechanics of art auctions and building collections. The course will focus on the intersection of history and patronage of specific artists and works of art with the marketplace. Usually offered every second year.
Staff
FA 92b Internship and Analysis in Art History
Students may petition to receive credit for internships completed in museums, galleries and arts institutions. Student must get a faculty sponsor with whom they will agree in advance on the internship and requirements for receiving credit. Art history credit can also be earned by completing one of several internships offered at the Rose Art Museum for which students apply in the spring semester for the following academic year. At the Rose, focus may center in the areas of education, registrar, exhibition installation, or curatorial work. All student applications to the Rose, with preference given to upperclassmen, must be endorsed by a faculty recommendation. Usually offered every semester.
Staff
FA 96a Senior Research in Art History
Prerequisite: A minimum GPA in fine arts courses of 3.00. Art history students consult with faculty the second semester of their junior year and petition to enroll at the beginning of their senior year.
Usually offered every year.
Staff
FA 96b Senior Research in Art History
Prerequisite: A minimum GPA in fine arts courses of 3.00. Art history students consult with faculty the second semester of their junior year and petition to enroll at the beginning of their senior year.
Usually offered every year.
Staff
FA 98b Independent Study in Art History
Prerequisites: Normally open only to art history majors in their junior and senior years. As the number of times FA 98b may be taken is limited by department regulations, the interested student should consult the art history advising head and his or her adviser.
Usually offered every year.
Staff
CA 125a Provocative Art: Outside the Comfort Zone 
[ ca ]
Presents, analyzes and discusses art that provokes controversies, discomfort, and other strong responses. This class will focus on a broad range of artistic expressions, including visual art, theater, film, music, and literature with Brandeis faculty as well as visiting artists. Usually offered every second year.
Gannit Ankori, Mark Brimhall-Vargas, Will Chalmus
FA 141b The Formation of Jewish, Christian, and Islamic Art
[ ca ]
An exploration of the origins and development of the synagogue, church and mosque and related arts in the first millennium CE and their ramifications for subsequent centuries to the present day. Emphasis on the debate among these three great religions about the proper form and function of art and architecture.
Charles McClendon
FA 143a The Art of Medieval England
[ ca ]
May not be taken for credit by students who took FA 43a in prior years.
A survey of the art and architecture of the many peoples who inhabited England, Scotland, Ireland and Wales over the first 1,500 years of the common era, with a particular concern for the distinct nature of different cultural traditions and their synthesis that created a unique artistic legacy.
Charles McClendon
FA 145a St. Peter's and the Vatican
[ ca ]
The history, growth, and development of Christendom's most famous shrine, with particular concern for the relationship between the design and decoration of the Renaissance/baroque church and palace complex and their early Christian and medieval predecessors. Usually offered every second year.
Charles McClendon
FA 149a The Age of Rubens, Rembrandt and Vermeer
[ ca wi ]
May not be taken for credit by students who took FA 63a in prior years.
Explores the major figures of seventeenth-century painting in the Netherlands and Flanders: Rubens, Van Dyck, Rembrandt, and Vermeer. During this time, the ideal of Renaissance painter/courtier gives way to the birth of the modern artist in an open market, revolutionizing the subjects, themes, and styles of painting. Usually offered every second year.
Jonathan Unglaub
FA 153a Israeli Art
[ ca ]
An examination of the visual arts created in Israel since the beginning of the twentieth century. Combines a chronological overview of major trends with an in-depth examination of select case studies of individual artists and specific themes.
Gannit Ankori
FA 155a Impressionism: Avant-Garde Rebellion in Context
[ ca wi ]
May not be taken for credit by students who took FA 171a in prior years.
Focuses on the major artists from the period 1863 - 1886, from the time of Manet and the Salon des Refusés through the eight group exhibitions of Monet, Renoir, Degas, Cézanne, Pissarro, Morisot, and Cassatt and company. The antithesis of impressionism, its academic rivals, the backdrop of the sociopolitical context, the Second Empire, and the Third Republic will be provided, as well as the roots of the movement's dissolution. Usually offered every third year.
Nancy Scott
FA 156b Post-Impressionism and Symbolism, 1880-1910
[ ca wi ]
Artists Vincent Van Gogh, Gauguin, Seurat and Cézanne, first identified with Post-Impressionism, are contextualized with Toulouse-Lautrec and others who defined the French art world before 1900. Symbolism has its roots in the art work of Redon, Van Gogh and above all Gauguin, here studied in context with poetry and art criticism of the times. The Expressionist move toward an abstract idiom in Norway, Germany and Austria will focus on Edvard Munch and Gustav Klimt. Decorative styles such as Art Nouveau and Jugendstil define the bridge to the 20th century. The course ends with early 20th century masters, Matisse and the Fauves, and finally German Expressionism. Usually offered every fourth year.
Nancy Scott
FA 157a Georgia O'Keeffe: Art and life
[ ca ]
Explores the art of Georgia O'Keeffe, and her place in American culture and history, within the larger development of American modernism in the culture of New York and the Southwest. Other important painters of the early 20th century, from Marin, Hartley, Dove and Demuth to the photographers Stieglitz, Strand and Streichen, paralleled and fueled her creative work. On-campus resources in Native American arts, along with museum visits, will enlarge our view of O'Keeffe's world. Usually offered every third year.
Nancy Scott
FA 158b 20th Century Painting in France: Picasso and Matisse
[ ca ]
Examines the roots of major 20th century tendencies in art: the development of Cubism by Pablo Picasso and his circle; the color revolution of Fauvism, initiated by Henri Matisse. Topics include examination of the artists, poets, and collectors associated with both Picasso and Matisse, the modernist innovation of the arts in Paris, and the period of Surrealism up to World War II. Usually offered every third year.
Nancy Scott
FA 164a The Re-Invention of Art
[ ca djw]
By the 1960s, the United States was the art-world capital. Radical art, however, appeared everywhere. Examines US art of the 1960's-1970s in light of artistic production in, among other places, Germany, England, Italy, Brazil, Argentina, Senegal, and Japan. Usually offered every year.
Peter Kalb
FA 165a Contemporary Art
[ ca ]
May not be taken for credit by students who took FA 152a in prior years.
After theories of power and representation and art movements of pop, minimalism, and conceptual art were established by the 1970s, artists began to create what we see in galleries today. This course addresses art at the turn of the twentieth century with attention to intersections of art and identity, politics, economy, and history. Usually offered every second year.
Peter Kalb
FA 166b Representing Globalism
[ ca djw nw ]
For several decades, artists have been investigating the character and consequences of life under global capitalism. Through examination of writings by artists, theorists, and historians in the context of art since the turn of the millennium, this course seeks to uncover stories of the global present and possible futures. Usually offered every year.
Peter Kalb
FA 169a Ecology and Art
[ ca dl ]
Provides a theoretical foundation and art historical background for discussion of contemporary art that draws attention to the ecologies, primarily natural but also cultural of which it and we are a part. Usually offered every third year.
Peter Kalb
FA 170a Arts of the Ming Dynasty
[ ca nw ]
Examines a broad array of arts from the Ming Dynasty (1368-1644). The first half of the course focuses on activities in and around the Chinese court. The second half concentrates on monuments related to literati and popular cultures. Usually offered every second year.
Aida Wong
FA 172b Ink Painting in Taiwan
[ ca nw ]
Prerequisite: One course in Fine Arts or East Asian Studies. Ability to read Chinese is recommended.
Examines the evolution of modernism in Taiwan and Hong Kong through the lens of art history, especially ink painting between the 1950s and 1990s. Issues to be studied include cultural orthodoxy, abstraction, exhibitions and education, postcoloniality, nativism, and calligraphic interventions. Usually offered every third year.
Aida Wong
FA 173b Art in Shanghai
[ ca nw ]
This course examines the art and visual culture of Shanghai - China's symbol of modernity -- from the late nineteenth to the early twentieth centuries, encompassing painting, architecture, calligraphy, fashion, advertising, among other topics.
Aida Wong
FA 174a Art and Trauma: Israeli, Palestinian, Latin American and United States Art
[ ca ]
May not be taken for credit by students who took FA 154b in prior years.
A comparative and critical examination of the various ways in which personal traumas (illness, death, loss) and collective traumas (war, the Holocaust, exile) find meaningful expression in the work of modern and contemporary artists from diverse regions. Usually offered every second year.
Gannit Ankori
FA 175a Moving Images: Israeli Video Art in Context
[ ca ]
Studies Israeli video artists who have become world renowned for their innovative contributions to the genre. In this course, we will view, analyze, and interpret Israeli video art, tracing its historical and 'genealogical' trajectory, thematic foci, formal concerns, iconographical sources and the diverse regional, political, and art historical contexts within which it is being produced and exhibited. Usually offered every third year.
Gannit Ankori
FA 176a Fashion History of China
[ ca nw ]
Examines the evolution of garments, ornaments, accessories, shoes, and other bodily adornments in China through the lens of art history. Students learn about the importance of dress and fashion (and their visual representations) in shaping identities through the ages. Usually offered every third year.
Aida Wong
FA 178a Frida Kahlo: Art, Life and Legacy
[ ca nw ]
Mexican artist Frida Kahlo (1907-1954) has become an international cultural icon. Her innovative paintings brilliantly re-envision identity, gender and the female body, inspiring celebrities from Madonna to Salma Hayek. This course explores the art and life of Frida Kahlo, as well as her immense influence on contemporary art, film and popular culture. Usually offered every second year.
Gannit Ankori
FA 178b Seminar on Chinese Calligraphy and Practice
[ ca nw oc ]
Prerequisite: Some knowledge of reading Chinese. May not be taken for credit by students who took FA 191a in prior years.
Introduces the major scripts and canonical works of Chinese calligraphy. Besides studying historical developments, students gain hands-on experience with producing their own works. The class combines theory and practice to advance understanding of the aesthetic, critical language, and the functions of this enduring art. Usually offered every year.
Aida Wong
FA 180a Contemporary Architecture
[ ca ]
Presents major innovations and stylistic developments in world architecture in the aftermath of World War II. Examining the larger social, political and cultural contexts within which architecture operates, the course will trace the diverse positions that characterize the contemporary architecture across the globe. Special attention will be paid to the relationships between theories, debates, and the creative capacity of design and practice in architecture since the mid-twentieth century. Usually offered every second year.
Muna Guvenc
FA 181a Housing and Social Justice
[ ca deis-us ss oc ]
Employs housing as a lens to interrogate space and society, state and market, power and change, in relation with urban inequality and social justice. It trains students to become participants in the global debates about housing. In doing so, it teaches students about dominant paradigms of urban development and welfare and situates such paradigms in the 20th century history of capitalism. It will explicitly adopt a comparative and transnational urban approach to housing and social justice, showing how a globalized perspective provides important insights into local shelter struggles and debates. Usually offered every second year.
Muna Guvenc
FA/NEJS 183a Breaking Boundaries in Contemporary Israeli Art
[ ca hum ]
Explores how the Creative Arts reflect, challenge, and reconfigure various cleavages and barriers that characterize contemporary Israeli society. This course will focus on literary, visual and cinematic artworks, organized around thematic clusters and major theoretical issues. Usually offered every second year.
Gannit Ankori and Ilana Szobel
FA 187a Approaches to Architecture and the City
[ ca ]
This course trains students in developing the ability to conduct architectural and urban analysis of the built environment. Through a comparative case-study approach—based on selected readings, real spaces, and creative projects—students will better understand architectural and urban design in relation to social, cultural, human, and political aspects. Usually offered every year.
Muna Guvenc
FA 191b Studies in Renaissance and Baroque Art
[ ca wi ]
Preference for Fine Arts majors and minors, Italian Studies minors, and Medieval and Renaissance minors only. Topics may vary from year to year; the course may be repeated for credit as topics change.
Usually offered every third year.
Jonathan Unglaub
FA 192a Studies in Modern and Contemporary Art
[ ca ]
Topics may vary from year to year; the course may be repeated for credit.
Usually offered every second year.
Gannit Ankori, Peter Kalb, and Nancy Scott
FA 193a Studies in Modern and Contemporary Architecture
[ ca ]
Topics may vary from year to year; the course may be repeated for credit with permission of the instructor.
Usually offered every third year.
Staff
FA 197a Studies in Asian Art
[ ca nw ]
May not be taken for credit by students who took FA 184a in prior years.
Usually offered every third year.
Ms. Wong
FA 199a Methods and Approaches in the History of Art
[ ca wi dl oc ]
Explores various ways of analyzing works of art and provides an overview of the historical development of the discipline. Designed specifically for junior and senior art history majors. Usually offered every year.
Charles McClendon
Cross-listed Courses
CLAS 133a The Art and Archaeology of Ancient Greece 

[ ca hum ] 

Surveys the main forms and styles of Greek art and architecture from the Bronze Age through the Hellenistic period in mainland Greece and on the islands of the Aegean. Archaeological remains and ancient literary evidence help explore the relationships between culture, the visual arts, and society. Usually offered every second year.

Ann O. Koloski-Ostrow or Staff
CLAS 134b The Art and Archaeology of Ancient Rome 

[ ca hum ] 

Surveys the art and architecture of the ancient Romans from the eighth century BCE to the end of the empire in Sicily, mainland Italy (with focus on Rome, Ostia, Pompeii, and Herculaneum), and in the Roman provinces. Usually offered every second year.

Ann O. Koloski-Ostrow or Staff
CLAS 136b Roman Technology, Medicine, and Art 

[ hum ] 

Investigates a selection of the most famous monuments and cultural institutions of the Roman world in order to understand the technology and engineering that created them. The primary source is Elder Pliny. We also consider Roman medicine. Usually offered every third year.

Ann O. Koloski-Ostrow
CLAS 140a Women, Gender, and Sexuality in Greek and Roman Art and Text 

[ ca hum ] 

An exploration of women, gender, and sexuality in ancient Greece and Rome as the ideological bases of Western attitudes toward sex and gender. Includes, in some fashion, Greek and Roman myth, literature, art, architecture, and archaeological artifacts. Usually offered every third year.

Ann O. Koloski-Ostrow
CLAS 145b Topics in Greek and Roman Art and Archaeology 

[ ca hum ] 

Topics vary from year to year and the course may be repeated for credit. Topics include daily life in ancient Rome; Greek and Roman technology and art; Rome, City of Marble; and Athens and the golden age of Greece. See Schedule of Classes for the current topic and description. Usually offered every second year. 

Ann O. Koloski-Ostrow or Staff
CLAS 150b Pompeii: Life in the Shadow of Vesuvius 

[ ca hum ] 

Examines Pompeii and Herculaneum, buried by Vesuvius in 79 CE, using the ancient cities' art, architecture, and wall writings to understand the social, political, economic, and religious realities of Roman life on the Bay of Naples, especially in the first century CE. Usually offered every third year.

Ann O. Koloski-Ostrow
ENG 183b Gods and Humans in the Renaissance 

[ ca hum ] 

Examines the relationship between gods and humans in literature and art from the Renaissance, exploring how classical gods and goddesses, as well as biblical figures of the divine, are represented by major European artists and authors. Usually offered every fourth year.
Ramie Targoff and Jonathan Unglaub                                                                
PHIL 113b Aesthetics: Painting, Photography and Film 

[ ca hum wi ] 

Explores representation in painting, photography and film by studying painters Rembrandt, Velazquez and Vermeer, as well as later works by Degas, Cezanne and Picasso; photographers Ansel Adams, Dorothea Lange, Edward Weston, Walker Evans, Alfred Stieglitz and Diane Arbus; and filmmakers Renoir and Hitchcock. Usually offered every second year.
Andreas Teuber