Faculty Accomplishments
Check out some of the accomplishments of the Fine Arts Faculty! From exhibitions, to lectures, to publishing articles and books, the Fine Arts Faculty are active outside of the Brandeis community as well here at home.
Spring 2022
Nancy Scott
January 2022
On January 14, Prof. Scott gave a lecture on the Kimbell Art Museum's current exhibition "Turner's Modern World" with Prof. Em. James Walvin, University of York.
This lecture is available on YouTube
.
Sonia Almeida
March 2022
Prof. Almeida was in a group exhibition call "
The Black Pages 01-100
" at Franz Josef Kai Gallery in Vienna Austria. Exhibition on view from March 23 to July 17, 2022.
Nancy Scott
March 2022
Prof. Scott participated in the Scholars Day at the MFABoston for the opening of the exhibition, Turner's Modern World, where she gave a talk on the provenance of Turner's Slave Ship from London to Boston, and how it narrowly escaped being sold off for a private gain.
Sheida Soleimani
March 2022
Prof. Soleimani was in a a group exhibition, "
The Immune Project
," at the Living Art Museum in Reykjavik, Iceland that opened March 20, 2022.
Sheida Soleimani
March 2022
As part of
Providence College Gallery's
annual On the Wall mural exhibition, Prof. Soleimani will present a multimedia installation that explores her parents' past as Iranian political activists and refugees. Exhibition on view from March 30–July 30, 2022.
Nancy Scott
April 2022
Prof. Scott has an article in the forthcoming festschrift for the celebration of the 200th anniversary of Vincenzo Vela called "Imaging slavery in 20th and 21st Century Memorials: A Legacy of Vela's Spartaco."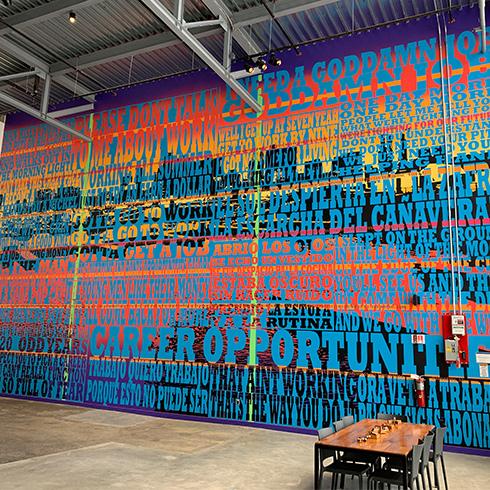 Joe Wardwell
May 2022
Prof Wardwell is one of six international artists featured in "
Revival: Materials and Monumental Forms
" at the ICA Watershed in East Boston. Inspired by the Watershed building's mixed-use history—built in the 1930s as a copper pipe and sheet metal manufacturing plant and serving since 2018 as a free site for contemporary art—this exhibition highlights how artists have derived inspiration from industry, labor, and the poetic and political power of found goods. Check out
a review of the exhibition on WBUR
.
Fall 2021
Sheida Soleimani
September 2021

A hyperallergic
article
featured Sheida Soleimani's objections to an opening event at Jeffrey Deitch Los Angeles. The event incorporated the release of live birds.
Gannit Ankori
October 2021

On October 7, the Queen of Holland opened a major Frida Kahlo exhibition at the Drentsmuseum, co-curated by Gannit Ankori and Circe Henestrosa. The exhibition combines two of the major Kahlo collections from Mexico for the first time, including dozens of paintings, drawings, photographs, and the artist's personal belonging.
Jonathan Unglaub
October 2021

Jonathan Ungaub published an essay on Poussin's "A Dance to the Music of Time" in the catalogue for a major loan exhibition "Poussin and the Dance" at the National Gallery, London (October 9th-January 2nd) and the Getty Museum, Los Angeles (February 15-May 8, 2022).
Joseph Wardwell
October 2021
Joe Wardwell had a solo exhibition at
LaMontagne Gallery
called "I'm Afraid of Americans".
Sonia Almeida
November 2021

Sonia Almeida exhibited work at Atelier-Museu Júlio Pomar, Lisbon; Galeria Nuno Centeno, Porto; and Galeria Cristina Guerra, Lisbon.
Joe Wardwell
November 2021

Work by Joe Wardwell was featured in the
Boston Globe
about mural project for the Roxbury branch of the Boston Public Library.
Summer 2021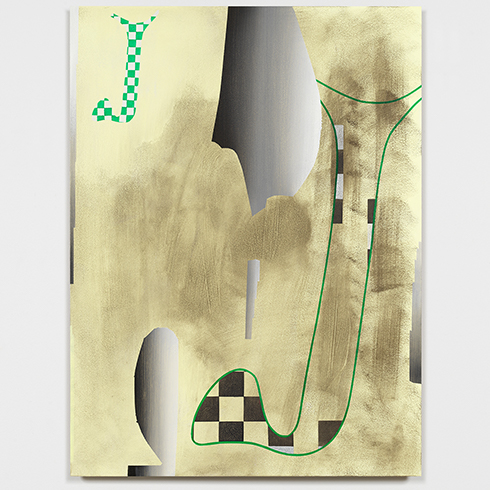 Sonia Almeida
June 2021

Sonia Almeida is part of an exhibit called
"All I want: Portuguese Women Artists from 1900 to 2020"
at the Calouste Gulbenkian Museum in Lisbon, Portugal. This exhibition featured two hundred works of art from 40 Portuguese women artists created between the start of the 20th century and our days will be reunited in this grand exhibition, as part of the Cultural Programme of the Portuguese Presidency of the Council of the European Union.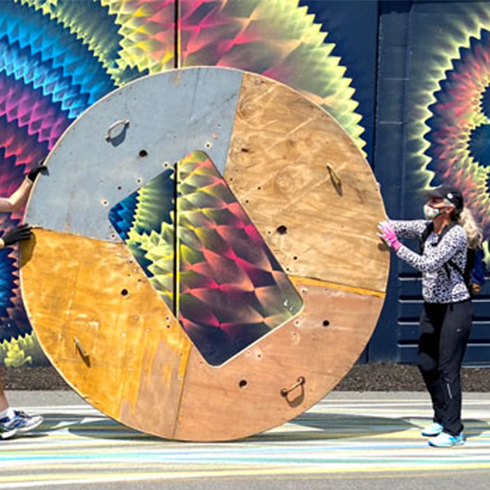 Tory Fair
June 2021
Tory Fair received a Port Neighborhood Grant, Cambridge Public Art (2021 - 2022). Her sculpture, "Portable Window," gives agency to explore how we frame ourselves in relationship to each other and to our surroundings at large. The sculpture is essentially a wood wheel with handles and a rectangular window in the center that frames a view. While our digital culture has made it incredibly easy to frame and take pictures without restraint, Portable Window slows down and makes framing our surroundings a more physical act in sync with our bodies. Generating conversations, happenings, and time lapse videos from rolling and positioning Portable Window in accessible locations such as Spy Pond, opens up several platforms to listen and learn in an unprecedented time of pandemic anxiety and cultural upheaval.Throughout the grant year, residents of the Port neighborhood of Cambridge will co-create with a Portable Window Kit, a small 2-foot sculpture that is easily assembled and rolled by individuals. These rolls will generate a larger archive of videos and conversations that represent a 2021 portrait of The Port, framed by the residents. Engagements began in June 2021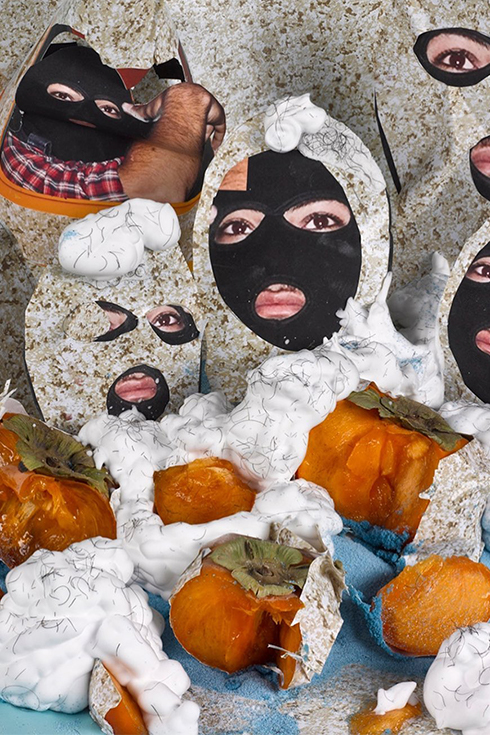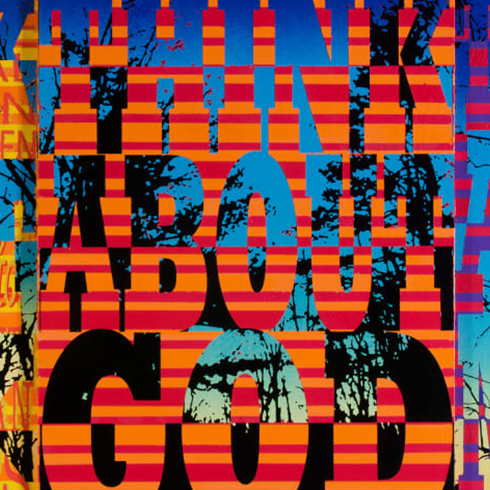 Joe Wardwell
June 2021

Work by Joe Wardwell is part of the group exhibition
"While You Were Sleeping"
, at LaMontagne Gallery in Boston.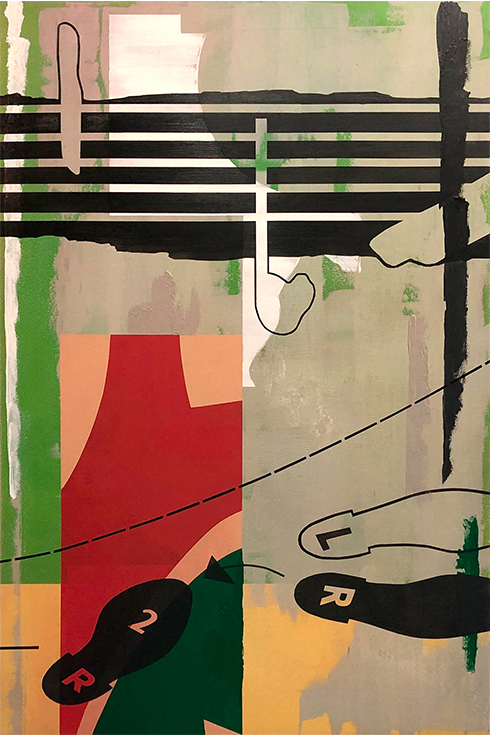 Sonia Almeida
July 2021
Work by Sonia Almeida was part of exhibit "
Double Trouble
" at the ICA/MECA in Portland, ME. The exhibit featured the work of five artists working in the mediums of painting, sculpture, photography, and installation. Working with the idea of the double - as mirror, representation, or iteration - these artworks ask viewers to reflect on the potential of seeing themselves in new ways.
Peter Kalb
August 2021
Peter Kalb's book "Art Since 1980" was translated into Korean and published by Mijin Publishing Co. Seoul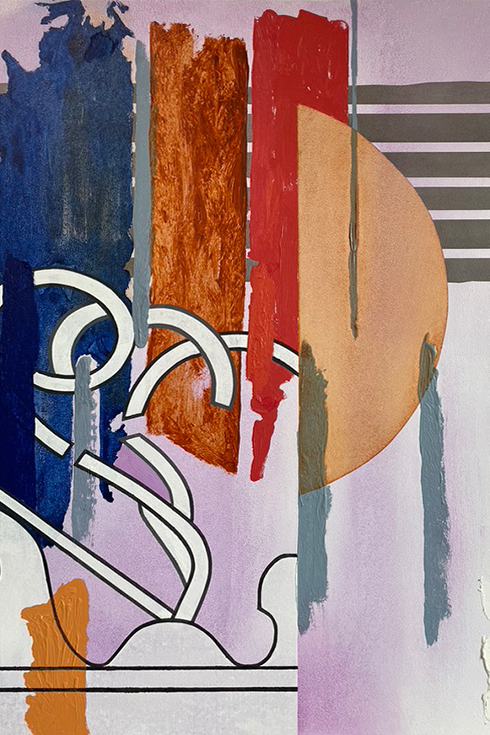 Sonia Almeida
August 2021

Sonia Almeida had her 5th solo exhibition at
Simone Subal Gallery
in New York City.
Spring 2021
Nancy Scott
January 2021
Nancy Scott wrote an article that was published online by the UK journal, the Journal for the History of Collections, and will later be in the print journal. Article titled "Henry Clay Frick and the Museum of Fine Arts, Boston: The blockbuster exhibition of 1910."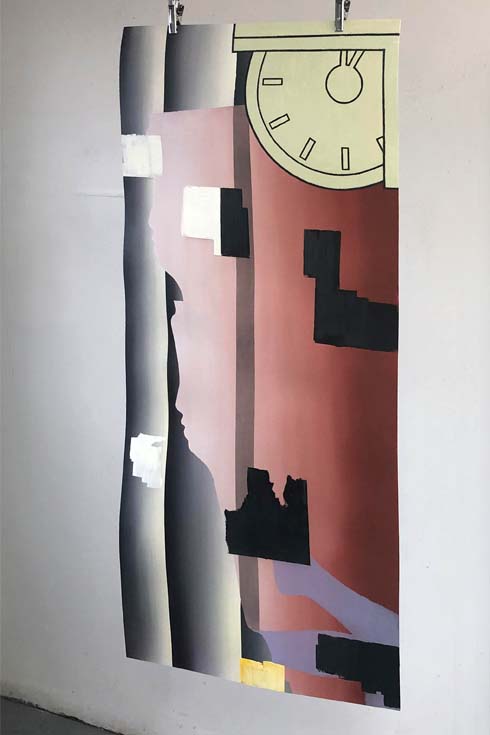 Sonia Almeida
February 2021
Work by Sonia Almeida is part of a group show called, "l'entre-deux," which is on view beginning February 15th at the Pina Gallery in Vienna, Austria.
Tory Fair
February 2021
Tory Fair gave a talk with artist Mary Miss that was hosted by Institute for Contemporary Art at Maine College of Art. This talk is in conjunction with Tory Fair's solo exhibit "Portable Window" on view at the museum from January 15 through March 14. Check out the
museum's website
for more information about the exhibition.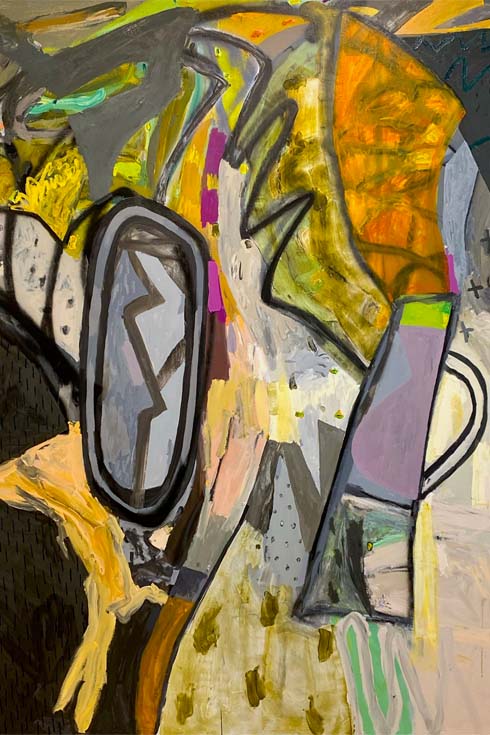 Alfredo Gisholt
February 2021
Fine Arts faculty member, Alfredo Gisholt has a solo exhibition, "Rituals of Perception" up at Deborah Colton Gallery in Houston, Texas, on view till May 1, 2021. Check out some of the
installation shots
in the gallery. The show was also featured on the events page in the Art in America newsletter -
check out the write up
!
Susan Lichtman
February 2021
Susan Lichtman was in a group show called "Paradise Island" at Steven Harvey Fine Arts Projects in New York. Show was on view from February 17th to March 20th.
Nancy Scott
February 2021

On Wednesday, February 10th, Nancy Scott presented a paper at the College Art Association Conference. The paper, "The Woman Abolitionist and The Slave Ship:  Alice Sturgis Hooper, Collector of Allston and Turner" was presented on a panel called "Chronicling Lost Legacies:  Women Collectors and Dealers of the long Nineteenth Century."
Ariel Freiberg
March 2021
Ariel Freiberg received a Visual Arts Artist Fellowship from the Somerville Arts Council and the Mass Cultural Council.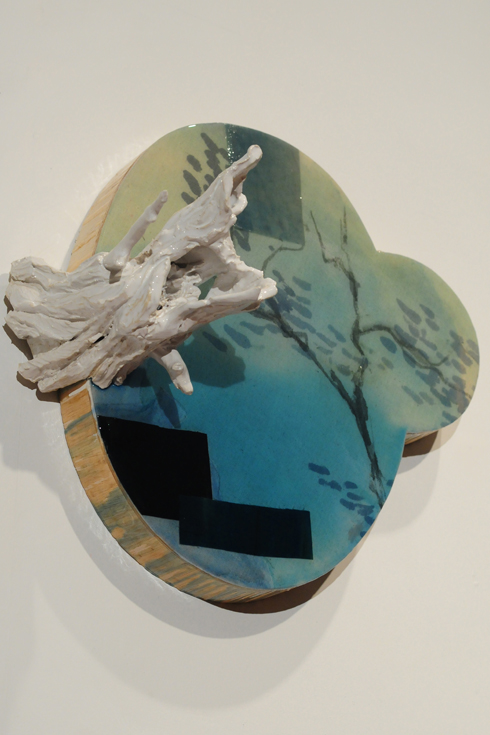 Christopher Frost
March 2021
Christopher Frost's has an exhibit up at the Boston Sculptors Gallery called "non-pastoral." It's on view from March 31st to May 2nd. It was featured in WBUR's Artery list of spring art exhibitions to see!
Sheida Soleimani
March 2021
Sheida Soleimani was interviewed about her work and practice in
Phroom Magazine
.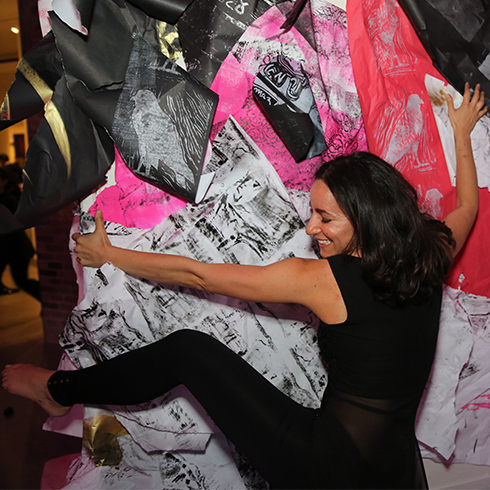 Photo Credit: Todd Mazer
Ariel Freiberg
April 2021

Ariel Freiberg received a
Combined Jewish Philanthropies Arts (CJP) and Culture Community Impact Grant
, for Love + Salt public art installation and virtual platform. The in-person part is an installation of cement paintings at a public site, featuring a visual narrative of my family's refugee story from Baghdad. On the Love + Salt virtual platform, guests will be invited to share their own commonly used terms for love and curses. As a means to make this project inclusive, the website will encourage guests to write their phrases in their native tongue. The website will be fully accessible, with a survey link for guests to share their favorite terms of love and insults.
Nancy Scott
April 2021

Nancy Scott was inducted into Phi Beta Kappa chapter as Honorary Member of her alma mater,
Austin College
. She was chosen as the recipient for 2020, due to her career in arts and humanities, and the generosity of the College who honors an alum each year since the PBK chapter was granted in 2001.
Sheida Soleimani
April 2021

Sheida Soleimani was asked by the New York Times to create a photo assignment on how we have 'fun' during the pandemic -
check out what she came up with
. Soleimani also created a seven-piece body of work, Coping Mechanisms, for Denny Dimin Gallery in New York.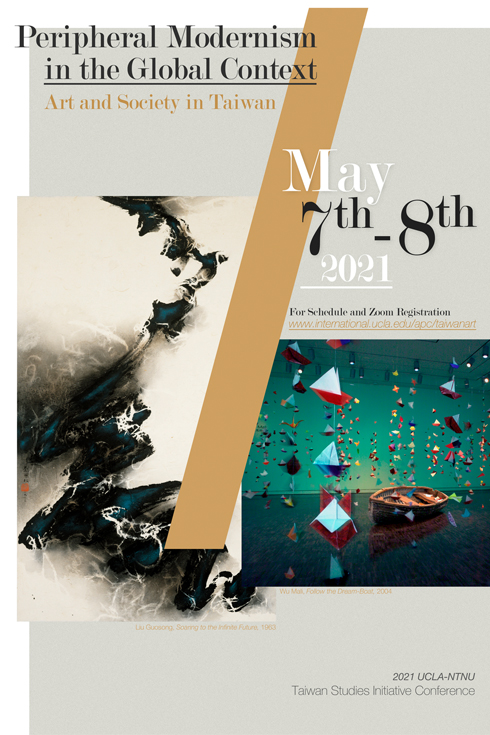 Sheida Soleimani
May 2021

Sheida Soleimani was selected as a Bernstein Faculty Fellow by the School of Arts and Sciences for the 2021/2022 academic year. She received this honor in recognition of the promise of her scholarship and teaching.
Fall 2020
Tory Fair
August 2020

Tory Fair received a senior faculty research leave for Fall 2020. After adjusting the project due to COVID-19, Tory has focused on work that has developed from an intergenerational dialogue with artist, Mary Miss that she began two years ago. Talking with Miss in her studio has inspired Tory to steward some of the seeds that Miss planted as a sculptor in the 1970s. She is guided by her priorities: "Breathing space, human scale, and first-hand experience."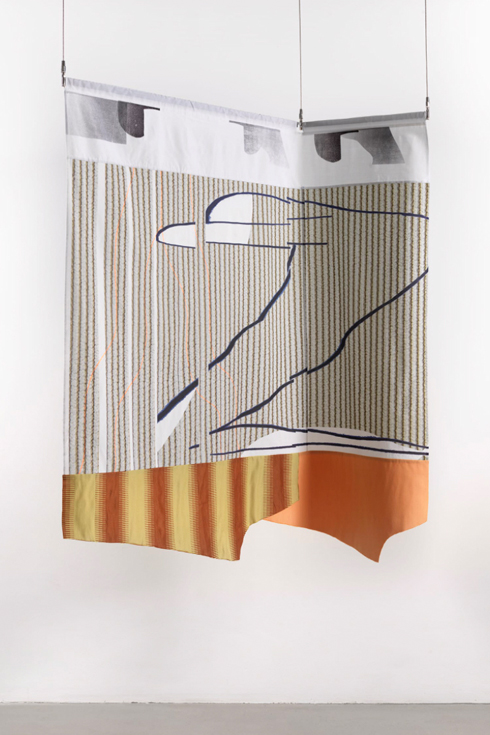 Sonia Almeida
September 2020
Sonia has work in a group show, Vantage Points, at the GRIMM Gallery in New York. The show opens on September 3, 2020 and closes October 17, 2020. For more details about the show, visit GRIMM Gallery's website.
lauren woods
September 2020
lauren woods participated in a lecture series entitled: Forms of Reparations: The Museum and Restorative Justice. The series is presented by the Museum & Curatorial Studies graduate students of the School of Art at California State University, Long Beach. For more details, visit the lecture series' website. 

Aida Yuen Wong
October 2020
Aida Yuen Wong was a discussant in the panel "Analogy in Art History and Museum Practice" at the Conference of the Universities Art Association of Canada.
lauren woods
October 2020

lauren woods gave a keynote for Now and There, the Public Art Accelerator Forum that will examine public art-making while sharing the resources available to the artists who participated in the three-year pilot N+T Public Art Accelerator program. For more information, visit
Now and There's website
.
Ariel Freiberg
November 2020
The Kniznick Gallery at Brandeis University presents Hellbent, a solo exhibition by Ariel Basson Freiberg. Hellbent explores the structure of spectatorship through paintings that fluctuate between the divide of spectacle and concealment. Drawing from narratives and representations of Salome, the young woman who lasciviously danced in exchange for the head of John the Baptist, Freiberg beckons us to consider the nature of the infamous performance in relation to desire, gender, sexuality, and power. Through the sensuous and energetic handling of her medium, Freiberg operates alongside her protagonist, and her painterly gestures multitask as form and narration. The exhibition is on view from November 16, 2020 through May 28, 2021.

Christopher Frost
November 2020
Chris has a piece in the exhibit "Interpreting the Natural: Contemporary Visions of Scholars' Rocks" on view at the Gallery Korea, Korean Cultural Center in New York on view through November 30th. For more information, visit Gallery Korea's website.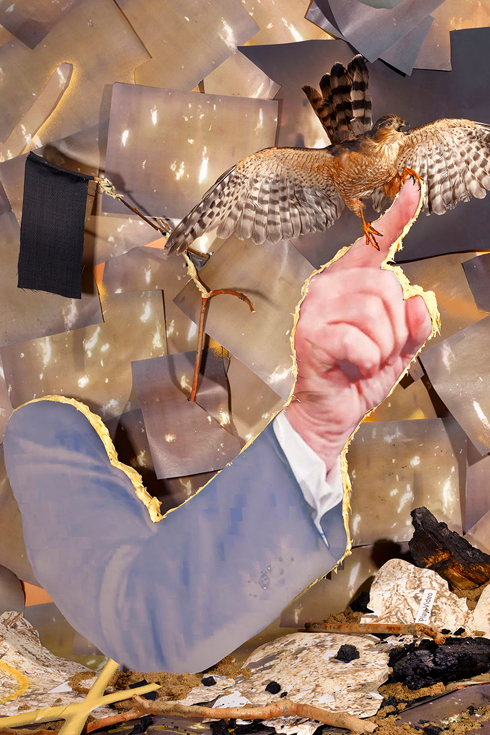 Sheida Soleimani
November 2020
Denny Dimin Gallery is pleased to announce a solo exhibition by Sheida Soleimani, Hotbed, running from November 6th to December 23rd, 2020. An opening talk with the artist and Jasmine Wahi, the Holly Block Social Justice Curator at the Bronx Museum, will accompany the exhibition on November 6th. For more information, visit Denny Dimin Gallery's website. Sheida Soleimani's gallery show was also featured in a New York Times article on gallery shows to see!

Aida Yuen Wong
November 2020

Aida Yuen Wong gave a lecture in conjunction with the exhibit "Interpreting the Natural: Contemporary Visions of Scholars' Rocks" on view at the Gallery Korea, Korean Cultural Center in New York. For more information, visit
Gallery Korea's website
.
Summer 2020
Tory Fair
Summer 2020

Tory Fair was included in the first Boston art fair, AREA CODE.  She was curated into the Special Projects section of the month long art fair and rolled Portable Window, work generated from research with Mary Miss, in outside happenings at Ink Block in Boston, at Revere Beach, in East Boston, and in her local Arlington community.
Spring 2020
Sheida Soleimani
January 2020

Multimedia exhibition entitled Medium of Exchange opened January 9. 2020 at the Harlan Levey Projects in Brussels, Belgium and runs through March 21, 2020. Check out a review of the this exhibition.
Joe Wardwell
January 2020
Joe Wardwell began working on his installation at a renovated public library in the city's Roxbury neighborhood. Joe was awarded this opportunity by the Boston Art Commission. His murals feature large, block text that can be seen from a distance along with smaller, subtler screen-printed text, laid over paintings of landscapes. He partnered with local poet Nakia Hill and 826 Boston, a non-profit that supports the writing and literacy in Roxbury, to have young people from the neighborhood create poems for the three murals that will hang inside the renovated Roxbury branch of Boston Public Libraries when it reopens to the public. Learn more about this project by reading this
BrandeisNow article
!
Peter Kalb
February 2020

Peter Kalb chaired a session on interdisciplinarity called "Companion or Competing Disciplines: Histories of Art History and Archaeology" at CAA.
Aida Yuen Wong
February 2020

Aida Yuen Wong spoke at the Centre Pompidou at an exhibition for the artist Yuan Jai. Aida Yuen Wong also served as a specially invited discussant for the panel "Negotiating Women's Emancipation in East Asia through Art."

Fall 2019
Sonia Almeida
September 2019

Sonia Almeida has an artist book in the exhibition Bookworks organized by Dina Deitsch at Tufts University Art Galleries. Check out the exhibition.
Alfredo Gisholt
October 2019

Alfredo Gisholt traveled to the University of Maine Museum of Art in Bangor, ME for a studio visit with students, as well as panel discussion with George Kinghorn, Director, University of Maine Museum of Art, Jaime DeSimone, Curator of Contemporary Art at the Portland Museum of Art. Alfredo Gisholt also took part in the Artist and Scholar Lecture Series at Michigan State University.
Sheida Solemani
October 2019

Sheida Soleimani gave a talk about her recent work and exhibitions at Yale University's School of Art on Thursday, October 17.
Gannit Ankori
November 2019
Gannit Ankori gave a talk on Thursday, Nov. 14th at North Carolina Museum of Art in Raleigh. The lecture, "Frida Kahlo's Art and the Construction of Identities," cuts through the "Fridamania" to explore her life and legacy.
Summer 2019
Sonia Almeida
Sonia Almeida traveled to Rome to visit the Basilica di Santa Maria in Trastevere and to Siena to visit Simone Martini's Blessed Agostino Altarpiece as part of the Marion and Jasper Whiting Foundation Travel Fellowship.
Gannit Ankori
Gannit Ankori's new edited volume, titled The Painter is a Spy: Texts by Larry Abramson, was launched at a conference at the Tel Aviv Museum of Art during the summer of 2019. Gannit gave the keynote talk. She also gave two public lectures on Frida Kahlo and Religion at the Museum of Fine Arts, Boston.
Tory Fair
Tory had a busy summer. She had a solo show, "Portable Window," at Drive-By Projects in Watertown. This show was reviewed in the Boston Globe. Tory was in a group show at the Distillery Gallery called "You Must Not Stand In One Place" in Boston. She also gave a VoCA talk with curator Jen Mergel that was hosted by the BCA in Boston in June. Watch the talk.  Lastly, Tory was interviewed about her show over the summer at Drive-By Projects in Watertown. Interview published in the Boston Art Review.
Muna Guvenc
An article by Professor Muna Guvenc, entitled "Propositions for the Emancipatory Potential of Urban Spectacle," was published in City (volume 23, 2019, pages 342-365), one of the top peer-reviewed journals in the area of urban studies.
Susan Lichtman
Susan Lichtman had a group show, "By Heart: Lichtman, Pierce and Saniga," at the Steven Harvey Fine Arts Projects, NY, NY. The show was up from July 23-August 24th and Susan gave a panel discussion on August 24rd. Susan was also part of a group show, "Observation & Imagination," at the Marshall Gallery, Missouri Valley College, Marshal, MO. The exhibition is on view from August 26-October 19. Lastly, Susan's work is in a traveling group show called "My Studio," which is currently at Alabama Center for the Arts in Decatur, AL from August 15- October 25. Both "Observation & Imagination" and "My Studio" have accompanying catalogs.
Nancy Scott
Nancy Scott completed her three- month residence as Tyson Scholar, at the Crystal Bridges Museum of American Art, in Northwest Arkansas during the summer 2019. Scott worked on the project entitled "Georgia O'Keeffe, Education and the Art of Philanthropy," which has generated two articles in process.
Sheida Soleimani
Sheida Soleimani was in a group show at the Distillery Gallery called "You Must Not Stand In One Place" in Boston.
Jonathon Unglaub
Jonathan Unglaub was commissioned to write a catalogue essay for a major upcoming loan exhibition, Poussin and the Dance, to be held at the J. Paul Getty Museum, Los Angeles, and the National Gallery, London, in 2021. His article "Antonio Bruni, Guido Reni, and a Poetics of Response," came out in volume of essays to honor Professor David Freedberg of Columbia University (Tributes to David Freedberg: Image and Insight, ed. Claudia Swan, Brepols, 2019).
Aida Yuen Wong
A Chinese translation of Aida Yuen Wong's Parting the Mists: Discovering Japan and the Rise of National-Style Painting in Modern China has been published by Rock Publishing (2019), a leading press for art scholarship in Asia. The release of the book was announced in two consecutive issues of Art & Collection (Diancang) magazine (July and August 2019).