Undergraduate Departmental Representatives
In the Fine Arts Department, our undergraduate departmental representatives are divided into the two subfields of Art History and Studio Art. These student representatives are here to offer help to majors, minors or any other student interested in the Fine Arts Program. Whether you have a specific question about requirements or would just like to get more information on the program from a peer's perspective, feel free to contact any of the UDRs.
Interested in Becoming a UDR?
The application process happens every spring. Contact Diana Filar or check out the UDR website for more information.
Interested in the Fine Arts Department's past UDRs and their interests? Check out our webpage of past UDRs.
Meet Your UDRs
Anna Ginsburg '21
Studio Art Undergraduate Departmental Representative
Hello! My name is Anna Ginsburg and I'm a junior from Hong Kong majoring in Studio Arts and Environmental Studies. I have taken sculpture, painting and drawing courses at Brandeis but I have the most experience as a painter. On campus, I'm a member of the women's varsity fencing team, as well as the club Quidditch team and fencing club. I'm also a member of the Brandeis Improv collective. When I'm not in the studio/fencing room/field/music room/catching my breath, I like to spend time in Boston, or hike and swim when the weather allows. I especially like to take my sketchbook outside to draw from nature and what I see in the city. Please feel free to reach out to me by email or on campus if you would like to talk or ask questions about the Fine Arts department!
Qiang Hu '21
Art History Undergraduate Departmental Representative
My name is Qiang and I am a junior major in Art history, philosophy, and IGS. I am interested in Contemporary Art. I especially love minimalism and abstract minimalism. I love to explore the hidden messages behind the simple paints. I also love Andy Warhol. I love exploring different museums in my spare time. My favorite museums around Boston are the DeCordova and the ICA. Mass MOCA is also a great museum with so many amazing exhibitions and new ideas even it is a bit far from the campus. I am a member of the SCRAM and also the co-president of the Fashion Design Club. I am very open to talking to new people about the department, so don't hesitate to contact me!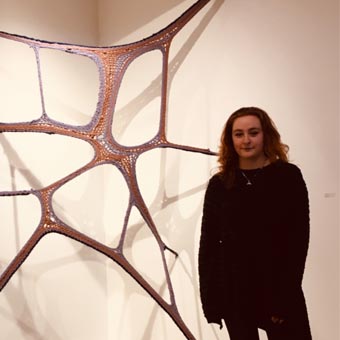 Mello Wilsted '22
Art History Undergraduate Departmental Representative
Hi! My name is Mello Wilsted and I am in the class of 2022. I am an art history major and my specific interests are architecture and East Asian art. In my own art practice, I am a multimedia artist. I love crochet, paper cutting, watercolor, and drawing. I love printing and letterpress. Last summer, I was an apprentice at David Goines and Richard Seiburt's shop, Saint Heronimous Press. I am also a certified book binder by the San Francisco Center for the Book. My favorite artists are Alessandro Sicioldr, Hieronymus Bosch, and the street artists of Oakland. I have a serious interest in street art, senior year of high school I published a book, on Oakland street art stickers, called SLAP! And check out my Instragram!