Journey and Freedom: Learning to Share our Stories
The last time I tried to draw a butterfly, my little daughter asked if there were butterflies in Ethiopia. So clumsy was what I drew that she imagined that maybe I had never seen a butterfly.
Even though my own daughter cannot recognize my attempts at art, I didn't let that fact stop me from applying to the F ull Disclosure Workshop, an innovative program sponsored by the Jewish Women's Archive (JWA) that weaves together story collecting, artistic representation, and community celebration to honor the lives of Jewish women and to encourage them to reflect on themes and influences that have shaped their lives.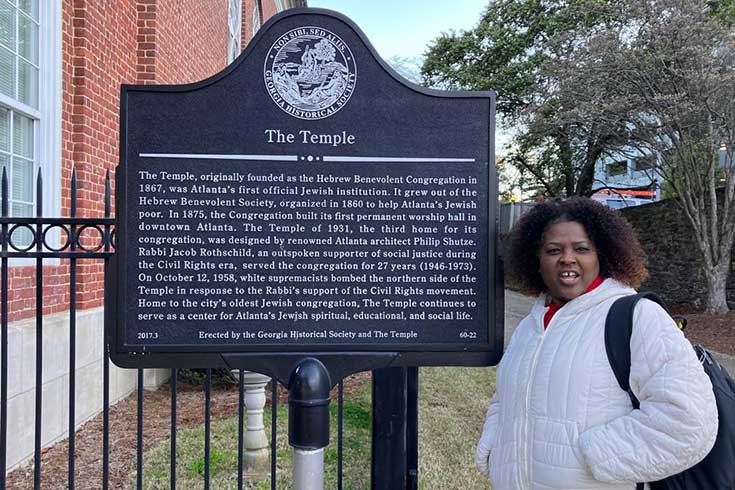 The JWA organized this 2-1/2 day workshop at The Temple in Atlanta, Georgia, for women who are interested in the oral history of women. All the work was with our hands, but based on ideas and themes that arose from the stories.
To prepare for the workshop, the facilitators, Sheila Miller and Barbara Rosenblit, sent us a detailed letter asking us to bring all kinds of personal items that express who we are. They also asked us to bring portrait photos of ourselves. In fact, by collecting the objects for the workshop, we started the workshop even before we arrived.
As a workshop facilitator in my professional field, I recognized that it was a genius idea to introduce the women to an internal dialogue even before the meeting began. When we arrived, I was in a circle with 11 women that I immediately realized were carefully selected to complement one another. From my own experience, I know that the composition of the group is a necessary condition for the success of any process. In the opening circle, the task was to present ourselves through an object from our life.
I brought a dark-skinned Barbie with spots on the body from vitiligo, a disorder that causes skin to lose pigment. The doll was brought to the U.S. by my older daughter, Noam, 21, for her younger sister, Ma'ayan, 1, in Israel. From the beginning, I loved this doll and was amazed by the depth of my daughter's thought that she not only selected a dark-skinned doll which is hard to find in Israel for her brown-skinned sister but also chose the one with the spots on the skin.
It is Women's History Month right now, where the achievements of women in society are celebrated, and the challenges that remain are noted. As I considered this, I found myself dealing with the issues of journey and freedom, two concepts that I poured into my workshop project. These are themes of my personal story, what I wanted to address in my art. "Journey" is something that folds in itself, a dream, of course, to reach Jerusalem, in my case as an immigrant to Israel from Ethiopia. But, a journey is also a picture of the future that is possible, a horizon, even if blurred, that is full of curiosity and sometimes full of fear.
The word "freedom" holds a lot of emotions. It is a feeling of victory that suggests physical, intellectual, and mental movement without limits. It suggests that obstacles will exist, but only to be overcome.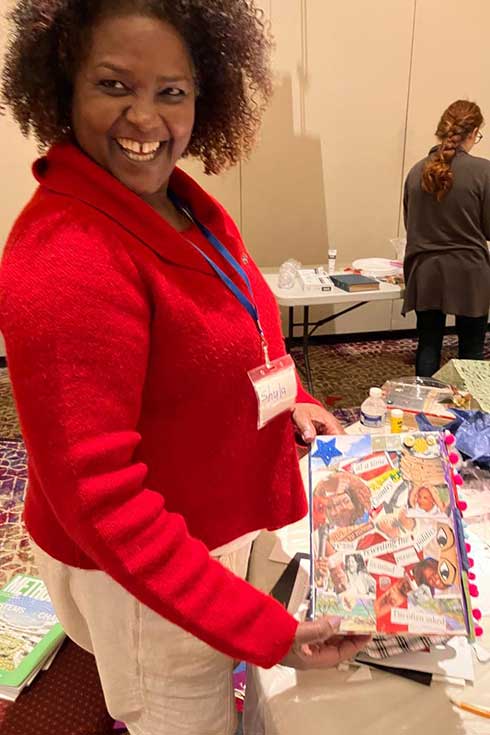 As we sat around round tables, the organizers gave us each an empty box and invited us to create with the box. With the help of the accessories, we were asked to depict our own "outside and inside." The moderators showed us examples and projects they had done in the past. Their motto throughout the session was "Everyone has a story" and "Everyone can make art." I believed in them from the beginning — when I saw examples, I knew I could do it. too. The idea I started working on was around the same themes I presented in the opening circle of the workshop, "journey and freedom."
I started with the imagination of the girl I was in Jerusalem and continued to think about landmarks and contexts of the actual journey to the Land of Israel. I significantly invested in the question: "How can I express this fully?" Ultimately, I decided to work with a collage of pictures and words. It was a bare emotional and cognitive process, but also full of dialogue with the new friends who were with me at the table and the presenters who moved between tables to feel the situation, answer questions, encourage and help.
I realized many things about myself during the journey of this personal creation. One major thing has strengthened my understanding of myself is that I hardly separate between my "outside and the inside." I was constantly in motion between the personal, social, and political.
On the third day of the workshop, we introduced ourselves through the creation. I realized that I was uncomfortable, in part because it was such an intimate project, and in part because I was afraid that I would not be understood in English, due to my own language barriers. Though I lead others through oral histories and intimate portraits of themselves, I realized that this was the first time I engaged in such a revealing process myself.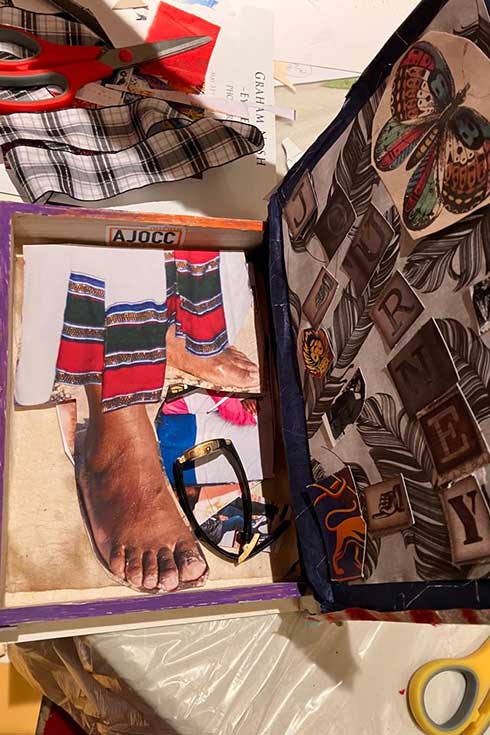 From this, I learned about the importance of staging and the leadership of the presenters who made it possible to share in this way. Each one was so involved and honest in their process and, at the same time, sensitive and curious to hear what the other had to say. The language they used and the composition of the groups they built, made it possible for everyone to share in a deep and meaningful way.
As I revisit the reasons for bringing the Barbie, I want to say that when my little daughter decided that she was too old for her dolls, she passed them on but chose to keep the one with the stains. I told the group: "What is special about this doll is that she is present in the space with "stain on a stain."
"It isn't easy to be a presence in her color, yet look how she stands with open shoulders and her chest forward like this (I demonstrated to them with a body movement). The doll seems to say to us: 'I am fully present in the space, it doesn't matter if I'm black and I even have a stain.' My daughters are present like that, and they know that they deserve to move freely and confidently in any space."
Perhaps this is a triumph of both journey and freedom.
I am grateful for the opportunity not only to acquire a tool for my work in documenting the stories of the Beta Israel community in Israel, but also to go through an empowering process of observing and sharing my story with others. Of course, the motto I took is "everyone can make art."
---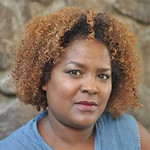 Dr. Shula Mola, an HBI Scholar in Residence and is working on, "An Oral History of the Women of Enkash — The Zar and the Mergem Gojo (Blood Hut) as Spaces for Resistance." She was named one of Israel's 50 most influential women in 2022 by Israel's leading economic newspaper.