Schedule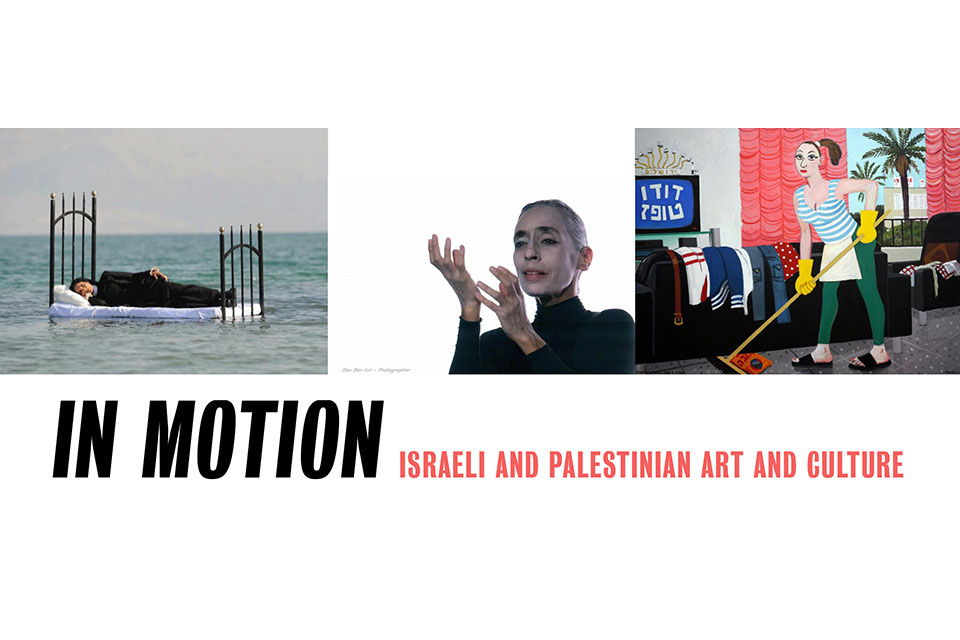 Postponed due to coronavirus precautions
In response to public health concerns over the spread of COVID-19 (coronavirus), Brandeis University is implementing a policy requiring the cancellation or postponement of large gatherings. Thus, with deep regret, we announce that we will not be able to present the In Motion: Palestinian Arts and Culture conference. We sincerely hope to be able to reschedule during the 2020-21 academic year. Thank you for understanding. 
Sunday, April 26
Shapiro Campus Center
This evening is presented as part of the Ilan Troen Annual Lecture on Contemporary Israel Affairs with the generous support of the Charles and Lynn Schusterman Family Foundation.
Time
Event
4 p.m.
Check-in (Pre-registration encouraged)
4:30–6:15 p.m.

Performances with Faculty Reflection, Q&A

Welcome
Lisa M. Lynch, Provost and Maurice B. Hexter Professor of Social and Economic Policy, Brandeis University

The conference opens with a plenary session, an unmediated encounter with the work of three brilliant artists:

 

Raida Adon, a Palestinian video artist and film and television actor


Tamar Borer, a disabled choreographer and dancer


 

Zoya Cherkassky-Nnadi, a painter who immigrated to Israel from Ukraine and currently divides her time between Tel Aviv and Nigeria, her husband's native land.

View excerpts from Raida Adon's video art. See images of Zoya Cherkassky's paintings and experience a dance performance by Tamar Borer.

Afterwards, the artists will discuss their work Brandeis with faculty members and then open it up to questions from the audience.

New, fully illustrated catalogues from the Israel Museum will be available for purchase and signing immediately after the event in the Shapiro Campus Center atrium.

 
Monday, April 27
Rapaporte Treasure Hall, Goldfarb Library
Time
Event
8:30 a.m.
Check-in (Pre-registration encouraged)
9–10:30 a.m.

Land of Milk, Honey and Disagreement: Teaching with Israeli and Palestinian Art in an Age of Globalization



Welcome
Jonathan D. Sarna, Director, Schusterman Center for Israel Studies, Brandeis University

In conversation
Kristen Lucken, Program Chair, Religious Studies, and Lecturer in Sociology, Religion, and International and Global Studies, Brandeis University

Shayna Weiss, Associate Director, Schusterman Center for Israel Studies, Brandeis University

Mary-Ann Winkelmes, Executive Director, Center for Teaching and Learning, Brandeis University

How can scholars teach inclusively about the arts when individual, political, social and cultural identities can conflict in classroom settings? Join Kristen Lucken, Shayna Weiss and Mary-Ann Winkelmes in conversation.

10:30–11 a.m.

Break
Coffee and light refreshments

11 a.m.–12:20 p.m.

Tamar Borer Workshop
Participate in an interactive juxtaposition of poetry and movement in regions of conflict with choreographer, dancer, and performance artist, Tamar Borer.


12:20–12:45 p.m.

Lunch
Boxed lunch. Kosher dietary laws observed.


12:45–1:45 p.m.

Ethnicity and Representation in Israeli Dance
A talk by Hannah Kosstrin, Associate Professor, The Ohio State University

1:45–2 p.m.

Break
Coffee and light refreshments.

2–3:20 p.m.

Open Class Visits With the Artists
Join a class session of "Breaking Boundaries in Contemporary Israeli Culture": an opportunity for more personal engagement with the artists, Raida Adon and Zoya Cherkassky-Nnadi.

The course is co-taught by Brandeis faculty members, Gannit Ankori and Ilana Szobel.

3:30–4:50 p.m.

Gaga Dance Class
Experience the magic of movement through Gaga dance in this class with certified Gaga instructor Maree Remalia, then participate in a Q&A.