Happy New Year! Shanah Tovah!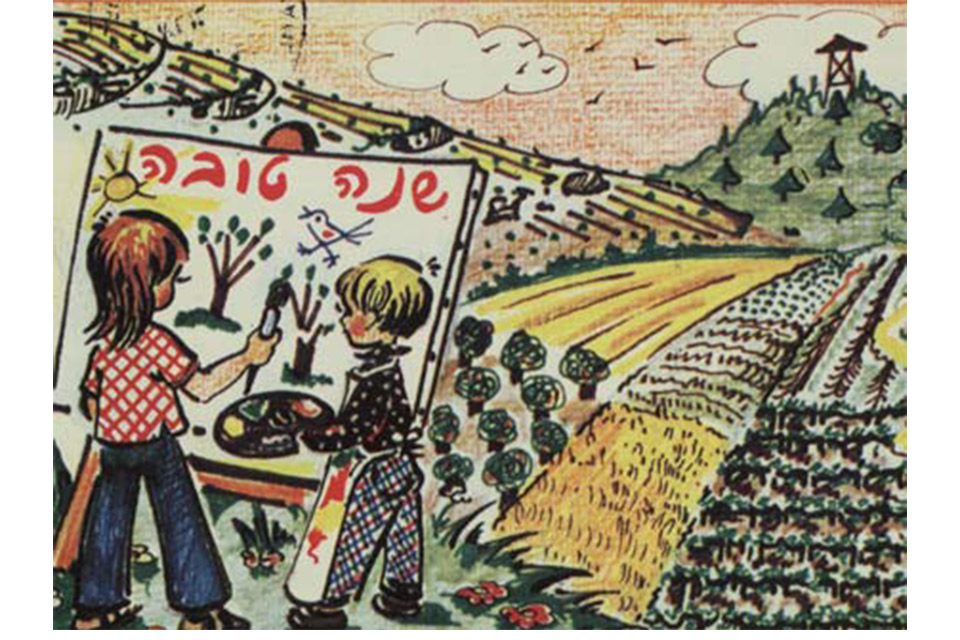 YEAR IN REVIEW 2020-21 (5781)
Happy New Year from the Schusterman Center for Israel Studies! As we bid farewell to the past year, 5781 according to the Jewish calendar, we are proud to share with you an overview of what we have accomplished, even in the face of the global pandemic.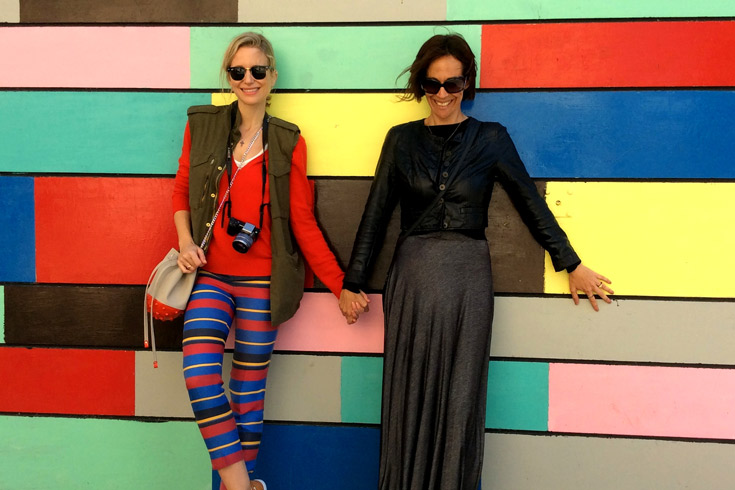 Programs
When in-person events became impossible, we successfully pivoted to Zoom programming, presenting no fewer than 42 online programs. Over 11,800 people watched, whether during the live broadcast or later on our new YouTube channel – check it out! Viewers tuned in not only from across North America, but also from Austria, Azerbaijan, Brazil, China, the Czech Republic, France, Germany, Greece, Hungary, India, Indonesia, Israel, Italy, Kenya, Poland, the Russian Federation, Taiwan, Thailand, Turkey, the United Arab Emirates and the United Kingdom.
We covered a wide range of subjects: the Israeli elections, Armenian pottery, Hebrew graffiti on the Western Wall, Israel in Spanish-speaking media, Blackness in Israel, translating contemporary Israeli poetry, and much, much more. We even mounted an international conference, with participants from Jerusalem to Los Angeles, on the history of the Jewish ritual object known as the Etrog (citron).
Art played a large role in our programming. We worked with internal and external partners this year to create "Studio Israel" featuring female voices on the Israeli art scene; the second season begins this year on October 14th. We also mounted a two-part series of artistic presentations in conjunction with Prof. Ilana Szobel's course on Disability Cultures. In April we launched our first-ever online art exhibition, featuring Dana Arieli's "The Zionist Phantom." Some 1,500 have attended the virtual exhibition and its opening events. Join us for the closing event on September 14.
This year, we will offer a full range of seminars and programs in multi-access form. Brandeis community members may attend live in our newly redesigned seminar room; others can participate from afar via Zoom, or, if you miss any, you can catch up on our YouTube channel. 
On September 1, we kicked off our new academic year with a celebration of the 125th anniversary of Theodor Herzl's The Jewish State. To mark the occasion, we commissioned and premiered HERZLMANIA, a short film which combines the story of Herzl with the story of David Matlow's unique collection of Herzl ephemera. We then enjoyed a lecture by Herzl's most recent biographer, Derek Penslar, the William Lee Frost Professor of Jewish History at Harvard University, who spoke about Herzl's charisma. Check out our upcoming programs, and join us!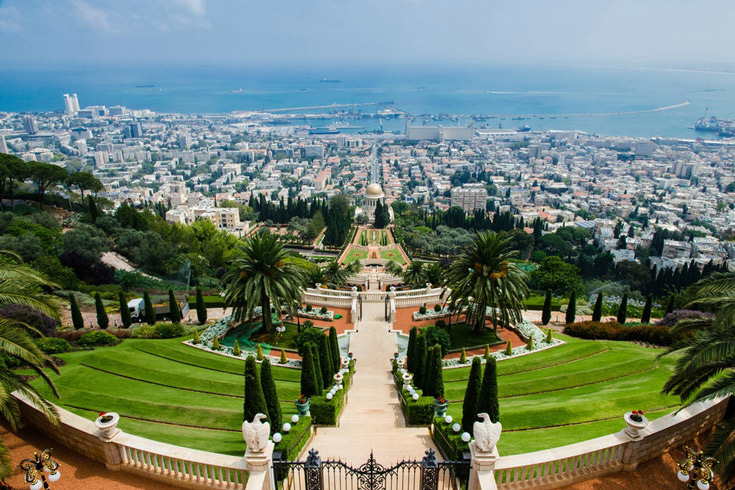 Online Research Guide to Israel Studies
Our Online Research Guide to Israel Studies, created during the pandemic, attracted international attention. It was a boon to researchers unable to visit libraries, and signaled the central role we play in the whole field. Since its launch in May of last year, the guide has garnered over 11,000 page views.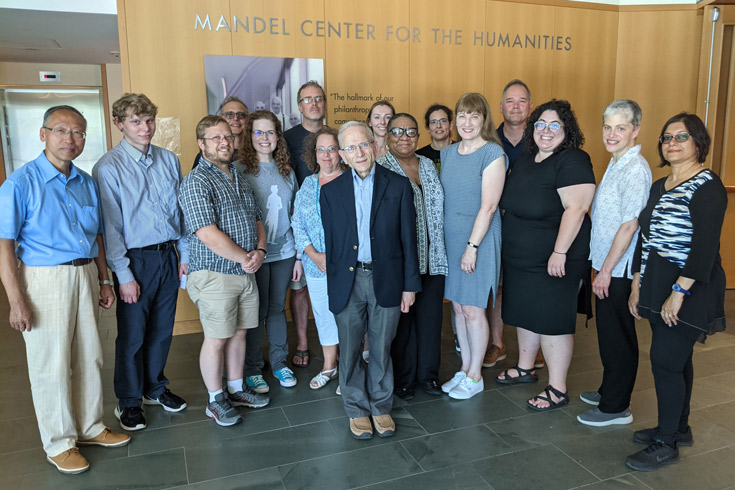 Summer Institute for Israel Studies
Determined to hold our annual Summer Institute in person this year both on the Brandeis campus and in Israel, we secured special permission to bring vaccinated American scholars to Israel, notwithstanding Covid restrictions. Everyone underwent multiple tests! We brought two faculty members from Historically Black Colleges (Howard University and Bluefield State College) on the trip, two faculty members from American military academies, and others from colleges and universities stretching from Boston to Hawaii. They represent disciplines ranging from dance, art and visual culture, to business, literature, religious studies, sociology and comparative politics. The Jerusalem Post ran an article about our group's visit to an Israeli film school. Since its inception, our Summer Institute faculty fellowship program has prepared 349 professors at 245 institutions to teach Israel Studies in their respective disciplines. SIIS alumni have taught 1,400 courses about Israel to more than 33,549 students worldwide, in countries ranging from Azerbaijan to Zimbabwe.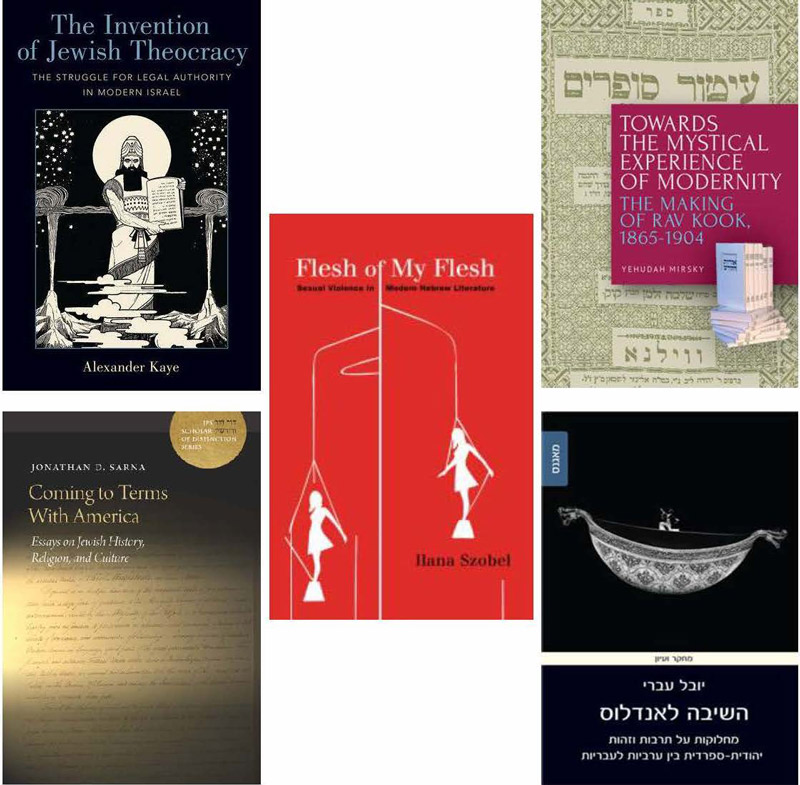 Faculty
Our faculty, recognized as a leading source of Israel expertise, appear routinely on radio, television, podcasts, and a host of print and online news outlets. They produce cutting edge research, which, along with their monographs earn the praise and respect of their peers. Prof. Alexander Kaye was recognized with awards from the Association of Israel Studies, the American Academy for Jewish Religion and the Yeshiva University Center for Israel Studies for his 2020 book The Invention of Jewish Theocracy: The Struggle for Legal Authority in Modern Israel. Prof. Yehudah Mirsky published the revised Hebrew edition of his acclaimed 2014 book Rav Kook: Mystic in a Time of Revolution under the title Rav Kook: Mabat Hadash, as well as a new monograph, Towards the Mystical Experience of Modernity: The Making of Rav Kook, 1865-1904. Prof. Yuval Evri, who has just joined us as Assistant Professor of Near Eastern and Judaic Studies on the Marash and Ocuin Chair in Ottoman, Mizrahi, and Sephardic Jewish Studies, published The Return to Al-Andalus: Disputes Over Sephardic Culture and Identity Between Arabic and Hebrew. Prof. Ilana Szobel's new book, Flesh of My Flesh: Sexual Violence in Modern Hebrew Literature also appeared this year; so did my Coming to Terms with America: Essays on Jewish History, Religion, and Culture.
Publications
Last year we published four highly praised new monographs in our Perspectives on Israel Studies series, through Indiana University Press. Paula Kabalo's Israeli Community Action during the War of Independence received the Yonathan Shapiro Award for the Best Book in Israel Studies in 2020 by the Association for Israel Studies. Uri Bialer's Israeli Foreign Policy: A People Shall Not Dwell Alone was recognized as co-winner of the Haikin Prize from Haifa University as the best book in geostrategy. Meanwhile our journal Israel Studies, a leading periodical in the field, has over 3,200 university subscribers, and tens of thousands of downloads annually by individuals in about 100 countries, including those that do not have relations with Israel, such as Iran and Indonesia.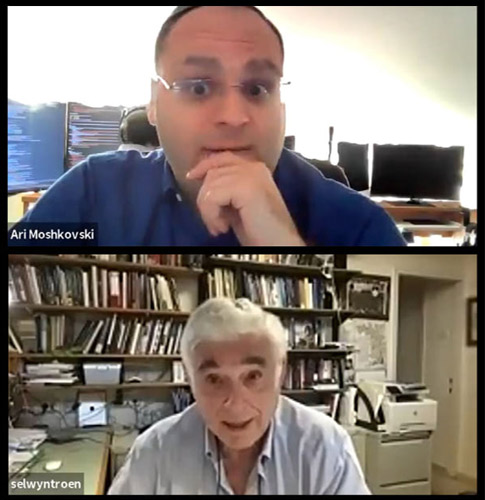 Schusterman Scholars
We are proud of the achievements of our doctoral fellows, who represent a broad spectrum of academic thought, geographic regions, religions and ethnicities. In the fall, we graduated Dr. Ari Moshkovki PhD '20 (NEJS). Current doctoral fellows are teaching, publishing, and already making a name for themselves in the field. Maya Dworsky-Rocha (Anthropology) has been working as an adjunct lecturer in Anthropology at Babson College, while Robert DeBoard (NEJS), nearing the end of his degree program, is Visiting Assistant Professor of Israel Studies at SUNY-Binghamton. Maham Ayaz, Mika Hackner and Rima Farah each taught courses of their own design here at Brandeis. Mika Hackner (Politics), Shirah Malka Cohen (NEJS) and Rima Farah (NEJS) have all published scholarly articles. Meanwhile, Karen Spira (NEJS) was recently named Assistant Director for the Crown Center for Middle East Studies at Brandeis University.
Image: Ari Moshkovski responding to a question from Schusterman Center founding director Dr. Ilan Troen at his dissertation defense (via Zoom).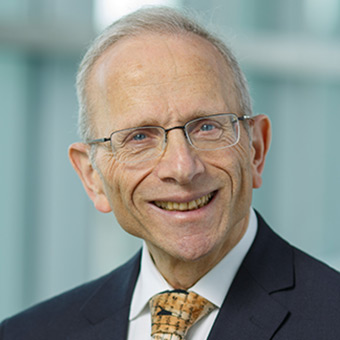 The Schusterman Center, in short, is thriving! We look forward to a productive year ahead, and invite you to join us for our upcoming events. To support our vital work, make a gift here.
All good wishes for a happy and healthy New Year,
Jonathan D. Sarna
University Professor and Joseph H. & Belle R. Braun Professor of American Jewish History
Director, Schusterman Center for Israel Studies