Grad school is usually seen as a lonely career step: late nights at the lab, independent research studies, and never-ending thesis revisions in the library. But for some GSAS students, grad school wasn't so lonely and they left Brandeis with more than just a degree. We celebrate GSAS alums who found love while at Brandeis - and are surprised by how many of you there have been over the past 70 years!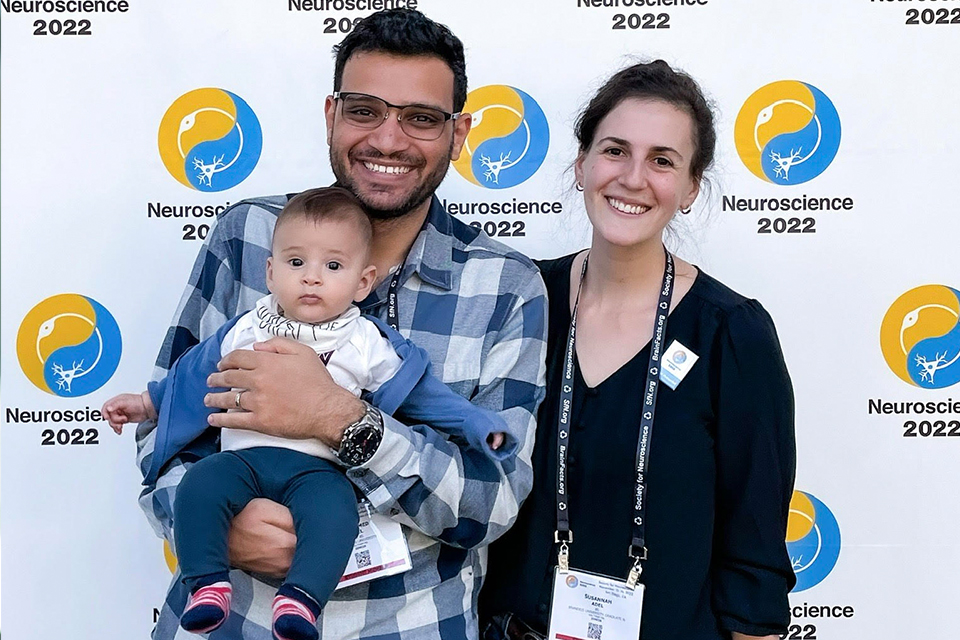 Mohamed Adel MS '18 and Susannah Adel MS '19
Mohamed Adel MS '18 (Neuroscience) and Susannah Adel MS '19 (Neuroscience) met when they both joined the Neuroscience department in 2017. After getting to know each other during study sessions for Principles of Neuroscience, they got married in 2019. This past year they were very excited to bring their new baby son to the Society for Neuroscience conference in San Diego (pictured)!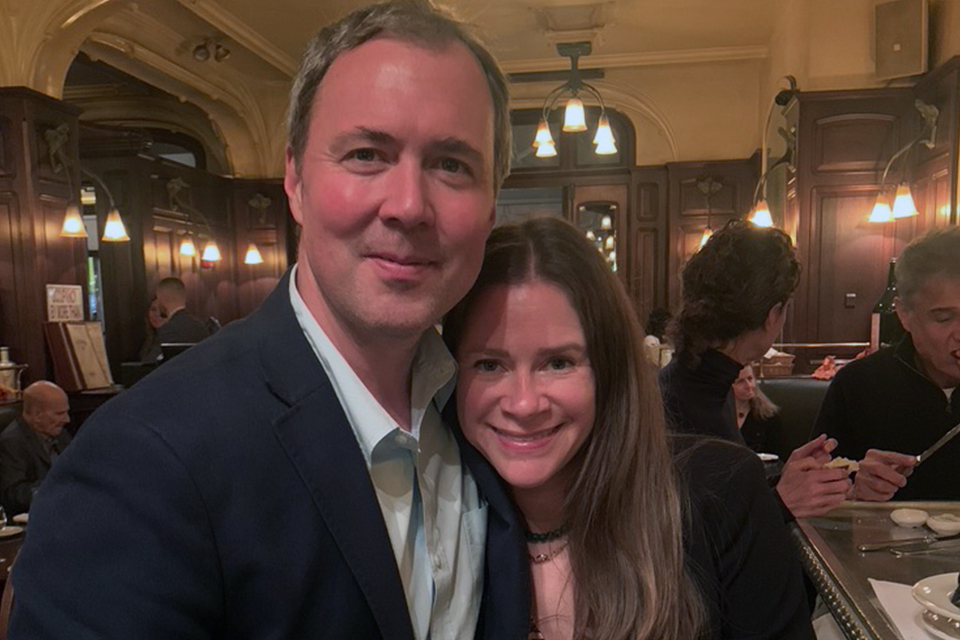 Bridget Chalk PhD '09 and Brian Chalk PhD '10
Bridget Chalk PhD '09 (English) and Brian Chalk PhD '10 (English) met in the English PhD program in 2004, sharing laughs between student sessions at the Writing Center, and got married in 2007. After finishing their dissertations (Bridget under the guidance of Paul Morrison and John Plotz and Brian under Ramie Targoff and Billy Flesch), they were fortunate to be hired at Manhattan College in the Bronx, where they are both currently Professors of English. Despite the distracting joys of three children and a dog, Bridget is finishing up her second book project, Novel Schooling, and Brian's newest manuscript, Sleeping and Dreaming on Shakespeare's Stage, is in its final stages.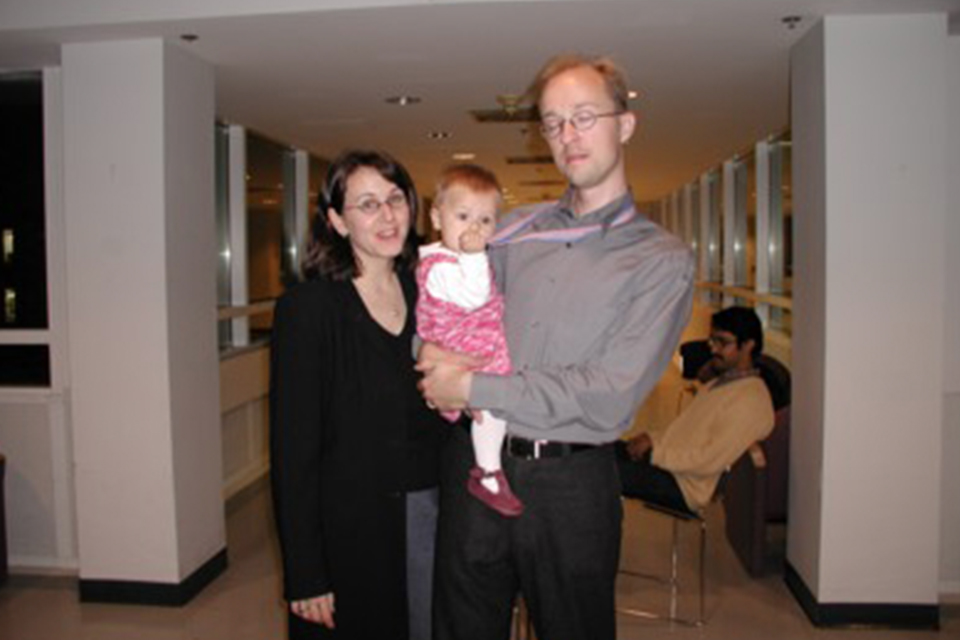 Jesper Sjostrom PhD '03 and Alanna Watt PhD '03
Jesper Sjostrom PhD '03 (Neuroscience) and Alanna Watt PhD '03 (Neuroscience) say, "Brandeis will always be special to us because everything started there for us! Our love of science and the start of our scientific careers. And not just our careers — our marriage and our family both started when we were there!" Alanna started in 1997 in the PhD in Neuroscience program, and Jesper started in 1998. They were married in 2000, had their daughter in 2002, and graduated in 2003.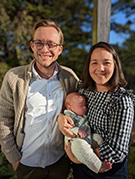 Ariel Meave-Ohrt MA '13 and Chris Meave-Ohrt MA '13
Ariel Meave-Ohrt, Anthropology MA '13, says, "I met my now-husband Chris on a GSAS ski trip in 2012. He was at Brandeis studying math and I was there for Anthropology. Opposites attract! We have many fond memories of hanging out on campus and around Waltham, and loved the community of friends we found while there. We now live in the San Francisco Bay Area, got married in 2019, and welcomed our son in 2022."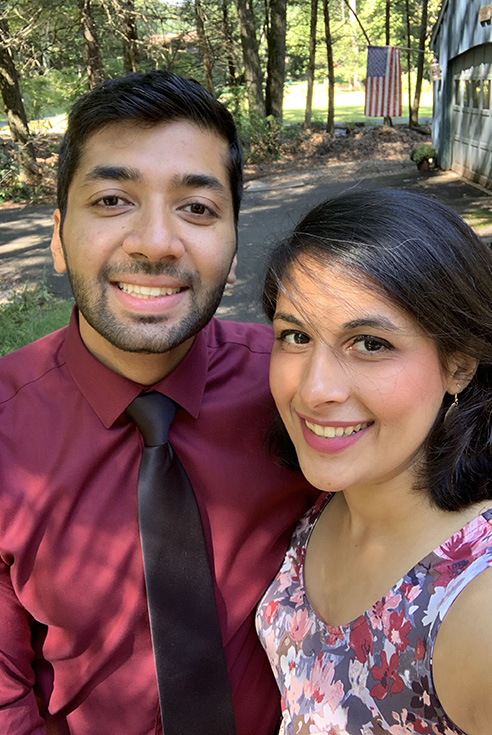 Abuzar Mahmood PhD '23 and Nishaat Mukadam MS '19
Abuzar Mahmood, PhD '23 in Neuroscience, says, "My partner, Nishaat Mukadam (MS Psychology, 2019) and I met through a mutual friend (also in the Psychology program). We're both international students and actually met the first day our programs started, but then didn't see each other for a year. We were reintroduced by our mutual friend and got to know each other better on campus at the Brandeis barbeque, having coffee at Einstein's, having lunch in Fellows garden, or just hanging out with friends on campus. We're planning on getting married this year."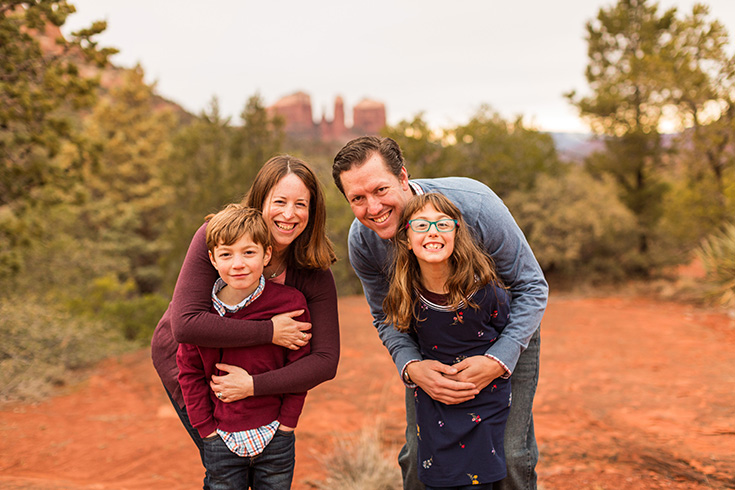 Jodie Parmer MA '06 and Daniel Parmer MA '08 (Heller PhD '17)
Daniel and Jodie Parmer (nee Parnes) met while both were getting a master's degree, Daniel in NEJS and Jodie in the Hornstein Program. Although they were both enrolled in Professor Sarna's class on American Jewish History, it took a graduation party, thrown by fellow alum Rosa Kramer Franck, for them to actually strike up a friendship. From that point on they were inseparable, spending time together and with fellow classmates for Shabbat dinners, holiday celebrations, and various escapades around Boston. Since then, Daniel continued on to get his own MA in the Hornstein program, followed by a PhD in the Heller School in Social Policy, and he worked many years at the Cohen Center for Modern Jewish Studies. Jodie spent thirteen years working as the Program Director of a local synagogue and is now back at Brandeis as the Academic Administrator of the NEJS office, while Daniel is an Associate Director of Research and Evaluation at Combined Jewish Philanthropies of Greater Boston. They live in Arlington with their two children and their dog.
---