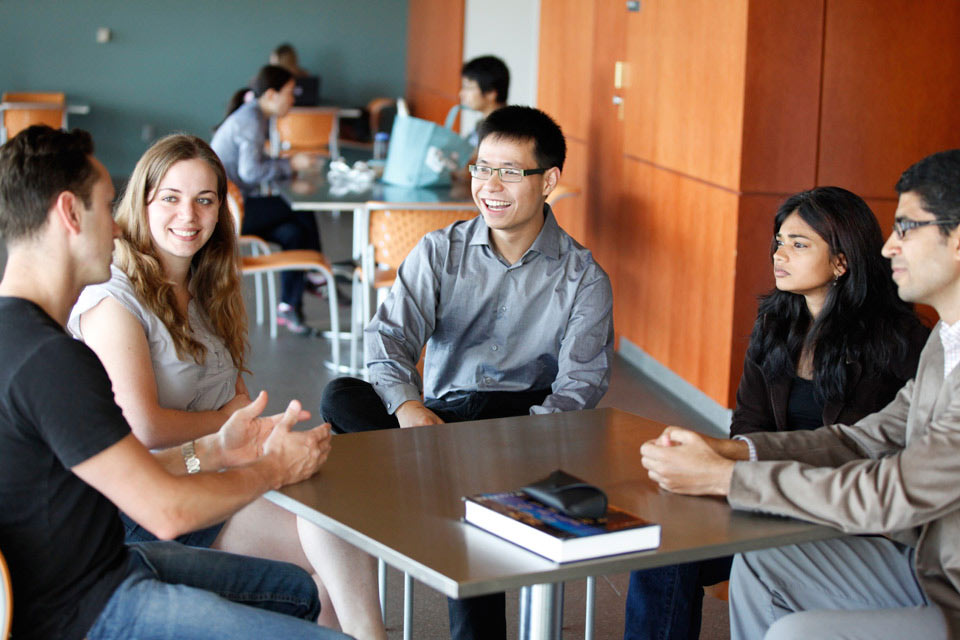 Welcome to Brandeis. To be Brandeisian means to be academically driven without being overly competitive. This makes for an environment that is both stimulating and inviting. Our student body is diverse, yet everyone at GSAS seems to have one thing in common: an open mind. Wherever you come from, whatever your background and beliefs, you will feel welcomed by the GSAS community and quickly become a part of it.
Four Divisions, Infinite Opportunities
One of the key differences at Brandeis GSAS is our emphasis on interdisciplinary learning. Here you will learn the importance of connecting with people who have a broad range of expertise and experience. With over 700 graduate students across the sciences, humanities, creative arts, and social sciences, you will share your time here with a diverse group of students and faculty who all have a common goal: to take their learning to the next level at a research university within a liberal arts setting.
Academic Inquiry
Thousands of students have found it to be true: A graduate degree from Brandeis hones your professional skills and/or prepares you for further academic study. GSAS has a variety of graduate programs that encourage innovative, exciting new projects of interdisciplinary research and teaching. Your time here will be rigorous and rewarding, with hands-on research and experiential learning at the core of many of our disciplines.
Faculty Mentorship
Here at GSAS, you will work one-on-one with faculty who are global leaders in your field of study. One of the most important indicators of a student's satisfaction with graduate school is how much access and interaction there is with faculty members. Mentoring is an essential component — perhaps the leading component — of your Brandeis graduate experience, and one that distinguishes us from other institutions.
Career Preparation
You come to GSAS to better position yourself for what comes next. That's why we offer unique advantages when it comes to your career. Boston and its suburbs are global hubs in many industries — education, pharmaceuticals, finance, technology, and bio-research, among others. Our location in the Greater Boston area gives you easy access to internships, employment opportunities, and much more. From day one, our Professional Development team is here to help you with a range of career preparation, from individual advising to workshops and events, to alumni, employer, and professional networking. 
Boston and Beyond
Brandeis' location in the city of Waltham is on the Route 128 "technology corridor," home to a wide range of major high-tech companies. We're close enough to Boston that you have easy access to everything the city offers. There are several transportation options available, including buses, a shuttle, and a commuter rail. In fact, the Brandeis/Roberts commuter rail station abuts our campus.