GSAS Welcomes the Second Cohort of DEIS Scholars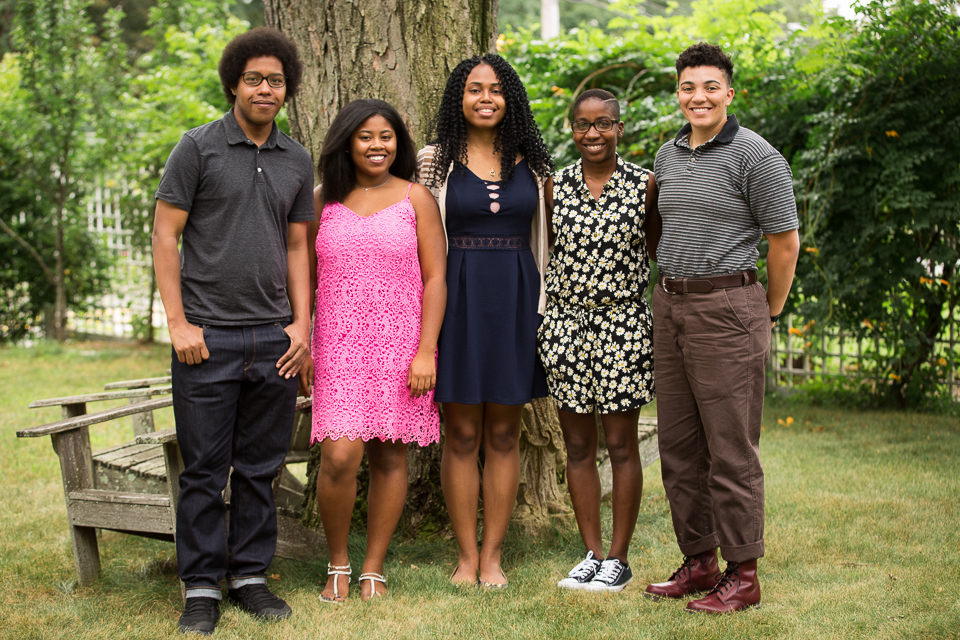 Photo Credit: Simon Goodacre
September 8, 2017
The Graduate School of Arts and Sciences welcomed the 2017 Diversity, Excellence and Inclusion Scholarship (DEIS) recipients in August with a barbecue at the dean's house. Five members of the cohort were present, including: Lauren Bernard, Christiana Joseph, AK King, Jill Martin, and Caleb Smith. Several members of the GSAS staff were also in attendance, along with Mark Brimnall-Vargas, the Chief Diversity Officer, and Madeleine E. López, the Director of the Brandeis Intercultural Center, who also serves as coordinator for the program.
The scholarship, which was launched in January, 2016, enables students from non-traditional backgrounds to pursue a master's degree in the Humanities, Social Sciences and Creative Arts at Brandeis. It includes full tuition remission and a $10,000 stipend. In 2017, the award was extended to the Biotechnology program for the first time.
Recipients are selected by a committee of faculty members and Eric Chasalow, the school's dean. "This is the second year that we have been recruiting for the scholarship," says Chasalow, "and I am delighted that such an exciting group of scholars are joining the Brandeis community." The award is structured to provide mentoring to the scholars that will help them transition into leading PhD programs at Brandeis and beyond. The hope is that those scholars who wish to teach will eventually become professors and members of the academy, which still struggles with increasing diversity.
López is particularly happy that one of the recipients, Jill Martin, was also a Posse Scholar. "We wanted to bring a similar philosophy to graduate education with this scholarship that Posse brings to their programs," she says, "so I am very excited that one of our scholars was involved with Posse as an undergraduate." In her role as coordinator for the DEIS program, López will be the primary point-of-contact for the scholars, helping to generate camaraderie among the cohort and assisting them in cultivating their professional networks.
Read more about the first cohort of DEIS scholars:
Lauren Bernard, Musicology
Lauren graduated from the University of North Texas (UNT) in 2015 with a bachelor's in Music and a minor in French. In 2011, she received the UNT Achievement Recognition Scholarship, and she became a member of the UNT Honors College in 2012. She was also the 2015 Outstanding Undergraduate Student in Musicology and received the Honors College Recognition Award in 2015. Her research interests include exploring the relationship between music and politics, focusing on areas such as reception history, the representation of values in music, and the function and development of instrumental genres. She will continue to examine the music of the Soviet Union, which she started researching as an undergraduate, with an emphasis on the political music of Russian composers and theorists such as Shostakovich, Myaskovsky, and Boris Asaf'yev. Eventually, Lauren hopes to become a university professor like her father.
Christine Darko, Biotechnology
Christine is a member of the Brandeis 2015 class, where she received a bachelor's in Biology and Psychology. A first-generation college student, she is a recipient of the 2011-15 Dr. Martin Luther King Jr. Scholarship and served as a member of the Student Support Services Program Student Leadership Board from 2013-15. An aspiring physician and scientist, she hopes to gain the knowledge to further explore her interest in medical genetics from the Brandeis biotechnology program, including understanding how genes may cause predispositions to different diseases—particularly diabetes and hypertension, which both run in her family.
Christiana Joseph, Anthropology
Christiana graduated from Wellesley College in 2016 with a bachelor's in Anthropology and Religion. She was the 2014 Mellon Mays Fellow, a recipient of the 2013 Academic Achievement Award, a 2012 Wellesley Plus Scholar, and a 2012 QuestBridge Scholar. A first-generation college student, Christiana ultimately hopes to pursue a PhD and become a Professor of Anthropology at a liberal arts college. Her research interests include black women's mental health perspectives and practices and how their faith, or lack thereof, influences those perspectives and practices. She will interview non-collegiate women from the United States, East Africa, and the Caribbean and use the narratives they construct to improve mental health discussions, access to resources that prove to be culturally relevant, and the quality of care among community mental health centers in these areas.
AK King, Women's, Gender and Sexuality Studies
AK graduated from Hendrix College in 2017 with a bachelor's in Sociology and Spanish. They founded and served as first president of Mulitiracial Student Association and were a multi-sport athlete as an undergraduate student. In 2016, they pursued the Northwestern University Summer Research Opportunity Program in the Office of Diversity and Inclusion and became an Arthur Ashe Jr. Sports Scholar. They are also a member of Alpha Kappa Delta, the Sociology International Honor Society. They plan to continue their research along the intersections of race, gender, and sexuality—particularly woman of color feminisms and masculinity without men. As a graduate student, they want to extend this research by collecting, sharing, and archiving narratives from individuals of color who are masculine and assigned female at birth.
Jill Martin, Global Studies
Jill is a member of the 2015 Brandeis class with a bachelor's in International Studies and a minor in South Asian Studies. She was one of ten scholars selected for the first Atlanta Posse at Brandeis, receiving a full-tuition leadership scholarship from the foundation. After graduating, Jill relocated to New Delhi, India where she began her career as a social media freelancer. Two years later, Jill has transitioned from freelancer to business owner with a client base that extends from Australia to India and is managed remotely from countries that include: Italy, Egypt, South Africa and Dubai. Through the Global Studies program, Jill hopes to further develop her expertise in global communications and gain the skills necessary to thrive as a borderless entrepreneur and global citizen.
Caleb Smith, History
Caleb graduated from Beloit College in 2009 with a bachelor's in Politics. A first-generation college student, he is a McNair Scholar, a member of the Seattle King County Housing Authority's AmeriCorps program and volunteer coordinator for North Helpline Food Bank. Ultimately, he plans to pursue a PhD in History. He will continue researching the civil rights struggle in Chicago and the evolution of the Civil Rights Movement in the north more broadly. He hopes to trace the activists and strategies that connected the northern Civil Rights Movement with concurrent struggles in the south and examine the ways that northern and southern civil rights activists worked together and sometimes clashed over media coverage and philosophies.
Ana Ward, Biotechnology
Ana graduated from the University of Florida in 2017 with a bachelor's in Agronomy and Crop Science. She is a 2016 UF CALS Alvin T. Wallace Scholar, a 2014 UF CALS Doris Lowe and Earl and Verna Lowe Scholar, a 2014 Florida Bright Futures Golden Medallion Scholar, and a 2013 Cornell University Rawlings III Presidential Research Scholar. Ana spent time at the Planetary Geology Laboratory as an undergraduate, where she studied Galactic Cosmic Radiation (GCR) on Martian meteorites. She believes that improving our understanding of the effects of space radiation on plants will prepare us to anticipate potential abnormalities resulting from long duration space flights. This knowledge would be crucial for missions to Mars, which will take terrestrial biology outside of the protection of Earth's magnetic field and expose the organisms to GCR.