The Graduate School of Arts and Sciences Welcomes Third Cohort of Diversity, Excellence and Inclusion Scholars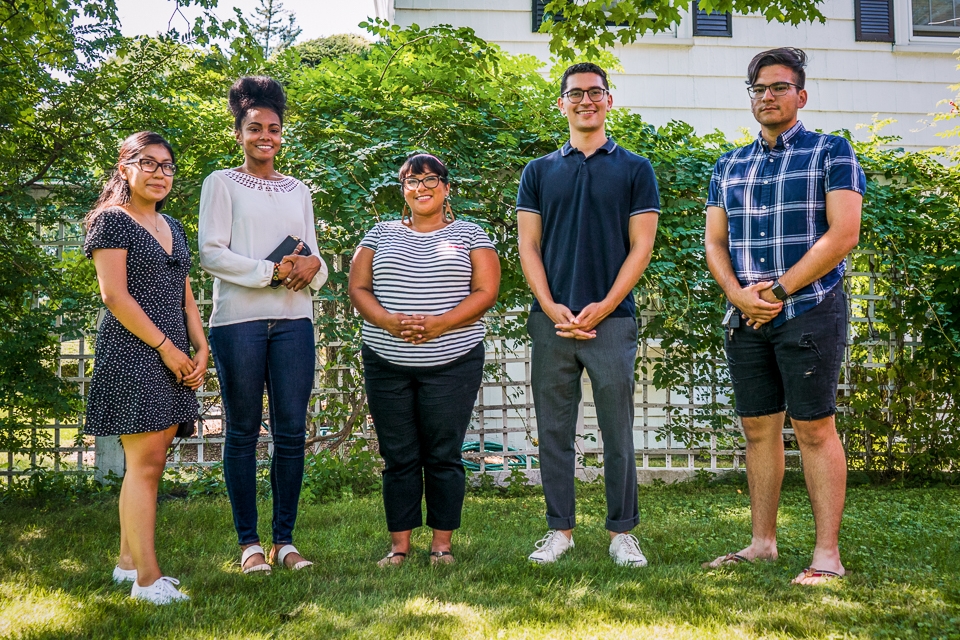 Photo Credit: Simon Chasalow
August 30, 2018
On August 26, seven Diversity, Excellence and Inclusion Scholarship (DEIS) recipients were welcomed to Brandeis with a barbecue at dean Eric Chasalow's house. The scholarship ensures that students from non-traditional backgrounds can benefit from a world-class Brandeis education. It provides selected master's students in the Creative Arts, Humanities, Social Sciences and Biotechnology a full tuition scholarship, a $10,000 stipend and health insurance. The 2018 award winners comprise the third cohort of DEIS students. 
In addition to the financial support DEIS scholars receive, the Graduate School of Arts and Sciences provides support and mentoring as the recipients progress through their graduate education. Students in the program attend regular meetings with Madeleine Lopez, the director of the Intercultural Center and coordinator of the DEIS program. "There is a wide variety of research interests in this group," says Lopez, "so I will be excited to see what these students bring to the table during our conversations."
"I am very excited about this year's DEIS cohort," says Chasalow. "It has been gratifying to see the enormous amount of interest this program has generated since its launch." One of the objectives of the DEIS award is to mentor participants into leading doctoral programs at Brandeis and beyond. "Graduates from our first two cohorts have achieved tremendous success after completing their studies at Brandeis," says Chasalow. "I am delighted that many have moved on to promising careers, and others are continuing their studies at prestigious institutions like Vanderbilt, the University of Chicago and the University of Pennsylvania."
Meet the 2018 DEIS Scholars:
Michael Hall, Ancient Greek and Roman Studies
Michael hall earned a bachelor's in History with minors in Geography and Anthropology from Oklahoma State University. He is a member of Phi Alpha Theta, Gamma Theta Epsilon, the National Society of Collegiate Scholars and the Society for Classical Studies. He is the recipient of the Dobson Endowed Scholarship, the Berlin B. Chapman Scholarship, the Homer L. Knight Undergraduate Award, the Townsend Minority Memorial Scholarship and the Oklahoma State University Continuing Student Scholarship. He has performed field work in Menorca, Spain, Pylos, Greece, and three sites in Oklahoma. Hall's areas of interest include ancient trade and relations, particularly between Greek and Near Eastern societies from the Mycenaean Period through the Classical Period, and ritual and death. At Brandeis, he hopes to further his knowledge of ancient Greece and surrounding regions with the ultimate goal of becoming a Classical Field Archaeologist.
Michelle Guaman, Women's, Gender, and Sexuality Studies
Michelle Guaman, a first-generation college student, earned a bachelor's degree in Women's and Gender Studies with minors in Art and Hispanic Studies, from Hamilton College. She was valedictorian of her high school class. She has interned at NARAL Pro-Choice and at Latinas on the Verge of Excellence (L.O.V.E.) in Queens, NY. Guaman was inspired to pursue Women's and Gender Studies after taking an introductory course in college. Guaman hopes to develop curricula which can help students gain a comprehensive understanding about their bodies within safe and inviting settings at school. She wants to pursue this goal by working with women's health organizations such as Planned Parenthood, National Women's Health Network, International Women's Health Coalition, United Nations Women, and many more.
Habiba Farh, Near Eastern and Judaic Studies
Habiba Farh, a first generation college student, earned a Bachelor's in Islamic and Middle Eastern Studies and Anthropology with minors in Near Eastern and Judaic Studies and Legal Studies at Brandeis. Her paper, "Hatgawez" (Egyptian Arabic for "I'm Getting Married"), was published in November 2016 by the Brandeis International Journal. The paper explored how both poorer families and the state benefit from the institution of temporary marriage, in particular between young girls and wealthy Gulf citizens, leading to a de facto legalization of prostitution. Farh is the co-founder and president of Common Ground, an organization designed to foster communication between Muslim and Jewish students on the Brandeis campus. She plans on using the degree in Near Eastern and Judaic Studies with a focus on Islamic and Middle Eastern Studies to produce foundational scholarly knowledge on the political trajectories of Arab-Americans in contemporary American society, specifically in how the politicization of Arab-Americans growing up in a post-9/11 world compares to the politicization of Arab-Americans who not only witnessed the attacks as a national catastrophe, but as a trigger to their politicization.
Angela Vera Webster, Anthropology and Women's, Gender, and Sexuality Studies
Angela Vera Webster, a first-generation college student, earned a bachelor's in English with high honors at the University of California, Berkley. Vera Webster received the 2014 Spokane Human Rights Award and was actively involved in activism. She is a co-founder of the Latino Hope Foundation, a non-profit designed to help fundraise scholarship funds and organize mentorship relationships for all Latinx studnets attending college in Eastern Washington. They also coordinate cultural events designed to teach the Spokane community about Latin-Americans in the United States and engender cultural pride for Latinx in the region. Vera Webster is interested in pursuing either a doctorate in clinical psychology or a medical degree or a doctorate in psychiatric nursing. She wants to concentrate on providing direct healthcare services to prisoner reentry populations of color, particularly those who identify as femmes or women (whether trans-or cisgender or intersex) mothers and caretakers who engage in sex or body work, and the homeless, specifically homeless immigrants.
Kyndall Tyler, Biotechnology
Kyndall Tyler earned a bachelor's in Mathematics with a minor in Biology at the University of Houston. She received Academic Excellence Scholarships at that institution and is a member of Pi Mu Epsilon (the National Mathematics Honors Society). She participated in the 2017 summer research experience with the Bioinformatics program at Boston University and gave a poster presentation at the Annual Biomedical Research Conference for Minority Students (ABRCMS) in November 2017. Tyler is interested in working with Professor Bing Xu with molecular mechanisms and biomedicine with an eventual goal of working in public health. As a volunteer at the Houston Food Bank and a mentor to middle school and high school students in the inner city, she plans to continue inspiring underrepresented minorities to pursue a career path in science.
Victor Suarez
, Biotechnology
Victor Suarez, a first-generation college student, earned a bachelor's in Science and Technology, Molecular Biology with a minor in Mathematical Sciences and Chemistry from Kean University of New Jersey. He was the president and executive board member of the Beta Beta Beta Biological Honor Society and the president of the Biotechnology Club. He is also a Lambda Alpha Sigma Honor Society inductee. Suarez hopes to matriculate into a doctoral program. Suarez worked in Gina Turrigiano's lab as a recipient of the
Brandeis Materials Research Science and Engineering Center's
Research Experience for Undergraduates program
. His current research interests lie within the scope of bioengineering where the research can be translational and applicable to immediate problems. He is interested in investigating neurodegenerative diseases and developing novel treatments including gene therapy or drug delivery.
Christian Gochez, Biotechnology
Christian Gochez earned a bachelor's in Biological Science (Molecular Biology and Biotechnology) at California State University, Fullerton. He is interested in how Biotechnology and marketing intersect, and he was attracted to Brandeis by the combination of industry mentorship, the continuation of his formal education in science and business, and Brandeis' proximity to the Massachusetts Biotech Supercluster. Gochez has held internships in maketing at Hope Family Dentistry and PharMedQuest which sparked his interest in pursuing both science and marketing. He feels that marketing is a science of its own and sees many parallels with his background in biology.