Podcast: Unraveling the Mysteries of DNA Self-assembly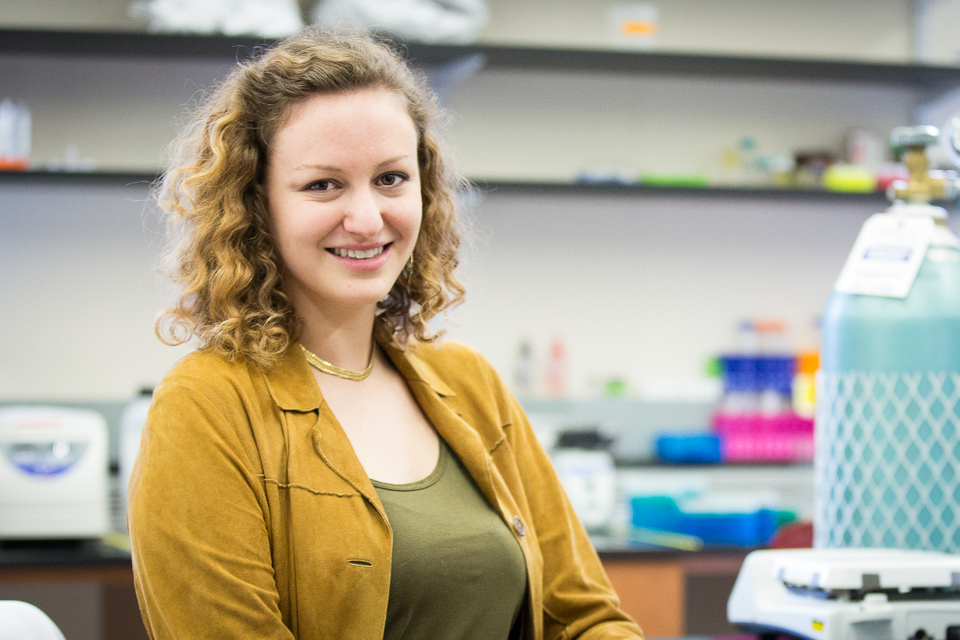 Photo Credit: Simon Goodacre
January 29, 2019
In this episode of the Highlights Podcast, Janna Lowensohn, a PhD candidate in Physics and member of the Rogers Lab, discusses the process of experimentation involved with DNA self-assembly. According to the Rogers Lab, "nature builds incredibly diverse materials, such as structural elements, molecular machines, responsive containers, and even entire organisms, through a process called self-assembly." Janna tweaks the layout of the DNA to make the design simpler, allowing for the creation of more complex structures.
Transcript
Simon:                   
Hello and welcome to the Highlights podcast. I am Simon Goodacre, the assistant director of communications and marketing for the Graduate School of Arts and Sciences at Brandeis. Today, I'll be speaking with Janna Lowensohn, who is a researcher in the Rogers Lab and a PhD candidate in physics. Welcome to the podcast, Janna.
Janna:                     
Hi.
Simon:                   
Could you tell me a little bit about how you came to Brandeis?
Janna:                     
Sure. I was an undergrad at Emory University in Georgia and I wanted to go to law school, but then one fateful summer I did a research rotation and realized I would rather be a struggling researcher than the most successful lawyer out there.
Simon:                   
Fair enough. So, let me ask you a little bit about the Rogers Lab. What are you researching?
Janna:                     
So, the Rogers Lab works on something called DNA self-assembly. That means we create shapes that are about a fraction of a width of a human hair, and we do all of this using DNA to give the instructions for how the components should assemble. And my specific question focuses on how we can change the physical situation, tweak the physics of how things are laid out to create the design, to make the design of the DNA a little easier.
Simon:                   
And this is quite an abstract concept at the moment. Several years down the road, what kind of applications will DNA self-assembly have?
Janna:                     
Yeah, so this is really long-term research. However, there has been some preliminary work with some theorists we've been collaborating with that shows because DNA is so tuneable, we can create little envelopes that protect harmful drugs like cancer drugs, and because it has this DNA component, it can recognize cancer cells as opposed to the some of the more sensitive tissues in the human body because, as we all know, chemo is a potent thing that we really want to use selectively.
Simon:                   
Yeah, I see. And so the DNA that you're working with—I want to be clear because people hear DNA and think of the building blocks of life—but it's not quite the same with the way that you're working with this.
Janna:                     
No, no, no, not at all. So, to give you an idea of scale, DNA that makes even the simplest life forms is millions and millions and millions of letters long. The thing we're working with is maybe 10 letters long. So, it has never been alive. It has no capability of life. We are not modifying or dealing with anything that has any potential for life.
Simon:                   
And so why work with DNA at all? What is it that's special about working with DNA for the research that you're doing?
Janna:                     
So, DNA is really special in that it's made up of four blocks. Two of them are A and C, and the other two are T and G, and these are what we call complimentary. What that means is that A binds to T and C binds to G. So, what I can do is I can create my 10 letter long alphabet, a sequence we call it, and it will only bind to the complimentary sequence. This means that I can then attach these complementary sequences to some cargo, and then when the DNA binds, when the A's and T's and C's and G's bind, it brings the components that they're attached to together. So, this creates a really specific way in which things will bind. So I can create individual instructions for each piece of the shape.
Simon:                   
As you're working with DNA, could you tell me what the process of the experimentation is?
Janna:                     
Yeah. So, you have to obviously design your DNA. You just write out your desired alphabet. We send it off to a company and they send us back something that looks like a flake of skin and that's where their work is done and our work begins. We take this DNA, we attach it to little pieces of stuff that we want to assemble and then to actually see if we'd done what we intended to do, it looks like a lot of pipetting clear liquids into clear liquids, and you only really know if you've succeeded at the end when you put it under the microscope and can see these self-assembled structures. So, there's a lot of uncertainty in the process, and there's a lot of failure, and you obviously get better, but the only way you get better is by doing it again and again and again. But I got to tell you once something works and you've learned something from the process, that "Eureka" moment is so satisfying.
Simon:                   
And what happens with the structures if you are successful?
Janna:                     
So, what we do as physicists is we try to characterize it. We try to characterize the energy of ... Or how strong and sticky these bonds are, and try to show that they are in fact independent so that everything is in the space we've designed it to be in. And then we start building models and writing equations to fit all of this data we've collected.
Simon:                   
And, I know you're working in the Rogers Lab, but is there kind of an interdisciplinary aspect to your work or?
Janna:                     
Oh yeah. At Brandeis we have something really great called a MRSEC, materials research and engineering center. And what that means is that we are a hub for multiple universities to come together and collaborate across engineering, theorists, biology, physics, and we all come together and really help each other understand the potential of our work and in some cases accentuate or highlight areas of confusion that we just aren't familiar with, right? As a physicist, I was not prepared for my first day when I had to design DNA.
Simon:                   
How would you describe the lab environment at Brandeis, kind of generally?
Janna:                     
Oh, it's so good.
Simon:                   
Really?
Janna:                     
It's so good. That was one of the things that really drew me to Brandeis over other grad programs, was the environment here. It's so social. It's so emotionally intelligent, and the lab space is also emotionally intelligent. We really collaborate and ask each other for help. It's a very warm environment and everybody loves what they do, which is also important. No one goes to grad school because it's a high paying position. So, we're all here because we really want to be. It's also really nice because we are in a space together and so you ... If your research isn't going so well, you can go and stop by your friend and say, "Hey, how's it going?" And they'll tell you about what they're doing. And again, this goes back to that sort of collaborative feeling that we have here at Brandeis.
Simon:                  
How many people, I should ask, are in the Rogers Lab would you say?
Janna:                     
Well, it's always changing and it's a newer lab so we're always looking for more people. Advertisement! But right now, we have one post doc; I think we have four Grad students, and then the number of undergrads fluctuates constantly. People are graduating, people just come for the summer. There's always summer positions, especially through the REU program.
Simon:                   
So, how would you describe the faculty at Brandeis?
Janna:                     
I really found that the faculty here were very supportive in a way that I wasn't expecting. I think we have some really great representation. Aparna Baskaran is an amazing professor here. She recently won an award for her going above and beyond the call of duty. She is such an engaging mentor. And representation matters. And having such a vibrant, caring and successful professor who is a woman matters. Not only that, but my own PI, my boss, Benjamin Rogers, he really listens and adapts to my specific needs in a way that I really wasn't expecting, as well as pushing me to move forward and be the best and sort of learn some of the skills he has, which is, it's a really hard needle to thread. And so I'm really lucky that I've found people who give me what I need and push me to where I need to go.
Simon:                   
And would you say that you have any particular mentors on campus or?
Janna:                     
Well, oddly enough, I find a lot of mentors in other departments.
Simon:                   
Really?
Janna:                     
Yeah. So, there's another thing about being a mentor, which is if it's somebody who's closer to you in age or any parameter you want to measure, you're more likely to be able to envision yourself in that position. So, I have a lot of young, female, upper level grad students who I gravitate towards, even in other departments as mentors, because they show me what I should be aspiring for my next steps. And again this goes towards the collaboration is so vital towards exposing you to potential mentors.
Simon:                   
And you do a little bit of peer mentoring yourself around the science communication in the Comm Lab.
Janna:                     
I do.
Simon:                   
How's that experience been?
Janna:                     
Yeah, so I've mentored in the lab, but I also mentor outside the lab. And so it's really more advising and it's focusing on how we can make science more accessible, more understandable sort of in the spirit of Alan Alda and his communication efforts. It's surprisingly difficult, especially when you're talking about these very abstract ideas that don't really have a here and now application, and you get so far in your research, you get so invested that you sort of become a crazy conspiracy theorist. And so it helps to have someone who can sit and listen and help tease apart what makes sense and what doesn't.
Simon:                   
Do you think that the working with the Comm Lab has made it easier for you to describe your own research or at least to a lay person or a lay audience?
Janna:                     
Oh, I don't know. I still use the Comm Lab for Comm Lab resources.
Simon:                   
Really?
Janna:                     
Every Comm Lab fellow uses the Comm Lab, because it's ... When it's personal, it's a little bit more difficult, but it does help me concretely identify what works and what doesn't.
Simon:                   
I see. And last question—I've got to ask the perennial favorite question. Do you have any plans after Brandeis at this time or is it too early?
Janna:                     
It's kind of early, but one should always be thinking about this. And so one thing that I really like about my job right now is it's moving the borders of human knowledge and human understanding. It's moving us forward. And so whatever I do, whether it's continuing to do research in a laboratory setting or continuing along the science communication lines, I will be moving us together as a group.
Simon:                   
All right. Well, thank you very much, Janna.
Janna:                     
Thank you.
Simon:                   
And I hope you'll join us next time on the Highlights podcast.