Student Explores the Biotechnology Industry from Many Angles in the Brandeis Master's Program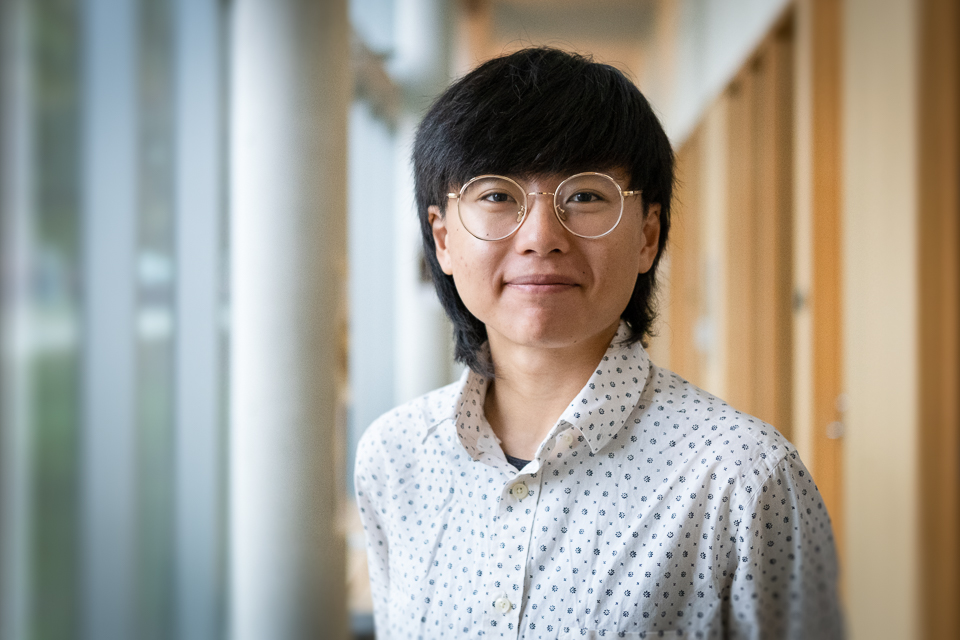 October 26, 2022
Frankie Zhao came to the United States from Harbin, China in 2014 to pursue a degree in chemical engineering at Rice University in Houston, Texas. During their junior year, they worked in a molecular biology lab at the Baylor College of Medicine and quickly realized that they really enjoyed working in a lab and doing research. After graduation, they began building their career in bioscience research and worked as a research assistant in academia for three years. "I decided to pursue a Masters' degree in Biotechnology because I was very interested in the innovative and interdisciplinary efforts happening in the biotech industry and wanted to transition to industry research," they say.
Zhao enrolled at Brandeis "because of the uniqueness of the MS in Biotech program," which gave them the opportunity to study both the research and business sides of the biotechnology industry. "The program's focus in both business and science is perfect for someone like me who wants to enter the biotech industry," they say. "I also enjoy the beautiful campus and inclusive culture a lot!"
The flexibility of the program was augmented by the smaller class sizes and wide variety of course options. "I'm very interested in learning different programming languages," says Zhao, "and I was able to take two courses in data analysis because of the freedom the MS program offers." They also discovered that there is "plenty of support for individual students" and that the faculty are "helpful, open and understanding." They singled out Vincent Sutera, the instructor for Project Lab in Biotechnology course, as a mentor. "He has been consistently supportive in my personal, academic, and career endeavors since I started the program," says Zhao. "His mentorship continues to challenge me to grow as a person and a researcher."
As part of the program, Zhao has interned at Flagship Labs 75, a biotech startup. "I worked as part of the platform innovation team and designed a cell-based assay for drug target evaluation," they say. They attended several one-on-one resume workshops with the GSAS Professional Development team during the application process. "They helped me polish my resume and cover letter and gave me a lot of valuable advice on internship and job search in the biotech industry." They found that the first year of coursework was really helpful in a professional role. "I was able to apply things I learned in both science and business courses to my internship. For example, I was familiar with a lot of the current research techniques used at the company, because I learned many of them in the Molecular Biotechnology course." The internship inspired Zhao to take a course on entrepreneurship at the International Business School to learn more about startups. 
In terms of advice for prospective biotech students, Zhao recommends remaining "open to explore different aspects of the biotech industry. What you intended to achieve with the MS program might not be where you end up!"