Podcast: Víctor Suárez Expands His Knowledge in Biotechnology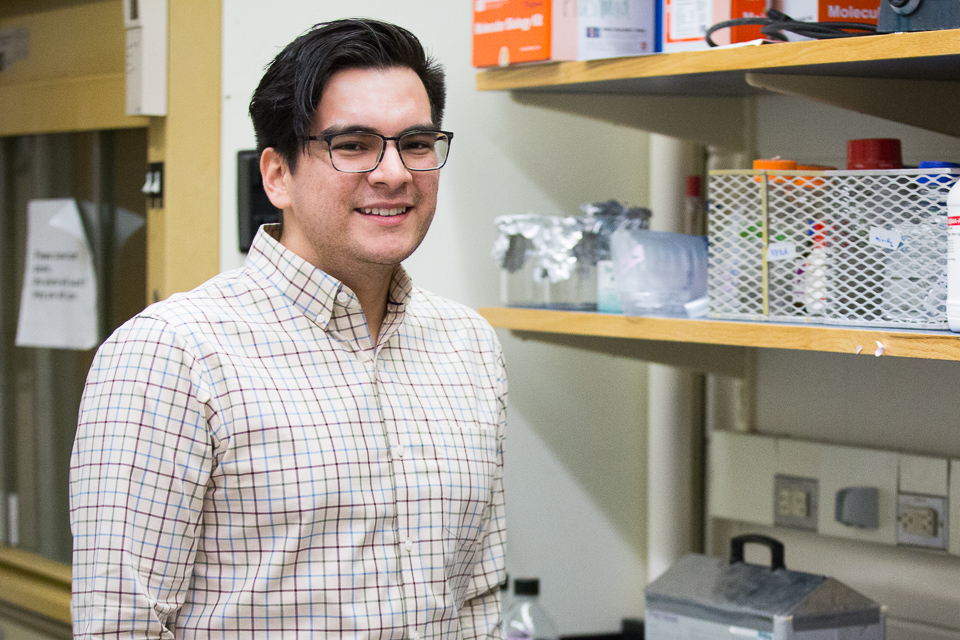 Photo Credit: Simon Goodacre
February 4, 2019
Simon Goodacre | Graduate School of Arts and Sciences
Transcript
Simon:                   
Hello and welcome to the Highlights podcast. I am Simon Goodacre, the assistant director of communications and marketing for the Graduate School of Arts and Sciences at Brandeis University. And today I'll be speaking with Victor Suarez, one of our Masters candidates in biotechnology. Welcome to the podcast, Victor.
I wanted to ask you a little bit how you came to Brandeis in the first place, because I know that the biotech program is not actually the first interaction you've had with the university. So could you tell me a little bit about that?
Victor:                    
Sure. So my first interaction with Brandeis came during my undergraduate sophomore year. I come from a small, mostly undergraduate research institution, so I was seeking for more research experience, and I applied to the REU program, and I was fortunate enough to be admitted. I knew it was a very intensive and immersive experience working in Dr. Gina Turrigiano's lab, and it really sort of instilled the confirmation that I am capable of pursuing science as a career. And that's what led me to apply here for their Master's program.
Simon:                   
And what does REU stand for? Just for listeners who don't know.
Victor:                    
Sure. So, an REU is a research experience for undergraduates program. It was designed by the National Science Foundation to provide these immersive internships for students that perhaps don't have that kind of research exposure at their home institutions.
Simon:                   
And what are you studying now in the biotech program?
Victor:                    
So currently I am a dual degree MS/MBA student for biotechnology and healthcare management through the Heller School.
Simon:                   
And so how are you finding the kind of interplay between working between two schools, the Graduate School of Arts and Sciences and Heller?
Victor:                    
So I think it's a great overlap. My first semester was definitely very science heavy, and I really got to learn a lot of new techniques that I wasn't exposed to before. This semester I'm taking a few more business oriented classes, and I'm seeing a lot of the overlap where the biotech sector interacts with that business sector, and it really lets me put the science into the business aspect. Like, how do we get from the bench top to the market?
Simon:                   
So how, when the biotech program—because there is that kind of interplay between the business side and then the science side of things—how would you describe the process that one goes through as they progress through the program?
Victor:                    
So I think the program is very well structured in that your first semester you're getting a solid foundation in biology and the sciences with a project lab and biotechnology really being an intensive course, getting you that firsthand experience to what it's like to work in the biotechnology research field. And then after you succeed in that course you're pushed into a second project lab, this time focusing on protein biochemistry. In the protein biochemistry lab, the second semester, that coupled with the experience you get in the first semester really gives you the solid scientific and practical background, coupled with the management classes that we take as biotechnology students. So now it all comes in together where we have the science background, we have the business background, and our searching for our internships to put our skills to use and hopefully get a job after graduation.
Simon:                   
And what have you found the faculty to be like in the biotech program?
Victor:                    
I think the faculty here are absolutely amazing. Like, not to over oversell them, but they really do go the extra mile for everything. I know I bother Dr. Simister a lot with my emails, but every single time he gives me possibilities and solutions, which is awesome.
Simon:                   
How are you planning to use this dual degree?
Victor:                    
So, ideally, I would like to get a job after graduation, hopefully doing consulting for the life sciences, but ultimately my goal is to return to school after earning some money and pursue an MD/PhD degree.
Simon:                   
A MD/PhD. Do you know in what field at this stage or is that a little bit too early to say?
Victor:                    
Well I really, really enjoy neuroscience. That seems to be the focus that I'm very much intrigued with now, and I would like to go into neurology and understand what basis a lot of these neurological diseases go under.
Simon:                   
And do you have any advice for other scientists who are interested in pursuing a graduate degree?
Victor:                    
So, personally speaking, I suffered a lot from imposter syndrome where I felt that I wasn't smart enough to pursue science—I was incapable. And whenever you face yourself with that, just remind yourself that it's not luck that you are where you are. You keep pushing through. And, applying to Brandeis, they'll give you that support to make you achieve success.