Researchers
Members of the IMPACT research team — based on six continents — play a key role in identifying and learning about ongoing efforts at the intersection of the arts, other aspects of cultural practice, and conflict transformation across the globe.
Through primary and secondary research they are documenting priorities, successes and challenges of relevant local, national and international initiatives. Their findings contribute to the IMPACT planning process, helping us imagine how a worldwide network of organizations, institutions and individuals engaged in similar work might best be designed and realized.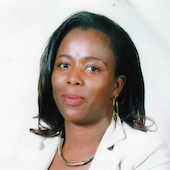 Beth graduated with a bachelor's degree in arts, film and media studies (First Class Honors). She has been actively involved in Theatre for Community Development and Theatre in Education, where arts were employed to create awareness on topics of importance to the community.
More recently, Beth has been conducting both qualitative and quantitative research with African Population and Health Research Centre and Innovations for Poverty Action among other organizations based in Kenya. She also conducted research on Arts and Social Change in Kenya for an article that appeared in the Peacebuilding and the Arts NOW e-newsletter. She is a gifted communicator, interacting with people of different ages, gender and social status as part of her research.
Beth participated in the Peacebuilding and the Arts Training 2017 held at Juniata College, Baker Institute for Peace and Conflict Studies, Pennsylvania.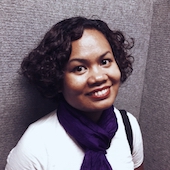 Chanveasna Chum (Cambodia)
Chanveasna has worked in the arts since 2006, first as a company manager for Cambodia's leading independent dance company, Khmer Arts Ensemble. Since 2013, she has served as gallery manager/curatorial assistant at Cambodia's leading contemporary art gallery and reading room, SA SA BASSAC. In 2016, she co-curated Futurographies: Cambodia-USA-France, SA SA BASSAC (Phnom Penh).
Most recently Chanveasna become a freelance exhibition maker/art manager. In this role, she serves as a project manager to artist Khvay Samnang, one of Cambodia's leading visual artists. In Spring 2017, she was a curatorial-in-residency at Tokyo Wonder Site, and a co-curatorial researcher for Mutual Unknown Exhibition at the National Gallery of Indonesia.
Chanveasna has participated in numerous prestigious national and international programs for professional development, including: CuratorsLAB with Goethe-Institut, Jakarta, Indonesia; FIELDS: on attachment + unknown, SA SA BASSAC, Phnom Penh; Dislocations: Remapping Art Histories, Tate Modern, London; Cambodian Living Arts Fellowship during Season of Cambodia Festival, New York City; Fellowship with International Society for the Performing Arts in New York City; Asia Europe Foundation's Atelier for Young Festival Managers in Singapore; and International Arts Management Fellowship Program for Arts Managers at the John F. Kennedy Center for the Performing Arts, Washington, DC, 2010.
Ellada Evangelou (Cyprus)
Ellada Evangelou has studied in Cyprus and the United States (BA in English, MFA in dramaturgy, PhD in theatre studies/cultural studies). She has worked as an educator, dramaturge, theatre director, workshop facilitator and independent consultant. She is co-founder and president of the board of Rooftop Theatre. She teaches theatre and dramaturgy in higher education.
She is the artistic director for the Buffer Fringe Performing Arts Festival (2019, 2020-21) and a Global Fellow 2020 of the ISPA.
Ellada is interested in the intersection of aRtivism and scholarship in post-colonial, post-conflict communities, her latest article entitled Theatre Beyond Nationalism: Participatory Art in the Cyprus Buffer Zone (Cyprus Review, 2019).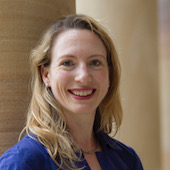 Erica Rose Jeffrey (Australia)
Erica Rose Jeffrey believes in the power of movement connected to positive social change. She was the first dancer to ever be selected as a Rotary World Peace Fellow. Erica Rose completed a master's degree in peace and conflict studies at the University of Queensland peace and a PhD at Queensland University of Technology. She continues to investigate the connections of dance and empathy.
Involved in multiple communities, she has worked internationally as a performer, choreographer, educator, arts leader and facilitator. She currently is director of Peace and Conflict Studies Institute Australia (PaCSIA) and engaged in community-level peacebuilding projects in Australia and internationally.
Erica Rose is also the director for dance for Parkinson's Australia and through working with the Mark Morris Dance for PD program, was instrumental in bringing Dance for Parkinson's to Australia and launching classes nationwide.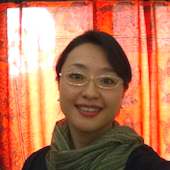 Kyoko Okumoto, PhD, is a professor in the Department of International and English Interdisciplinary Studies at Osaka Jogakuin University and chairs the steering committee of the Northeast Asia Regional Peacebuilding Institute (NARPI). Kyoko is also a board member of the Peace Studies Association of Japan (PSAJ) as well as Transcend Japan & Regional Convener (North East Asia). She also recently served as secretary-general of the Peace Studies Association of Japan.
Kyoko works in the fields of peace studies, conflict transformation and nonviolent intervention, and particularly focuses on the arts-based approaches to peace work. She teaches and facilitates peace workshops held mainly by civil society groups and universities/schools. She tries to expand and deepen the network among North East Asian civil society and NGO communities, and between Northeast Asia and South East Asia, and also with South Asia.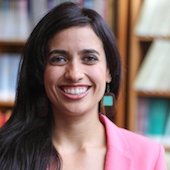 Lisette Anzoategui (United States)
Lisette Anzoategui brings over nine years of experience in development and conflict/peacebuilding programming, with technical ability to design and implement quantitative and/or qualitative tools for evaluation and reflective learning. Ms. Anzoategui poses field experience with multinational teams management and program cycle implementation in Southeast Asia, Central/South America, and Sub-Saharan Africa.
She currently works on impact evaluations as a Program Manager at Social Impact where she manages evaluations of two USAID programs. manages a portfolio of USAID evaluations, carrying out core technical, managerial, and coordination functions. Ms. Anzoategui's keen awareness and in-depth knowledge on MEL with a quantitative and qualitative research background is further exemplified by her prior work, as a research associate with the Innovations for Poverty Action Zambia, where she was responsible for a health education randomized control trial funded by USAID. Ms. Anzoategui obtained dual master's degrees in sustainable international development and coexistence and conflict from Brandeis University.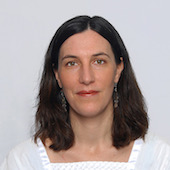 Myriam Marcuello-Lopez (France)
A former Fulbright Fellow at Brandeis University, Myriam Marcuello-Lopez earned a master's degree in conflict resolution and Near Eastern and Judaic studies at Brandeis in 2017. Her primary professional experience has been in the humanitarian fields of child protection and protection of civilians in situations of armed conflict. She worked for eight years for Save the Children, UNHCR, UNICEF and the UN Department of Peacekeeping Operations in various countries, including Tunisia, Pakistan, Kyrgyzstan and Indonesia.
She is passionate about non-violent activism, arts and peacebuilding, and youth and community mobilization. She shifted her professional career in 2013 and started to engage in dialogue and mediation processes with a focus on the Middle East region.
Susan Mbula Kilonzo (Kenya)
Susan Mbula Kilonzo, PhD, is a senior lecturer at Maseno University, Kenya. Her doctorate is in sociology of religion. She holds postgraduate certificates from professional development trainings in gender studies, peace and conflict studies, research methods, political economy analysis, policy engaged research, case writing and teaching, among others. Susan has held research fellowship positions at The Open University, Milton Keynes, UK; New Europe College, Bucharest; University for Peace (UPEACE), among others.
Susan has a successful track record in publishing journal articles, book chapters, books and research reports.