Brandeis Anthropology Research Seminar (BARS)
The Brandeis Anthropology Research Seminar (BARS) is a bi-weekly year-long seminar that meets on Friday afternoons in Schwartz 103 (except where noted below). The series includes anthropology colloquia presented by invited guests and Brandeis anthropology faculty, alternating with workshops, reading groups, and presentations by graduate students. For more information contact Laurel Carpenter.

Hunt Lecture in Economic Anthropology - Daniel Souleles: Whoosh Goes the Market: Algorithms, Automation, and Alienation
March 3, 2023
2:20 - 5:00 pm
ANTH 340a classroom

Over the last 40 years or so there has been a mini-industrial revolution in financial markets. Whereas many financial exchanges were once sites of face-to-face interaction, now the vast majority of financial transactions happen on servers and according to light-speed algorithmic logic. Despite all this, some people are still needed to design or supervise the algorithms, and even occasionally trade manually, all to keep financial capitalism humming. This talk will present the perspective of a group of options market makers, traders who transitioned from in-person trading to algorithmic trading, who need to navigate this automated algorithmic financial world to make a living.

This talk presents the argument from an ethnographic monograph under contract at the University of Chicago Press. The working title of the monograph is, Whoosh Goes the Market: Algorithms, Automation, and Alienation.

Daniel Souleles is an anthropologist and associate professor at the Copenhagen Business School. He studies value, wealth, and politics, and has done extensive research on financialized capitalism in the US. To this end, he has done fieldwork with private equity investors, with employee-owned companies, and on computerized stock trading. In the Spring of 2022, he will begin an ethnographic project on state legislatures in the US. He has also written Song of Profit, Songs of Loss: Private equity, wealth, and inequality (University of Nebraska Press, 2019).
This event is a Hunt Lecture in Economic Anthropology. Robert (Bob) Hunt was a professor in the department from 1969 to 2002 and taught courses in economic anthropology. In AY 2009-2010, the department inaugurated the lecture series.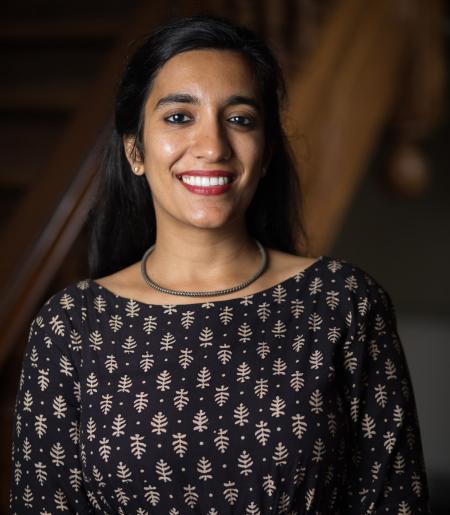 Natasha Raheja, Cornell University
March 31, 2023
2:20 - 5:00 pm
ANTH 340a classroom
Professor Natasha Raheja is a legal and visual anthropologist working in the areas of migration, borders, state power, aesthetics, and ethnographic film. Her current research theorizes majority-minority relations in the context of cross-border migration and immigration policy in South Asia. How do majorities come to imagine themselves as minorities? Conversely, how do minorities come to imagine justice as part of majorities? How do majority-minority politics exceed the parameters of states, in ways that are not nation bound?
Currently in production, her documentary film, Kitne Passports? (How many Passports?), features cross-caste, Pakistani Hindu migrant families in India, visualizing their everyday identifications and disidentifications as they shift between minority and majority status. The film is a companion to Raheja's book manuscript, From Minority to Majority: Pakistani Hindu Claims to Indian Citizenship. The book is an ethnographic account of Pakistani Hindu migration to India and theorizes the flexibility of the religious minority form and caste across state borders in South Asia. This work explores the relationships between religious nationalism, state machinery, and modes of cross-border belonging in the context of majority-minority relations in liberal democracies.
Read more about Professor Raheja.