Undergraduate Departmental Representatives
The Undergraduate Departmental Representatives serve as a resource and representative for fellow majors and minors and potential majors and minors, and bring student concerns and/or ideas to the program faculty. They also provide feedback to the program chair, undergraduate advising head, and faculty regarding scheduling problems and course offerings, and help organize events for majors, minors, and other interested students.
Shivam Nainwal is a junior from Dehradun, India double majoring in Anthropology and International and Global Studies with minors in Chemistry and Legal Studies. He is involved with the Student Union on campus as the Community Senator and sits on the Club Support Committee. He also volunteers for two Waltham Groups and is the Volunteer Representative for the entire organization of Waltham Group. He is fascinated and intrigued by all aspects of Anthropology and what they have to offer but takes a special interest in socio-cultural anthropology and medical anthropology. He is always glad to be of any help. Do not hesitate to reach out with any concerns or questions, or to just say hello!
Claire Ogden is a senior double majoring in Anthropology and Media, Culture, and Communication, with minors in Film and English. She works for the Sound and Image Media Studios in the Brandeis Library and is a Peer Educator with the Student Sexuality Information Service. She has volunteered with Waltham Fields Community Farm and Waltham Mutual Aid. She recently studied abroad in Spain, although the program was cut short by COVID-19. 
While Claire is inspired by all types of Anthropology, she's particularly interested in Economic Anthropology, Visual/Multimodal Anthropology, and the anthropology of food. If you have any questions, concerns, or ideas, feel free to reach out! She is always happy to talk.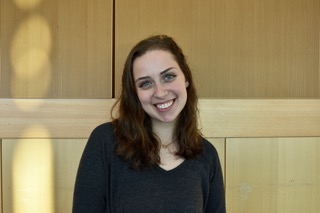 Margo Sobel is a sophomore double majoring in Anthropology and Sociology with a minor in CAST (Creativity, Arts, and Social Transformation). She works for the office of Brandeis Precollege Programs and is a Violence Prevention Educator for the Prevention, Advocacy, & Resource Center. She also volunteers with two Waltham Groups! She is interested in all facets of Anthropology, from studying ancient archaeological hominids to researching the socio-anthropological traditions of privacy among different cultures around the world. Feel free to email her with any questions about class recommendations, requirements, or even just to introduce yourself!