Doctorate in Anthropology (PhD)
Our doctoral degree program will give you the intensive training you need to become a professional anthropologist or archaeologist, either within the academy or outside it. We emphasize comparative studies, theoretical grounding and ethnographic and archaeological fieldwork. We offer two concentrations: archaeology and sociocultural anthropology.
Whichever area of specialization you choose, a PhD in anthropology will prepare you for work in a variety of fields, including academia, development, nongovernmental organizations and business. Graduates of our program have gone on to become university professors, direct nonprofit organizations, and work as consultants, advisers and researchers.
Why Brandeis?
In our highly selective program, you will be part of a lively and supportive intellectual community with access to resources across campus and beyond, as Brandeis is a member of the Boston Area Graduate Consortium and the Center for Materials Research in Archaeology and Ethnology. You will learn to hone your critical thinking and research and writing skills as you work with distinguished scholars who are also dedicated mentors.
What's more, you will be eligible for departmental fellowships for pre-dissertation research, language study and professional development. You will also receive comprehensive career planning and preparation through mentoring, workshops, practice job interviews and job talks offered by our department as well as through resources offered by the Graduate School of Arts and Sciences.
Our PhD students often design and teach their own writing seminar or experiential learning practicum, participate in reading groups, organize lectures and workshops, publish papers and present at the American Anthropological Association's annual meeting.
Careers and Alumni
In addition to publishing books, Brandeis PhDs in anthropology go on to impressive academic careers at the finest universities here and abroad, including Brandeis University, Brown University, Bryn Mawr College, Harvard University, New York University and Tufts University. Others have gone on to achieve senior administrative positions at such institutions as Haverford College, Brown University and Williams College.
"The Brandeis PhD program in anthropology offers close mentorship in a small department known for its collegiality and connections across sub-disciplines. I have enjoyed getting to know each faculty member, all of whom have influenced my thinking in one way or another, even when they help me approach my project from various new theoretical and methodological standpoints. Brandeis offers graduate students a wealth of teaching opportunities, and time in front of an undergraduate classroom is a central training component of the PhD program. I have also taken advantage of the extensive networks of researchers in the Boston area, including classes, fellowships and colloquia that have allowed me to make connections and develop key working relationships with scholars across disciplinary perspectives." — Douglas Bafford, PhD candidate
Alumni Spotlight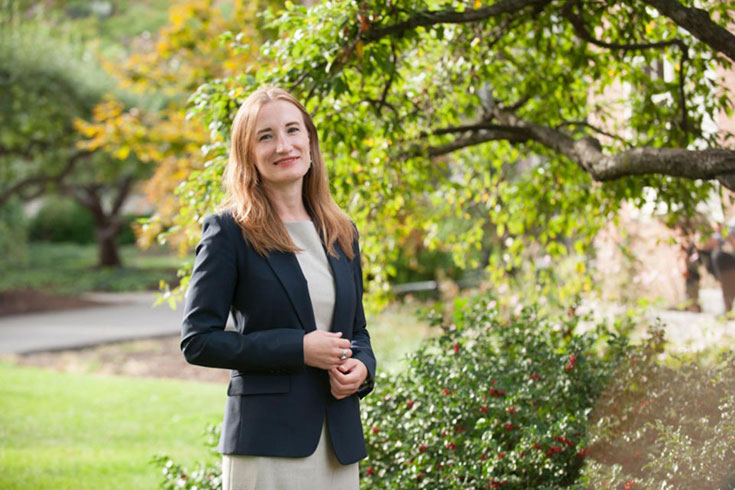 Ieva Jusionyte MA'07, PhD'12 Discusses Her Career in Ethnographic Research
"I came to Brandeis on a Fulbright Fellowship for my master's degree in Anthropology. The Anthropology Department was strong in my areas of interest, and the faculty were very welcoming, which made Brandeis one of my top choices among all the universities in the U.S."