Eva Bellin Receives the 2015 Mentor Award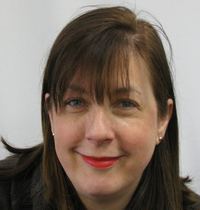 April 9, 2015
Eva Bellin, the Myra and Robert Kraft Professor of Arab Politics, has been named the recipient of the 2015 Mentor Award. The $2,500 award will be presented on April 23 by Susan Birren, the Dean of the College of Arts and Sciences. The Mentor Award recognizes faculty members who exhibit outstanding mentorship of graduate students, including:
Inspiring excellent academic performance from students
Advising and guiding research
Organizing an effective environment for research and scholarship
Developing talents such as research skills, teaching ability, presentations, writing and preparation of grant and fellowship applications
Sponsoring students in the academic and professional community
Interacting effectively with students
Responding to students' academic and personal needs
Providing career guidance and helping students find professionally relevant employment
Serving as a successful role model
Students in the Graduate School of Arts and Sciences (GSAS) nominate candidates for the award, who are reviewed by a committee of faculty and students. The Dean of the College of Arts and Science makes the final decision in consultation with the Dean of GSAS.
Twenty-four nominations were submitted this year, including three for Dr. Bellin. She was described as "an extremely approachable and genuine person" and "a constant source of valuable advice, constructive criticism and timely support." All the nomination essays revealed Dr. Bellin's commitment to her students, her strong interest in their work, her high standards, and her support during the more challenging periods of the dissertation-writing process. One student went so far as to say, "I cannot imagine having made it this far in the program without her guidance and mentorship." 
"It is a great pleasure to offer the Mentor Award to Dr. Bellin this year," said Eric Chasalow, Dean of the Graduate School of Arts and Sciences. "We pride ourselves in being able to offer our graduate students a personal experience with quality mentoring, and I am grateful for the opportunity to honor a colleague who excels in this regard."
Bellin is the author of "Stalled Democracy: Capital, Labor, and the Paradox of State Sponsored Development." She has been published in a variety of venues including "World Politics," "Comparative Politics," "Political Science Quarterly," "Comparative Political Studies," "World Development," "Foreign Affairs," and "Middle East Policy," as well as numerous edited books. In 2006-2008 she was named a Carnegie Scholar by the Carnegie Endowment for International Peace. She was also named a Fellow at the Princeton Institute for Regional and International Studies in 2006-2007. Bellin has served on the editorial board of the journal Comparative Politics since 2005. Bellin earned her undergraduate degree at Harvard University and her PhD at Princeton University.