Outstanding Teaching Fellows Honored at GSAS Reception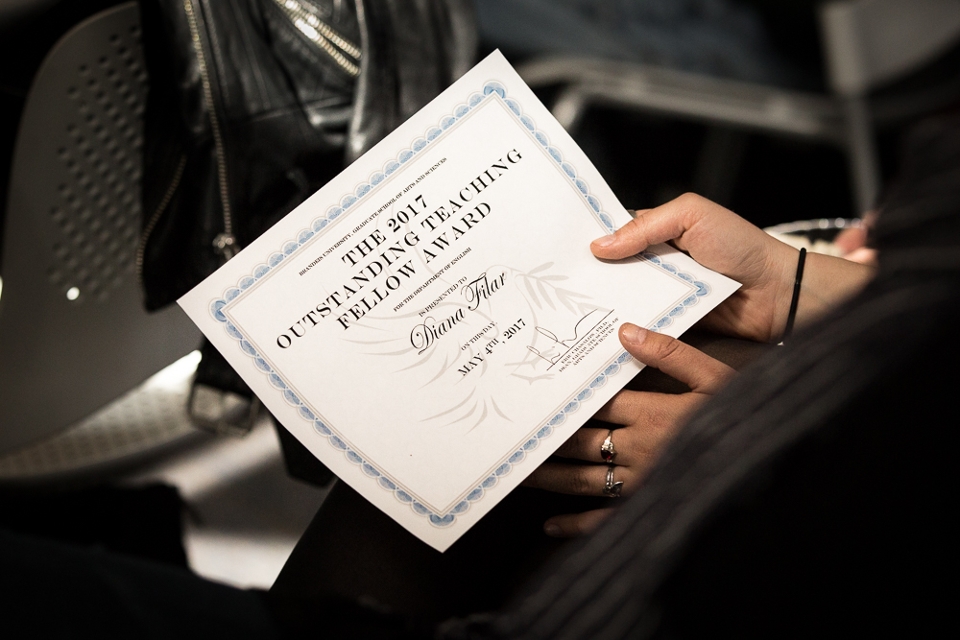 Photo Credit: Simon Goodacre
May 5, 2017
On May 4, the Graduate School of Arts and Sciences (GSAS) honored the 2017 outstanding teaching fellows. Certificates were be presented by Susan Birren, the Dean of Arts and Sciences, at a reception in the Mandel Center. The recipients were selected by their academic departments and represent the best student educators at GSAS. 
Making the transition from student to educator can be daunting. "My first day of teaching was terrifying," says Laura Bergsten, a PhD candidate in Physics and one of this year's award winners. "For the first time, I had to lecture to a room full of students whose first introduction to the broad world of experimental physics was me!"
Helping students connect with course material prompted some teaching fellows to experiment with different teaching strategies. Aditya Prakash, a PhD candidate in Computer Science, says, "Some students are looking for more practical answers while others are seeking theoretical understanding. Some prefer audio-visual cues while few benefit by derivations. I have learned to balance these aspects of teaching." As the year progressed, teaching fellows found themselves adjusting well and overcoming initial anxiety. "I've gained a bit more confidence in front of the classroom," says Doug Bafford, a PhD candidate in Anthropology. "More importantly, though, I think I've been able to engage with students' contributions more productively and connect them to broader intellectual conversations in a way I couldn't several years ago."
Many of the Teaching Fellows agree that their pedagogical skills have improved significantly throughout the experience. "The students have pushed me to be better — to ask tougher questions, to facilitate discussions, and structure a space where students feel comfortable working together," says Diana Filar, a PhD candidate in English. Bergsten agrees: "I've certainly come a long way into becoming comfortable at the front of a classroom. I no longer feel nervous addressing student questions and concerns."
Over the years, Veronica Flores, a PhD candidate in Psychology, has seen some of her classmates receive the same award. She feels "honored and humbled to now be among the people who gave me boost of confidence." Bafford says, "Those of us who really enjoy teaching see it not as a burden but as an opportunity to share what we've learned."
The 2017 Teaching Fellow Award winners are: 

James Martin, Classics
Paul Spalletta, Politics
Richard Redman, Chemistry
Jie Li, Chemistry
Katherine Nadeau, UWS
Ann Ward, Sociology
Roxie (Sarah) Freeman, Women and Gender Studies
Calvin Snyder, History
Lauren Gearty, History
Diana Filar, English
Aaditya Prakash, Computer Science
Ashley Geiger, Psychology*
Veronica Flores, Psychology*
Doug Bafford, Anthropology
Ilana Cohen, Anthropology
Laura Bergsten, Physics
Sarah Fein, Near Eastern and Judaic Studies
Matthew Heck, Musicology
Gleb Kanasevich, Music Composition
Munzareen Khan, Life Sciences**
Anurag Rao, Mathematics
*Verna Regan Award
**Pulin Sampat Award