GSAS Welcomes Fourth Cohort of Diversity, Equity, and Inclusion Scholars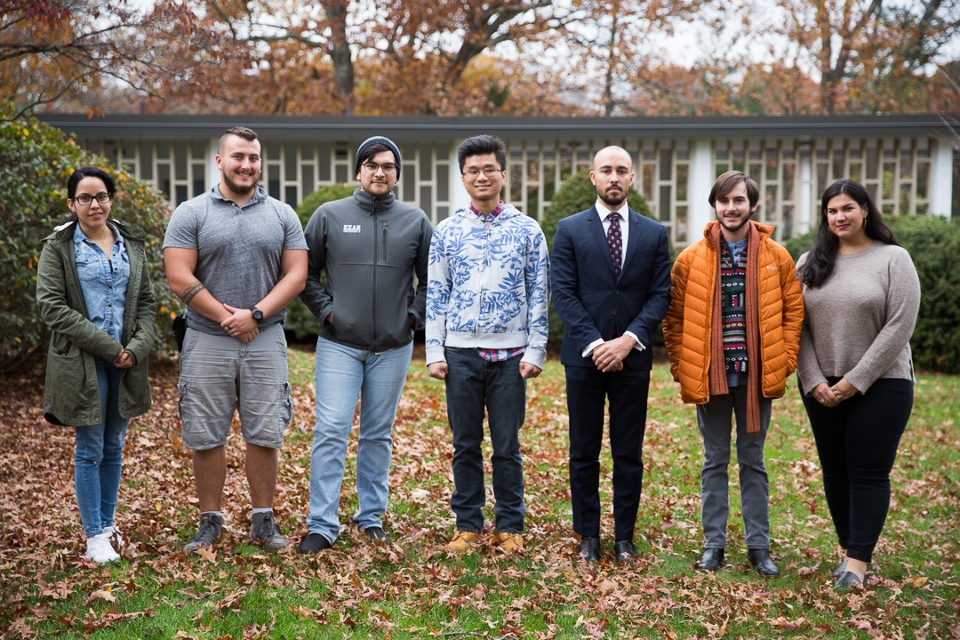 Photo Credit: Simon Goodacre
November 26, 2019
Earlier this semester, the Graduate School of Arts and Sciences welcomed eight Diversity, Equity, and Inclusion Scholarship (DEIS) recipients to campus. The scholars represent the fourth cohort of the DEIS program, which began in 2016. The scholarship offers master's students from non-traditional backgrounds the opportunity to pursue a world-class Brandeis education. It provides selected master's students in the Creative Arts, Humanities, Social Sciences, and Biotechnology a full-tuition scholarship, a $10,000 stipend, and full credit toward an individual health insurance plan. 
Amy Reardon, Associate Director of Admission, who coordinates the admission process for the program, said, "I'm very impressed by the leadership, accomplishments, and dedication to meaningful scholarship that this year's cohort has already demonstrated prior to their arrival at Brandeis. It will be exciting to see how their graduate studies will further benefit our community and each of their respective disciplines."
In addition to the financial support DEIS scholars receive, the Graduate School of Arts and Sciences (GSAS) provides guidance and mentoring as the recipients progress through their graduate education. Students in the program attend regular meetings with Madeleine Lopez, the director of the Intercultural Center and coordinator of the DEIS program.
Eric Chasalow, Dean of GSAS, said, "After three years of welcoming DEIS students to campus, I am still delighted by the incredible talent these students bring to our campus. The program already has a track record of placing scholars in promising careers and top PhD programs. I can't wait to see what this year's cohort will achieve."
Meet the 2019 DEIS Scholars:
Corey Beckford
, Philosophy
Corey Beckford earned his Bachelor's degree in Philosophy from Lake Forest College. Having been published in Philosophy East and West, he received the 2018 Fran Asher Prize for Excellency in Philosophy and the 2017 Roger A. White' 60 Prize in Philosophy. He is interested in comedy, post-Kantian studies especially phenomenology, ancient Greek Philosophy, and African-American philosophy. Corey also served as the President for the Philosophy Club at Lake Forest and was a member of the Student Advisory Council for the Philosophy Department.
Joshua Brown
, Philosophy
Joshua Brown earned his Bachelor's degree at Rollins College. While at Rollins, he was enrolled in the Hamilton Holt School, which is an evening degree program designed for non-traditional, working students. In 2019, Brown completed an interdisciplinary degree in Humanities. During that time, Brown was awarded the Student-Faculty Collaborative Project Grant, bestowed for his exceptional research on the work of Søren Kierkegaard. In addition to his research, Brown was also distinguished in competitive debate. As a member and eventual captain of the Rollins team, he received first place at the NPDA Novice National Championship (2016), as well as first place in the Southeastern Regional Ethics Bowl Championship (2016 and 2018). Moving forward, Brown says he would like to focus on more foundational issues in the field of philosophy. His chief interest is philosophical methodology, which he is exploring through two avenues at Brandeis. The first is the philosophy of race and gender, which Brown approaches by examining the role of biases and norms in philosophical inquiry. The second is metaontology, where he focuses on the legitimacy of questions about objects and their properties.
Billy Chau
, Biotechnology
Billy is a second year graduate student in the Professional Science Master's Program in Biotechnology. He graduated from Brandeis as an undergrad in May of 2019 with a Bachelor's in Biology, and he is excited to be in his fifth year as a Brandeis student. As an undergraduate, he was involved with guiding first-generation college students in their first year as a Student Support Services Program peer mentor. This year he is an analytical development intern at TG Therapeutics, a biopharmaceutical company where he performs batch analysis of the different antibodies that are in development. He also serves on the Brandeis Graduate Student Association as the Director of Events and Marketing. He is interested in the research and development and regulatory affairs side of biotechnology.
Yassel Hernandez
, Biotechnology
Yassel Hernandez earned her Bachelor's degree in Molecular Biology from Kean University of New Jersey. She is part of Lamba Alpha Signa (Kean's Honors Society). She was on the Dean's List (2016, 2017 and 2018) and received the Graduate Achievement Award. Her research at Kean involved analysis of metabolites in medicinal plants and identification of cryptic fungal species using DNA-barcoding. Yassel has presented her work at numerous locations including, Kean University Research Days, the Eastern Analytical Symposium and Exposition, and the Rowan School of Osteopathic Medicine. Yassel's experience of growing up in a country where vaccines were not available to people who could not afford them and where the pursuit of education was viewed as unproductive drives her to pursue Biotechnology. She intends to eventually open a foundation that would improve health management. 
Claire Khokhar
, Ancient Greek and Roman Studies
Claire Khokhar earned her Bachelor's degree in History with a minor in Classics from the University of Memphis. She has been part of the Phi Alpha Theta Honor Society since 2018. She was also the recipient of the Janann M. Sherman Undergraduate Award in 2018 for the study of women's history and has been on the Dean's List since 2015. Additionally, she has also received the HOPE Scholarship since 2015 and was awarded the University of Memphis Study Abroad Scholarship in 2017 to travel to Florence. She served as an administrative assistant in the History Department at the University of Memphis and has volunteered at a Victorian-era house museum. Her interests lie in the methodologies of archaeology and the expression of daily life in art and gender and archaeology. At Brandeis, she hopes to explore Roman daily life as it is depicted in Pompeii wall paintings.
Graeme Lambert
, Biotechnology
Graeme Lambert earned his Bachelor's degree in Biochemistry and Molecular & Cellular Biology from the University of New Hampshire. He received the ASBMB Outreach Grant that enables grantees to visit local elementary schools to promote science education and interest. He served as the President of the UNH chapter of the American Society for Biochemistry and Molecular Biology and has worked as an undergraduate research assistant in the UNH Cancer Immunology lab. He has also interned at Dartmouth's Hitchcock Medical Center. His interests lie in the study of cancer and cancer therapies. At Brandeis, he hopes to obtain the necessary skills to work for a lab in a workplace setting and narrow his specific field within the biochemistry of cancer and biotechnology.
Christopher Makauskas
, Ancient Greek and Roman Studies
Christopher Makauskas, a first-generation college student, earned his Bachelor's degree in History and Classical Civilizations from the University of North Florida. He has been awarded the Bates Memorial Scholarship, the Florida First Generation Scholarship, the Florida Medallion Scholarship, the Transformational Learning Opportunity Scholarship, the University of North Florida Osprey Grant, the Undergraduate Paper Award, and the University of North Florida's Part-time Grant. He was on the Dean's List in 2017 and 2018. He has also been a member of the Phi Alpha Theta History Honors Society. Makauskas constructed an independent study on religion in Ancient Greece during his study abroad program in Greece. At Brandeis, he wants to delve deeper into religious rites in ancient Greece, hero and mystery cults and the study of Ancient Greece.
Walter Quiller
, English
Walter Quiller, earned his Bachelor's degree in English Literature with a minor in History from Augusta State University. He worked in a research position to digitalize/anthologize the works of Langston Hughes, Gwendolyn Brooks, Maya Angelou, Alice Walker, and Margaret Walker. He worked as an English teacher in a school that serves underprivileged students. The experience gave him a "renewed sense of urgency" as he saw African-American children "forced to deal with the constant affirmation of anti-blackness and the age impartial plague of black death." He intends to become a professor and a political activist in the years to come. Through a keen interest in Black ontology, Quiller "seeks to contribute to the on-going reconstruction of black identity."