A Year of Hybrid Instruction Led to Some Unexpected Lessons for the 2021 Outstanding Teaching Assistants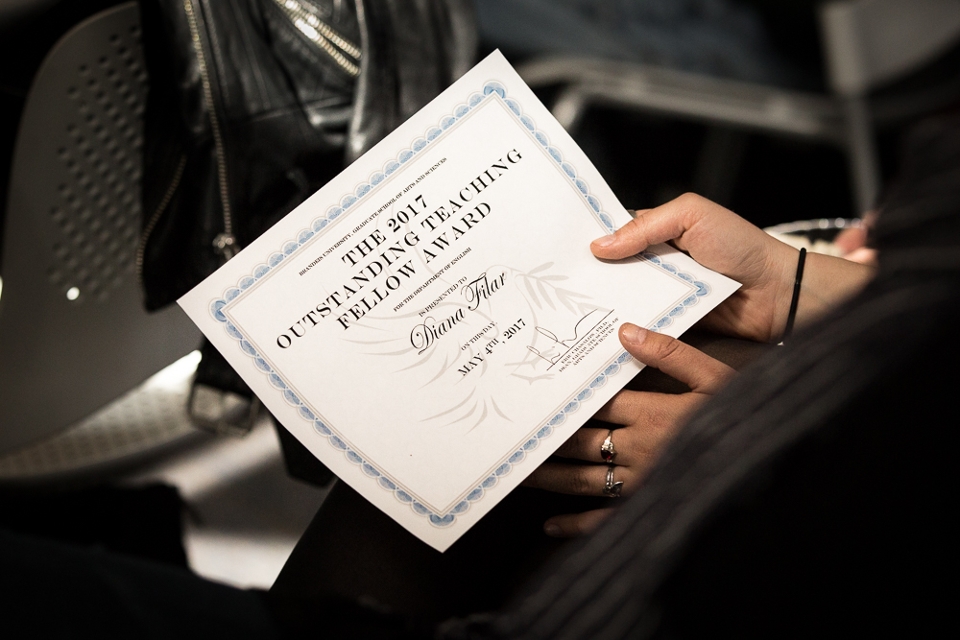 Photo Credit: Simon Goodacre
May 7, 2021
Every year, the Graduate School of Arts and Sciences (GSAS) honors its most outstanding Teaching Assistants (TAs) with a ceremony in May. The Covid-19 pandemic created a unique mixture of challenges and opportunities for Brandeis' TAs. Having provided essential support to faculty during the rapid pivot to remote instruction last spring, many were able to use those learnings to implement a more intentional approach to teaching in a hybrid format during the 2020-21 school year. In 2020, GSAS introduced the Exceptional Departmental Service: Hybrid Learning Transition Award to recognize their efforts to support pedagogy in the hybrid format, and it was presented again this year. The award supplements the existing Outstanding Graduate Teaching Award, which is given to one graduate student in every academic program. In total, thirty-two graduate students were honored at an online ceremony on May 6. 
Robert Cochran remembers his first day teaching during the pandemic: "It was actually rather disorienting – less because of the TA experience, which was not new to me, but because of the novelty of masking, distancing, sanitizing, etc. that was necessary for in-person teaching in the middle of a pandemic." Guiseppe Desiato concurs, describing the experience as "incredibly challenging and complex." 
Even while contending with this new instructional paradigm, many TAs sought opportunities for personal growth and professional development over the past year. For instance, the change to virtual instruction allowed Lianne Gallant to exercise her leadership and problem-solving skills. "Being online forced me to get creative," says Gallant. "I had to re-think assignments and projects and think about how to convert an in-person lesson plan into a virtual one without losing its efficacy."
The change from in-person to virtual classes created more opportunities for Alex Newman to lead class discussions, which he says "definitely helped me develop skills for lesson planning, leading discussions, and effective presentation methods." Similarly, Jennifer Crowder learned new pedagogical strategies and experienced a significant improvement in her teaching abilities, saying, "My confidence in the classroom has increased over the course of the semester, which has improved my ability to answer questions, lead lectures, and facilitate discussions."
Beyond the pedagogical challenges caused by the pandemic, many TAs have come to regard their contribution to the Brandeis community in a completely different light. "Thanks to this past year of teaching, I've gotten a better sense of how to communicate clearly and compassionately with students." says Cocheran. Likewise, Sanchita Dasgupta "learned a lot from faculty members and students about empathy, holding space for grief and anger, and the value of compassion." She adds, "I think I have learned to be a better human, rather than a better teacher."
While the function of the TA position technically has not changed, the pandemic has created an added emphasis on the unique support they provide bridging the gap between faculty and students. "One of the best parts of working as a TA is the opportunity to get to know undergraduate students," says Cochran. This was especially true during a year of social distancing and isolation where each personal connection became a precious commodity. "I particularly enjoyed non-academic related conversations in office hours; it made me feel more human in this virtual world," says Dasgupta.
GSAS 2021 Outstanding Graduate Teaching Award Recipients
Giuseppe Desiato, Music Theory and Composition
Mina Cho, Musicology
Charles Stine, Mathematics
Caleb Smith, History
Robert Cochran, History
Lianne Gallant, Women's, Gender, and Sexuality Studies; Asian American and Pacific Islander Studies
Marisa Carey, Women's, Gender, and Sexuality Studies
Sanchita Dasgupta, Women's, Gender, and Sexuality Studies
Sungkyung Cho, English
Sneha Gantla, Sociology
Shirah M. Cohen, Near Eastern and Judaic Studies
Julia Greig, Ancient Greek and Roman Studies
Keigh Rim, Computer Science 
Kenneth Lai, Computer Science 
Holly Robbins, Politics 
Houman Kooraei Oliaei, Anthropology 
Jennifer Crowder, Anthropology
Diane Rohrer, Psychology, Verna Regan Memorial Award
Vikko Suárez Casanova, Life Science, Pulin Sampat Memorial Award
Exceptional Departmental Service, Hybrid Learning Transition of 2021 Award Recipients
Simon Huynh, Mathematics
Ray Maresca, Mathematics
Rebecca Rohrlich, Mathematics
Alex Semendinger, Mathematics
Jill Stifano, Mathematics
Lianne Gallant, Women's, Gender, and Sexuality Studies; Asian American and Pacific Islander Studies
Alexander Herbert, History
Ann Ward, Sociology
Eillen Xing, Near Eastern and Judaic Studies
Nicole Constantine, Ancient Greek and Roman Studies
Anja Parish, Politics
Brandon Hager, Psychology
Alex Newman, Psychology
James Praznik, Music