Over 250 GSAS Students to Graduate May 21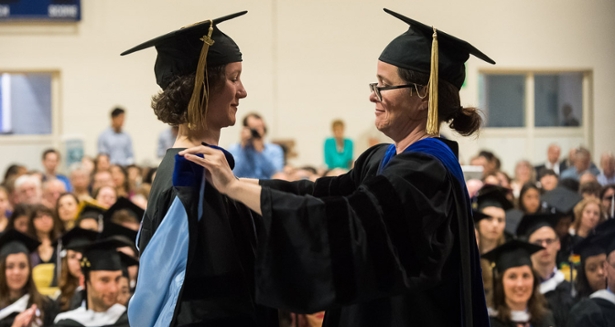 May 11, 2023
The Graduate School of Arts and Sciences (GSAS) looks forward to the University's 72nd Commencement ceremony scheduled for May 21st, 2023, at the Gosman Sports and Convocation Center on the Brandeis University campus. The speaker for the morning's undergraduate Commencement ceremony will be GSAS alum
Drew Weissman
, a world-renowned physician and researcher; in the afternoon, over 250 GSAS students who graduated in August 2022, February 2023, and May 2023 are invited to celebrate at the graduate ceremony. Some will be going on to further education, while others are beginning new careers. Here are some words from the GSAS students who will be going on new paths in different fields.
Aisha Zamor, a graduating master's student in the joint English & Women's Gender & Sexuality Studies program, said of her experience at GSAS, "I have gained insight as to how to develop my pedagogy as an artist, scholar, and instructor within the classroom environment. I found my unique, poetic & artistic, scholarly voice at Brandeis; I will always feel grateful for my time here. My professors brought out in me words I have forever been longing to speak and share." Regarding her plans after graduation, Zamor said, "I will be moving to Harlem, New York, to attend Columbia University as a PhD student in the Theatre & Performance Studies program rooted in Columbia's English department. As an artist, I am also pursuing a professional career in the commercial dance industry." When asked about graduation, she said: "Graduating is often a strange marker of simultaneous beginnings and endings. Regardless of the time I've spent in school (grades K-12, undergraduate studies at Brown University, and so on) I think I will always feel this way. I am mostly looking forward to the sense of camaraderie in accomplishing this milestone alongside my fellow cohort members. I embrace change and possibility while remaining steadfast to the belief that I have experienced all that was meant for me, and there is so much more to come." 
Simon Huynh, who is graduating with a master's in Mathematics, expressed his excitement about Commencement and the future. He said, "I am thrilled to be graduating from GSAS at Brandeis. It has been a challenging but rewarding experience, and I am grateful for the opportunities and resources the school has provided me." Huynh's next step? Pursuing a career as a high school math teacher. He said, "I believe teaching is a noble profession that has the potential to make a positive impact in the lives of students. I hope to inspire a love of mathematics in my students and help them achieve their full potential." He noted the ways in which GSAS resources have helped him on this path: "The guidance and support from my research advisor have been invaluable in helping me shape my research interests. The teacher training offered as part of my graduate program has prepared me for a career in education. The career help and advice from Marika McCann at the GSAS Center for Career and Professional Development have been instrumental in helping me identify job opportunities."
Xiang Li, who is graduating with her PhD in Chemistry, shared some opportunities and resources that have impacted her career journey in GSAS. "GSAS hosted so many career development opportunities, which gave me a chance to talk to alumni in my area and know potential career opportunities. I used the resources from GSAS to get my first professional headshot on LinkedIn. I had several appointments with Marika McCann to discuss my career development opportunities. She also helped me to prepare for my interviews and introduced me to many alumni who could help me expand my network." After graduation, Li plans to join pharmaceutical company SEQENS in Massachusetts as an analytical scientist. She expressed her gratitude for her time at Brandeis: "I feel excited to use my skills to contribute to the industry finally. In the meantime, I feel sad that I have to leave Brandeis, where I spent almost five years, met so many lovely people, and got supported all the time. I am grateful the people I met here are so supportive and kind, being colleagues, professors, and other professionals."
Jasmine Quynh Le is graduating from the Neuroscience PhD program this spring. She said of her time at GSAS, "A particularly rewarding opportunity has been receiving the University Prize Instructorship and being able to design and teach an upper-level undergraduate Neuroscience class from scratch. With support from GSAS faculty and staff, I learned to teach students how to think like scientists and to apply this skill to different topics." Le also expressed excitement for the next chapter of her life: "I am very excited to be making decisions on how I would like to make an impact on the world after graduation. I am interested in applying the skills I have gained throughout my PhD training to translational research that can directly impact human health. Science will always be a part of my life. Graduation will be bittersweet because it will signify ending a chapter in my life during which I have grown a lot, but I am also excited for the new doors it will open!"
jessie neal, a graduating master's student in Women's Gender and Sexuality Studies, said, "I am grateful to have been a DEIS scholar for the last two years and to have attended Brandeis, where I have felt supported in my work both as a student and professional. The opportunity to be a course assistant for five courses has strengthened my teaching skills and confidence in classrooms, and I have learned so much from the students." neal expressed particular gratitude to their advisors. "Si yu'os ma'åse to the advisors that I have worked with, V Chaudhry and ChaeRan Freeze, who have been fundamental in my writing process and succeeding through grad school, and thanks to them, I have the opportunity to go on towards a PhD." neal is thrilled to be attending The University of Michigan's American Culture PhD program in the fall and will continue the work she began at Brandeis there, writing CHamoru history through their family's experiences in Guåhan (Guam). neal added, "I hope to become a professor and continue working in Gender and Sexuality Studies," and went on to express her excitement about graduation: "Graduating feels like an accomplishment, a hopeful breath, like dancing to a really good song. Graduating, especially towards a childhood dream, feels like finishing a to-do list I have worked on for years."
English PhD student Emiliano Gutiérrez-Popoca, the speaker at this year's Graduate Commencement, plans to use his research experience and the skills he gained at GSAS as he moves onwards after May.  He said, "I am interested in teaching and continuing my research. I am planning on joining a three-year fellowship to teach first-year writing. I will also be working on expanding my dissertation on servants in Shakespeare and other Early Modern playwrights into a book. I will also work on my next project, which focuses on representations of race during the Early Modern period." Beyond his research and teaching, Gutiérrez-Popoca also made the news at GSAS when he became last year's 3 Minute Thesis Competition champion, winning at the Regional and going on to the National level. He gave a fond farewell to the entire Brandeis community and faculty, staff, and colleagues: "I will definitely miss Brandeis. I will miss each of my roles on campus, grad student, instructor, and Writing Center co-director, as well as life on Brandeis campus. But I am excited about concluding my PhD and starting a new teaching position in higher education."
Graduate students across GSAS programs have worked hard, but their hard work now culminates in a celebration and the chance to make a positive impact on the world. We hope to see you all on May 21, 2023.