Billy Chau Looks Inside and Outside of the Lab for Opportunities in Biotechnology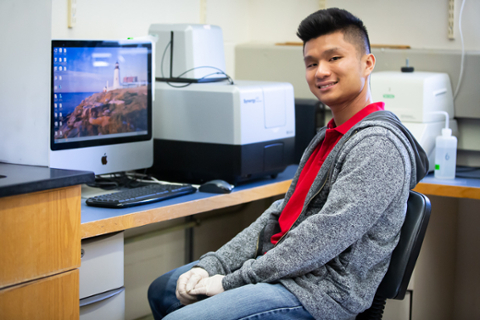 April 27, 2021
With the rapid growth of the Biotechnology sector, Billy Chau MS '20 is excited to explore the myriad possibilities available in this dynamic industry. As an undergraduate at Brandeis, Billy received training in scientific research in the Department of Biology. After graduation, Billy sought to build on this foundation and continue exploring his career options through graduate study in Brandeis' Biotechnology Program. "I chose to remain at Brandeis because I wanted to expand my horizons about different non-research positions and learn about how the biotech industry works," he says. Included with the many benefits of joining the Biotechnology program, Billy also received Brandeis' DEIS Scholarship.
Looking back now as a vaccine research and developer at Pfizer, Billy believes that pursuing a Master's in Biotechnology at Brandeis was the right decision. The interdisciplinary nature of the training that the program provides in the biological sciences and in business helps students like Billy discover the wide range of possibilities available in a fast-paced industry. On the business side, the program allowed Billy to pursue his interest in "the different non-research areas of biotechnology that are interconnected with the science side," such as the way in which both business development and regulatory affairs are connected to the clinical trial of a drug and play a role in the overall success of that therapy. At the same time, the program also facilitated Billy's interest in learning how to use the immune system to target cancer. "I am fascinated by how we can manipulate antibodies to target cancer cells allowing the immune system to recognize and destroy the cancer cells," he says.
Billy also appreciates the supportive nature of the biotech faculty. "Professor Simister really cared about us and made sure we were getting the most out of our classes and internships." He also considered the manager of his internship a mentor because of his guidance and friendship. "He guided me through the biotech industry and exposed me to the different career options. We would have lunch every week and chat about school, work, and sports," Billy relates.
However, the best part of the Biotechnology Program for Billy was the real-world experience gained through the summer internship option. "You gain real experience in the biotech industry or in an academic lab setting," he says. The summer internship is an option for students between their first and second years of the program and provides students like Billy with real technical experience as well as a practical understanding of the issues and cultures in the biosciences workplace.
Billy's experience in the Biotechnology Program at Brandeis provided him with the tools and experience he needed for a successful career in the biotech industry. Now working for Pfizer in vaccine research and development, Billy appreciates how his master's degree has enabled him to "continue to explore the different career opportunities in research, development, regulatory affairs, quality, and more." For students coming into the program, Billy advises the strategy that worked for him: "Keep an open mind about the different career fields in biotechnology and explore careers other than in the lab."