PhD Alumna-Turned-Professor Tackles the Politics of Disease Outbreaks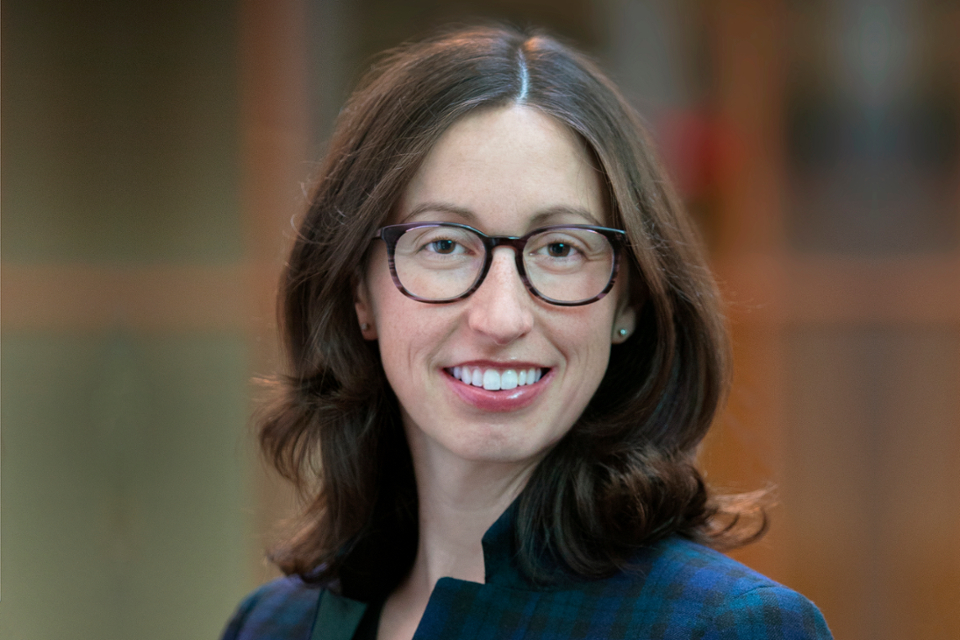 April 6, 2021
For Professor Catherine Z. Worsnop PhD'16, researching and teaching about issues that matter in the real world were driving motivations for her entry into public policy. "Political Science seeks to understand how the social and political world works," she says. "As such, it encourages big thinking about theory but with a grounding in building knowledge about phenomena that affect people's lives."
Worsnop has long had an interest in public policy, and her experience as a Government major at Colby College paved the way for a career in the field. Her path was cemented during her time as a PhD student in the Brandeis Politics Department, where she gained the analytical tools necessary to publish her own research and become an Assistant Professor at the University of Maryland School of Public Policy and Research Fellow at the Center for International and Security Studies at Maryland. Worsnop credits her time at Brandeis with preparing her for work in academia.
When applying to graduate programs, Worsnop recognized many advantages to studying at Brandeis. Among these advantages—including the small size of the program and the University's proximity to Boston—Worsnop appreciated the program's focus on addressing real-world problems. "The program stresses the importance of identifying pressing public issues and using theoretical and methodological tools to understand them," she says. Worsnop also appreciated the free access to faculty that she enjoyed, which not only helped shape her scholarship, but also allowed her to learn through example important lessons of mentorship. For example, she explains how as a research assistant to Dr. Robert Art, she gained research skills that, as she says, "forced me to improve my writing early on in the program with tough but necessary feedback." In addition, Dr. Kerry Chase motivated and helped Worsnop to take her dissertation and research agenda to the next level. Worsnop concludes: "[Drs. Art and Chase] taught me about being a good mentor and I try to pass that approach on to my students now."
As it turned out, the teaching and pedagogical training Worsnop received at Brandeis was instrumental in obtaining and managing her current position at the University of Maryland. She explains: "I started as an Assistant Professor with a considerable amount of teaching experience, which made what can be a daunting first semester a bit less overwhelming." Her experience as a graduate teaching assistant running class discussion sessions and grading exams and papers was instrumental in preparing Worsnop to teach her own courses.
Currently, Worsnop is working on an ongoing book project that started off as her dissertation, entitled The Politics of Outbreak Response: The Evolution and Effectiveness of WHO's International Health Regulations. The book looks at the challenges of international cooperation during cross-border disease outbreaks. It examines the issues surrounding WHO's (World Health Organization) International Health Regulations (IHR)—the "primary tool for coordinating the response to disease outbreaks." Countries updated the IHR after the 2003 SARS outbreak and the rise in disease outbreaks due to globalization and increased trade. Yet, as the COVID-19 pandemic confirms, there are longstanding weaknesses in this system for governing the global response to major disease outbreaks: "Specifically, states often ignore WHO guidance, withhold information about potential outbreaks, and under-invest in domestic capacities." Her book delves into why the IHR was revised in the first place after fifty years of stagnation, as well as "why, in spite of signing on to the new regulations, many states continue to act in ways that undermine their effectiveness."
Worsnop's engagement with faculty members, utilization of teaching opportunities on campus, and attendance and presentation of her work at the Politics Department proseminars enabled her to gather a wide range of experiences, leading to both professional and academic growth. To students interested in pursuing doctoral degrees in political science, she advises: "Look for a program that focuses on understanding pressing issues [and] offers demanding training." More specifically, however, Worsnop offers her personal recommendation of a program that delivers these assets: "If you are looking for a program that focuses on addressing important issues, offers demanding training and a chance to build broad knowledge in political science, and provides access to faculty who care about student success, teaching opportunities, and the flexibility to build expertise in your chosen area, Brandeis is a great choice."