Christian Gochez Embraces Science and Business in the Biotechnology Program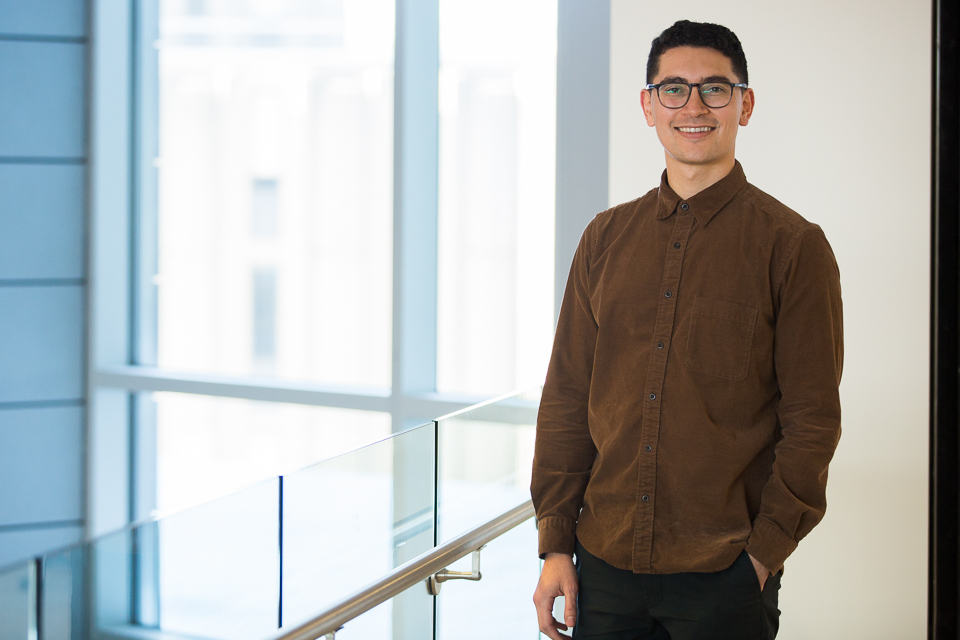 Photo Credit: Simon Goodacre
March 12, 2019
Christian Gochez became interested in biotechnology when he discovered the potential of genetically modified foods. He wants to understand how gene editing techniques can enrich crops like rice, which could then be used to combat nutrient deficiencies in populations experiencing severe poverty. He also wanted to be in a business-oriented position, and the Biotechnology program at Brandeis offered many opportunities and resources to pivot in that direction.
For Gochez, the Brandeis Biotechnology program stood out because of the mix of business and science courses integrated in the curriculum. The Brandeis program requires an industry internship to gain hands-on-experience rather than the completion of a thesis, and it was this focus on preparing students to enter industry is what made him want to come to Brandeis. "Before coming here, I knew I didn't want to enter academia, and the design of the program made perfect sense for my goals. Moreover, Brandeis' proximity to arguably the largest biotech hub in the country was a huge plus," he says.
Gochez is enrolled in a protein biochem project lab, two management courses, a course on developmental biology, and a class on the business of biotech taught by program director Neil Simister. This unique mix of courses is not only giving him insight into the research methods that push the science forward but is also showing him how those advancements help produce products that directly benefit society. "What I really appreciate about the diverse curriculum is the improvement in my understanding of all the various parts of a biotech company."
By the end of his first semester, Gochez's goals became clearer and he realized that he wanted to enter the workforce with the strongest business background possible. He transitioned to the MS/MBA program, which is a joint program with the Graduate School of Arts and Sciences and the Heller School for Social Policy and Management. Since being admitted to the program, one of his favorite courses is Strategic Management. "Having no formal business training, I felt a little out of my element at first," he says, "but the faculty and students at Heller are all very supportive and it's been an amazing learning experience." 
Outside of Heller, Gochez is also taking courses on the business of biotech and management principles. "During my undergraduate years, I learned the scientific basis for the biotechnology tools being used today. With this program, I was able to expand my understanding of those innovations and learn about what leads companies to use those tools in strategic ways," he says.
Coming from a school of roughly 40,000 students, Brandeis has been a totally different experience for Gochez. He has` felt a strong sense of encouragement and support from all of the Brandeis faculty. "They have not only shown an interest in helping me achieve my career goals but has also been more than open to talk about the latest scientific news or find out what I did on vacation." 
After graduation, Gochez's plan is to go into the biopharmaceutical industry in a business-oriented role. Specifically, he aims to work in a company working on gene therapy. "What attracted me to the field was the ability to manipulate living organisms like plant crops at the genetic level, and we're at a point where we are able to safely use those technologies to treat disease. I would love to be part of a company working on that front," he says.
Gochez also learned more about regulatory affairs during his time in the program and is interested in gaining an understanding of those roles through the "huge alumni network" at Brandeis. "There are a lot of career resources here at Brandeis," he says, "so I'm looking forward to learning more about what kind of career best suits my background."