Christiana Joseph Studies Perspectives on Mental Health and Faith Among Black Women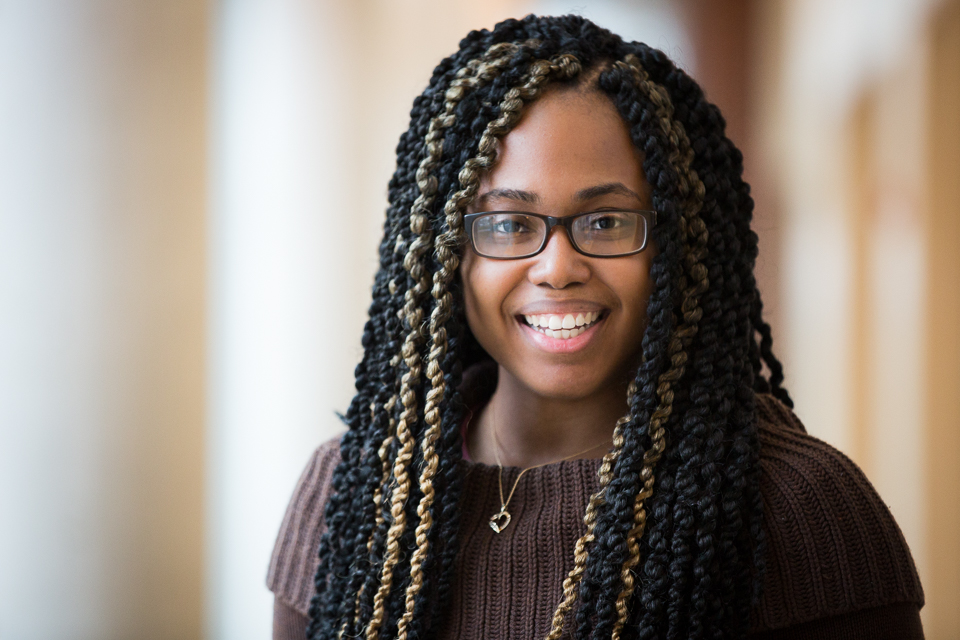 Photo Credit: Simon Goodacre
March 20, 2018
Master's candidate Christiana Joseph studies sociocultural anthropology, in particular the intersection of perspectives on mental health and faith among Black women.
"The narratives about mental health that these women construct based on their experiences and cultural backgrounds will serve to improve mental health discussions, access to resources that prove to be culturally sensitive with culturally competent staff, and the quality of care among community mental health centers and alternate resources that they may use," says Joseph. "When African American teen girls' and women's perceptions of mental health, mental disorders, and their approaches to seeking and advocating for care are better understood, then better methods and resources can be developed that cater to their mental health needs."
Joseph comes to Brandeis with extensive research experience. As a Mellon Mays Undergraduate Fellow and a participant in the Summer Research Training Program at the University of Chicago, Joseph conducted research that was later published in the Argot Undergraduate Anthropology Journal at Johns Hopkins University, "Mental Health Among Black College Students- A Review." This review aimed to summarize recent literature exploring how the following factors influence mental health among Black college students in the United States: racial identity, religious commitment, racialized issues within academic environments, socioeconomic status, mental health literacy, and stigma.
Her wish to continue honing her research skills in a supportive environment led her to consider Brandeis in her search for graduate programs. "I was attracted to the Anthropology department's intimate size, as that is one factor that drew me to study at Wellesley College," says Joseph. "I was also drawn to this institution because of the department's emphasis on training for independent research on theoretical issues and fieldwork."
When Joseph heard that she had been selected as a DEIS scholar, she was shocked and excited. "Being a member of the DEIS cohort has afforded me opportunities to meet with other bright and accomplished scholars, discuss our interests, and reflect on our time at Brandeis," says Joseph. "Through spending time with them, I've enjoyed learning about the other students' research interests as well as being together in a non-academic sense and connecting through our shared struggles and successes on our paths towards graduation and ultimately joining the professoriate."
Joseph encourages students who might be seeking to join the Anthropology MA program at Brandeis to reach out to current scholars to hear their perspectives. "Trust that you are capable of scholarship that will help you pursue your academic goals alongside open and like-minded people."