Harvard Radcliffe Fellow Mediates the Intersection of Jazz, Journalism, and Social Activism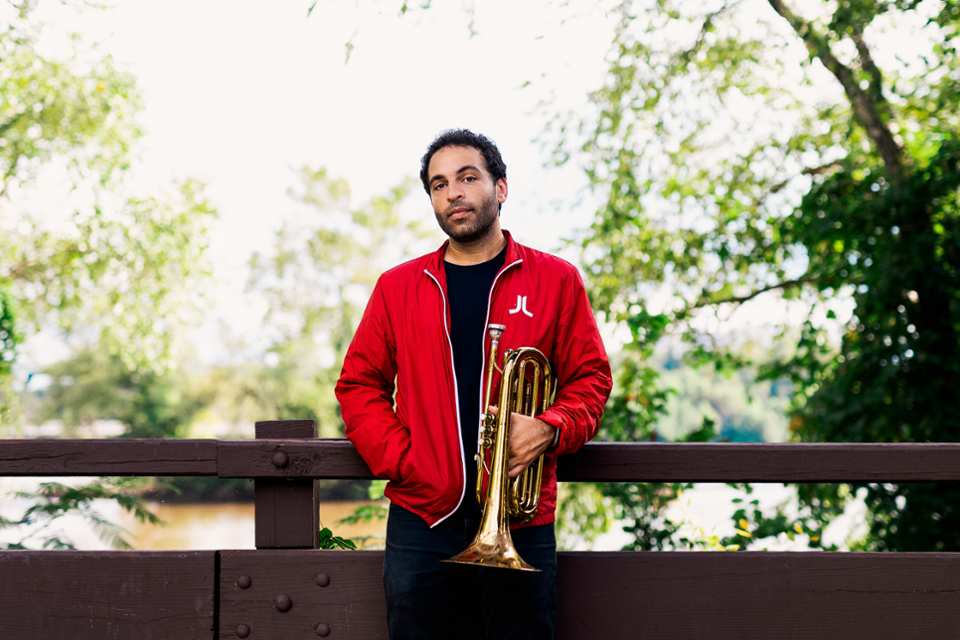 June 8, 2021
David Dominique PhD'16, Assistant Professor of Music at William and Mary, has enjoyed the influence of music throughout his life. "Music has been a central part of my life since childhood," he says. "More than just influencing my life, music took over my life when I committed in my early 20s to pursuing a career that would allow me to focus as intensely as possible on music."
"He counseled me at that time that Brandeis offered the best combination in the country of masterful training in classical music theory and musicology, with a progressive and adventurous eye toward the current state and future of music composition."
Over the years, Dominique's intense focus on music has enabled him to develop as a musician and scholar. A step in this journey of discovery came when he was encouraged by UCLA Professor Bruce Reich to take a serious look at Brandeis' Composition and Theory program: "He counseled me at that time that Brandeis offered the best combination in the country of masterful training in classical music theory and musicology, with a progressive and adventurous eye toward the current state and future of music composition."
While Brandeis' reputation impressed Dominique, its award-winning faculty made an even bigger impact. "The faculty of the Music Department was the reason I chose Brandeis." The faculty continue to be a resource for him even after graduation. Most recently, the support of faculty mentors  David Rakowski and Eric Chasalow was instrumental in helping Dominique achieve another career milestone—a Frances B. Cashin Fellowship at Harvard University's Radcliffe Institute for Advanced Study. "I believe much of my recent success is due to their support and advocacy of my music," he says.
Dominique hopes that the Radcliffe fellowship will provide some time to focus on a large-scale project. Dominique proposed a piece that would pull together "disparate aspects of my recent output: my music and my political journalism." With a strong proposal and the recommendations from his mentors, Dominique was honored to receive the prestigious fellowship in Art from the Harvard Radcliffe Institute for 2021–2022.
Having completed more than a dozen such artist residencies, Dominique is excited for the opportunity that the Radcliffe fellowship will provide him to create his project. "I have found my time at these enclaves to be an extremely productive relief from the mechanics of daily life, which can make sustained creative focus challenging, particularly in the current cultural climate."
For his project "Steam," Dominique will incorporate more than just his music. He plans on creating a multimedia opera that will combine multiple audio and visual elements. "I will use real video of actual events, including a particularly fraught press conference held by the mayor of Richmond on June 2, 2020, after multiple incidents of police violence." This will be supplemented by poetry and Dominique's musical composition.
The impetus for the opera came from his long engagement with journalism. "I have moonlighted as a journalist since high school, including during my Brandeis years," he says. However, the events involved in this past year's racial referendum across the United States have brought the issues of inequality to the forefront of Dominique's writing. "Over the past year I've published a dozen political pieces focusing on racial inequity, violent policing, anti-Blackness, and government." Spurred on by these issues, Dominique will incorporate elements of his journalism into his project, "synthesiz[ing] some of my journalistic work with radical Black theory and poetry, as well as my jazz and electronic music."
As diverse as these elements are, so too is the multimedia opera's message: "The opera will not contain or deliver a single message, but will curate and present a series of events and perspectives that will oscillate between the factual and the subjective," he says. Dominique will use "poetry and theory from the Black Radical Tradition, juxtaposed with images of current and historical events, to complicate these narratives and imply the unseen." He hopes that the uniquely organized juxtaposition of these elements will have a profound impact on the piece's audience and "inspire repeated return to and reflection upon the work's themes."
As Dominique commences on "Steam" for the Radcliffe institute, he will also be working on other projects. In addition to his fellowship, Dominique received a grant from the New Music USA Creator Development Fund. The grant will help cover the recording costs for an experimental electronic album and a third jazz album currently in the works. While the money and support from institutions like these are key to the continued production of Dominique's work, he also recognizes an equally important component: "For an artist, it is often also important to receive external feedback that your efforts are being heard and valued."
When asked for advice for students considering a PhD in Composition and Theory, Dominique is realistic about the difficult job-market in academia. But, while fiscal austerity measures are challenging university programs across the world, Dominique sees universities like Brandeis, "a private university with robust graduate programs and an above-average per capita endowment," as possible exceptions. "Many Brandeis alums from my time in the program are thriving, indicating that our degree still holds significant value in the 'markets' of both professor positions and grants," he says. Regardless of the market, however, Dominique encourages students to stay passionate about music, take private lessons, and "find a way to make music robustly."
Listen to David Dominique's music on his two albums Mask (2018) and Ritual (2013).