Emily Koh PhD'17 Will Serve as the 2017 GSAS Commencement Marshal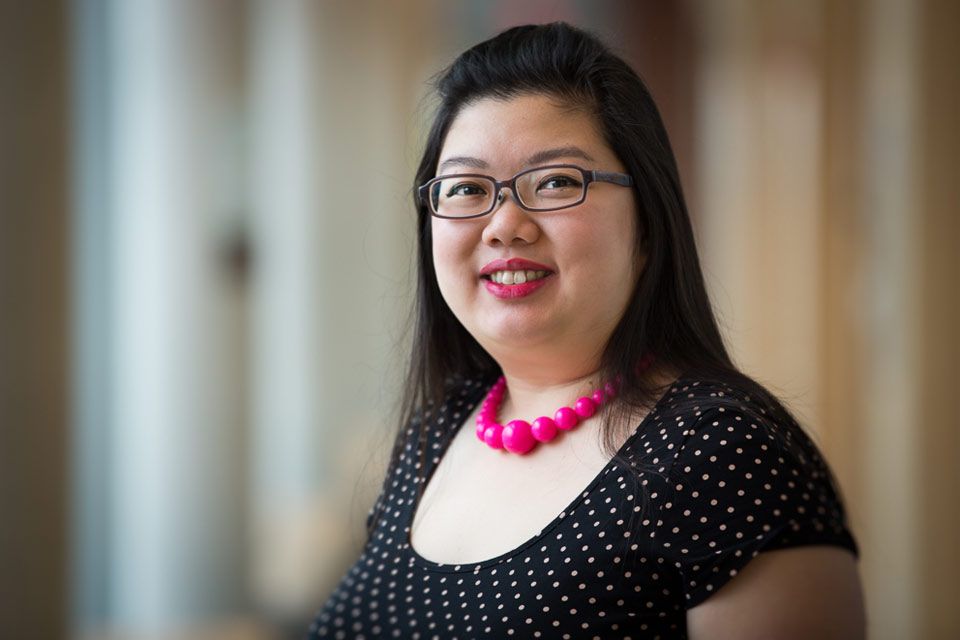 Photo Credit: Simon Goodacre
April 28, 2017
By Helen Wong | Graduate School of Arts and Sciences
Brandeis' 66th commencement ceremony will take place on May 21, 2017. Each year, the Graduate School of Arts and Sciences (GSAS) selects one graduating student to serve as Commencement Marshal for the school. This year, that student is Emily Koh, a PhD graduate in Music Composition and Theory.
"More than 170 GSAS students will be honored at Commencement," says Eric Chasalow, Dean of GSAS, "and we are delighted that Dr. Koh will represent the school during their final event before becoming Brandeis GSAS alumni. In my three years as dean, I have been extremely impressed with the intelligence and accomplishment of our graduating students, and while I am a bit prejudiced since I helped advise Emily, she certainly rises to that level of excellence. Emily has an amazing CV as composer, teacher, and performer and we are very proud that she will join the faculty in the Hugh Hodgson School of Music at the University of Georgia in a tenure track position this fall."
We spoke with Dr. Koh earlier this week to discuss her Brandeis experience, her current work, and her plans for the future.
Could you tell us a bit about where you're from?
I was born in and grew up in Singapore, where my family still lives. Singapore is a small tropical island in Southeast Asia with amazing food! I studied music composition at the Yong Siew Toh Conservatory of Music at the National University of Singapore before leaving the country to pursue my masters degrees in music composition and music theory pedagogy at the Peabody Institute at Johns Hopkins University in 2009. I graduated from Peabody and moved from Baltimore, Maryland to Waltham, Massachusetts in 2011.
How did you end up at Brandeis?
I studied at music conservatories within larger universities for both my bachelors and masters programs, and wanted to pursue a doctoral education that is of the complete opposite end of the spectrum. One of my mentors at Peabody, David Smooke, suggested that Brandeis would be a great fit for the type of doctoral education and challenges I was interested in. I listened to the music of all the composers on faculty, was impressed and intrigued, and decided to apply!
What did you study at Brandeis?
I study music composition and theory, and work with my amazing professors David Rakowski, Eric Chasalow and Yu-Hui Chang. My dissertation explored Claude Vivier's Prologue pour un Marco Polo's innovative re-imagining of elements of Balinese gamelan gong kebyar and how it affected the structure and development in the work.
What are you doing now?
I am the co-Artistic Director of a local new music ensemble, Dinosaur Annex Music Ensemble and teach theory and composition at Brandeis, Harvard and Walnut Hill School for the Arts, an arts high school in Natick, Massachusetts. I also perform with the New England Philharmonic as a double bassist, and play other gigs when they come up. Unfortunately, my New England adventures end soon; this fall, my husband and I are moving to Athens, Georgia where I will start a new position as Assistant Professor of Composition at the University of Georgia!
What is the biggest takeaway from your Brandeis experience?
My biggest takeaway at Brandeis is to take initiative! In the music department, graduate students have the freedom and opportunity to curate our own colloquium and concert series. This allows us to pursue individual interests, curate our own learning and experiment with ideas, all with support from the department. It is a truly unique and wonderful feature of the Brandeis program!
Are you excited about Commencement? If so, why?
Of course I am! I heard that I get to hold a baton. Maybe this will be the start of my conducting career!