The Graduate Student Association Introduces New Leadership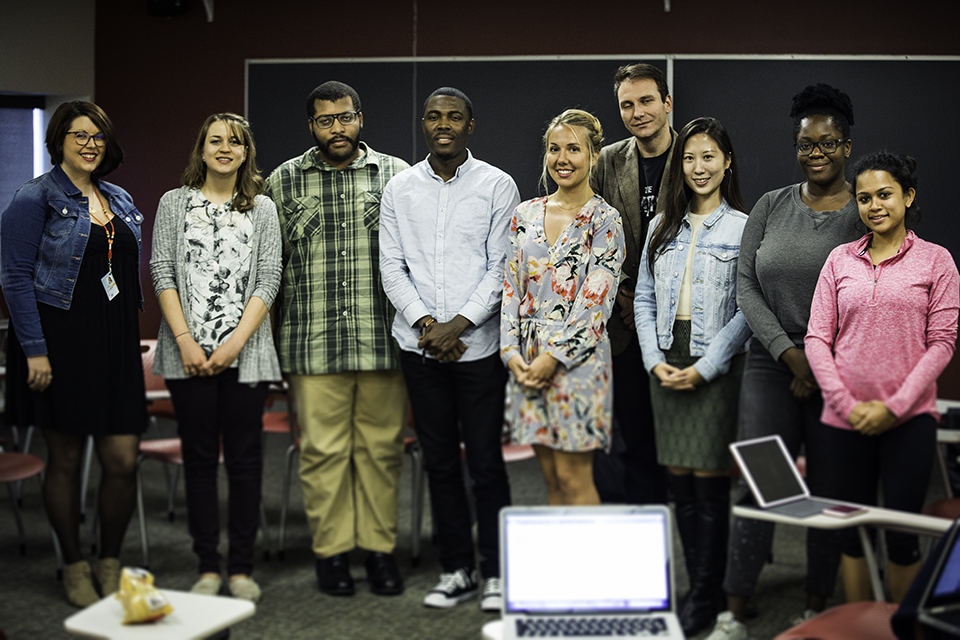 October 20, 2017
The Graduate Student Association (GSA) has announced the induction of their new executive board and senators, who will be led by a new president, Joe Wilson. The new GSA representatives aspire to serve the graduate student community and its interests by organizing social events, participating in various on-campus committees, and supporting funding opportunities. Wilson, who has extensive experience serving in student leadership positions throughout his undergraduate and graduate careers, says that addressing the needs and interests of graduate students, which account for a third of all students at Brandeis, will be a top priority. 
GSA Advisor Steven Weglinski agrees. "We want to make sure that our graduate students, regardless of which graduate school they belong to, are able to rely on a representative student government. The GSA is one of the best resources on campus for voicing their concerns."
To better serve the interests of the graduate student community, members of the GSA Executive Committee are holding weekly office hours at the Graduate Student Center in Bernstein-Marcus, at which students will be able to meet with them, ask questions, discuss concerns, or inquire about clubs and organizations. Office Hours are as follows:
Joe Wilson, President - Wednesdays 2:00 - 4:00 pm

Sarah Mabry, Vice President - Fridays 1:00 - 3:00 pm

Melissa Ofoedu, Communications - Tuesdays 5:00 - 7:00 pm

Xinyi Du, Events & Marketing - Wednesdays 12:00 - 2:00 pm

Patience Misner, Advocate, Advisor, and Collaborator - Thursdays 12:00 - 2:00 pm
There will be regular updates on the GSA and its activities throughout the semester. Any students who would like to get involved with the GSA or would like to learn more, please feel free to contact Steve Weglinksi at weglinski@brandeis.edu.
Read more about the GSA's Executive Board:
Joe Wilson, President (jwilson1@brandeis.edu)
Joe has exceptional experience serving in a student leadership role. In his first year at Brandeis, he served as Education Coordinator for the GSA. He also has a long history serving as a youth and student leader in Liberia. He most recently served as one of the leaders of the Brandeis University African Forum (BUAF). Joe is a former Secretary General for the University of Liberia Students Union (ULSU) during his undergraduate studies. Before coming to Brandeis, he served as the Chairman for the Youth League of the Liberian Association of Pennsylvania Incorporated, an organization providing leadership for more than five thousand Liberians living across Pennsylvania.
As GSA President, he hopes to continue supporting the services provided to and further enhance graduate students' lives on campus. He looks forward to providing the necessary leadership to initiate programs and other activities that promote networking and unification among graduate students across the three schools (GSAS, IBS, Heller), creating a strong foundation for the future of the graduate student body at Brandeis University.
Sarah Mabry, Vice President (smabry@brandeis.edu)
Sarah works with graduate students in each of the three graduate schools at Brandeis University on building a stronger support network for the graduate student community. Her focus is serving graduate students by processing funding approval for new and existing student organizations, participating in academic committees across campus, and reviewing requests for travel and research grants. Sarah holds a BA from Monmouth College in International Studies & Spanish, currently studying at the Graduate School of Arts and Sciences, MA Global Studies program. As an  Alaska-born, she enthusiastically brings a wide range of experiences to the GSA, from working in the nonprofit sector in refugee resettlement to living abroad in Switzerland.  When away from the library, she enjoys all things fitness, cooking vegetarian dishes, and the company of her family and friends.
Xinyi Du, Events and Marketing Coordinator (cathydu@brandeis.edu)
Xinyi begins her fifth year as a BA/MA student of Comparative Humanities. Hailing from China, music is her strongest passion. Throughout her undergraduate life, she has been actively involved in all kinds of music-related activities on campus. Last semester, she starred as a lead role in a student production of the classic operetta "The Pirates of Penzance". She is a huge fan of Rubik's cube and Sudoku. She is open to all kinds of possibilities and adventures in life and she believes that joining GSA will be the most meaningful and adventurous one!
Patience Misner, Advocate, Advisor, and Collaborator (pemsiner@brandeis.edu)
Named after a Guns and Roses song, Patience was born in Upstate New York. She's the oldest of 10 siblings and loves ice cream, no matter the season! As the Advocate, Ambassador, and Collaborator, she hopes to get more graduate students involved with campus programming and raise awareness of the presence of graduate students on campus.
Melissa Ofoedu, Communications (mifeoma@brandeis.edu)
Born in Vienna to parents from Nigerian descent,  Melissa has always been strongly influenced by two cultures. She previously worked as a youth representative at the United Nations in New York but always felt that community project management is more impactful. Working for a number of Non Profit Organizations engaged in aiding victims of human trafficking and small scale social enterprises. Her love for different cultures translates into her interests for Photography and Food.