Lived Experience of Oppressed Ethnoreligious Minority May Provide Insights for Humanitarian Aid Providers and Government Policy-makers Alike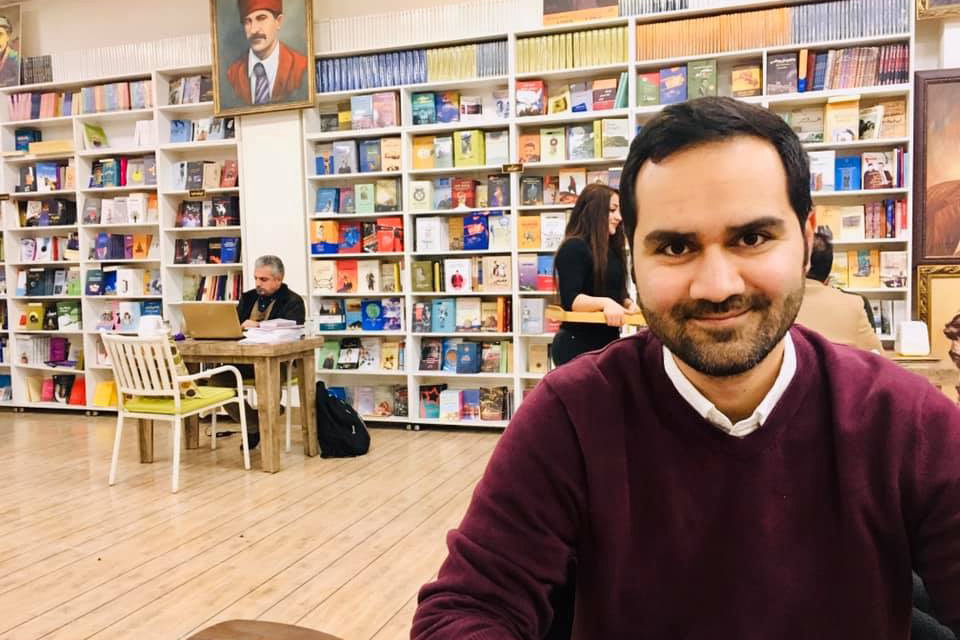 July 14, 2021
Houman Oliaei's interest in anthropology did not start in the classroom but in a Zoroastrian fire temple in Tehran. As an undergraduate studying music at the University of Tehran, Oliaei had become fascinated by Zorioastrianism's religious hymns and rituals. This led him to conduct short fieldwork excursions within the Zoroastrian community in order to observe their music and practices close-up. As a result, Oliaei braved a cold winter morning to participate in a pre-dawn fire temple ritual. "It was such a fascinating experience that would end up changing my entire academic trajectory," he says. Thus, instead of following the path of a musician, Oliaei became eager to explore the social sciences, eventually earning his master's in anthropology from the University of Tehran.
Oliaei began looking abroad for the right program to continue his studies because the University of Tehran did not offer a PhD program in anthropology. Like many other international students in this position, Oliaei found it sometimes challenging and costly applying to American PhD programs. "I did not have the opportunity to have a campus visit or have informal conversations with other PhD students," he says. Yet, despite these challenges, Oliaei maintains that choosing the Anthropology Department at Brandeis was not a difficult choice for him: "By joining Brandeis, I could have the opportunity to not only work with outstanding scholars in the Anthropology Department, but also to benefit from academics working in the Crown Center for Middle East Studies."
Now working on his dissertation, Oliaei is focusing on the lived experiences of Yezidis, an ethnoreligious minority in northern Iraq, after genocidal violence and their forced displacement. Following ISIS's attack on the Sinjar region in August 2014, more than 300,000 Yezidis sought refuge in the autonomous region of Kurdistan in northern Iraq. Since 2018, Oliaei has conducted fieldwork among displaced Yezidis in a refugee camp in Southern Kurdistan studying how those displaced, both as an ethnoreligious minority and as refugees, are able to gain cultural and legal recognition within the humanitarian network. Oliaei hopes that highlighting the experience of displaced Yezidis can help humanitarian aid providers better understand those they help. "I hope that this ethnographic evaluation enables governmental and non-governmental humanitarian aid providers to have a more nuanced understanding about the micro-processes through which displaced people negotiate their social liminality to find a voice for themselves," he says.
However, Oliaei recognizes the greater implications of his study for the humanitarian sector. "Given that my research has the potential to articulate the complex political and social processes that undergird struggles for recognition by marginalized groups, its practical implications can be used beyond socio-cultural anthropology by major transnational humanitarian organizations and local NGOs that support post-conflict societies," he explains. In addition, a better understanding of how "religious and ethnic identities are managed, defined, and experienced among diverse ethnic groups in Iraq and its refugee camps is important for both policymakers and broader public understanding." Thus, as Oliaei explains, his focus of one ethnic group has implications for understanding current issues of forced migration of ethnoreligious minorities in other locations.
Looking back, Oliaei is pleased with his decision to join the Anthropology Department at Brandeis. He especially appreciates the support and mentorship he receives from faculty members, whom he says "have been extraordinarily generous in offering their encouragement and insights and have had a profound impact in helping me to better conceptualize my research." Oliaei also values weekly seminars of guest speakers both through the Anthropology Department and the Crown Center for Middle East Studies, as well as occasional informal discussions facilitated by the program. "Having mentorship and support from both the Anthropology Department and the Crown Center for Middle East Studies was a unique experience that I could hardly find in any other program," he says. "The vibrant and welcoming environment of these departments allowed me to have a smooth transition into the US educational system." 
For students considering a PhD in anthropology, Oliaei recalls the realities of graduate study: "Choosing a PhD program is always a challenging decision… Getting a PhD requires a long-term commitment, and is an arduously long process." However, Oliaei is grateful for invaluable support he receives from the Anthropology Department at Brandeis: "The friendly environment at Brandeis, however, has been invaluable in moving me through my education."