Brandeis PhD Combined Spirituality with Academics in His Role as Navy Chaplain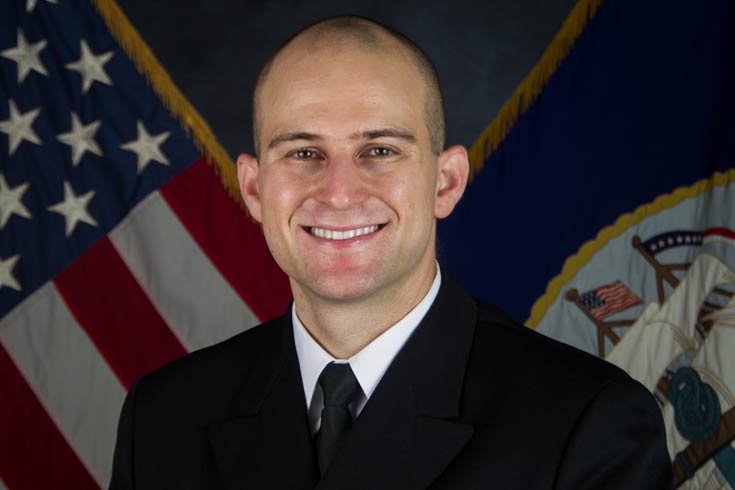 June 1, 2016
Before coming to Brandeis, Jason Olson, PhD'16, knew that he wanted to study Jewish-Christian relations and Zionism. "My education at Brandeis really solidified my commitment to religious pluralism," says Olson. "I've been a Latter-day Saint minister since I was 19 years old. I have always loved ministry and working with those of other faiths." Olson has continued his commitment to supporting people of all faiths in his role as a Navy Chaplain. He is currently stationed in Japan.
During his time at Brigham Young University, where he studied Ancient Near Eastern Studies/Hebrew Bible, Olson became aware of Brandeis because of his professors. "A few of our top professors in Biblical Studies went to Brandeis for their PhDs. They raved about it." As his undergraduate education was coming to a close, Olson also realized that Brandeis has the best program in Israel Studies outside of the State of Israel. But it was a faculty meeting that sealed the deal. "When I met Professor Troen, I knew I would thrive at Brandeis. I have been thrilled with my decision ever since."
Olson's dissertation, "The Impact of the Six-Day War on Jewish-Protestant Relations," is rooted in his fascination with American Protestant views on Israel and Zionism. "I decided to divide up American Protestantism into a few major branches," says Olson. "These branches not only had distinctive approaches to Israel/Palestine, but also to the Cold War. My dissertation really explores the intersection of religious affairs and American foreign policy."  Olson's research revealed that the Six-Day War hardened and intensified Protestant positions on the Israel-Palestine conflict, but did not radically change their views. Liberation theologians were supportive of Third World revolutionary movements and the Palestinian Liberation Organization. Christian Realists, who were anti-utopian and anti-Communist, supported Israel as a Western-style democracy. The New Evangelicals, led by Billy Graham, generally supported Israel but criticized them for anti-missionary legislation and excessive militarism. The fundamentalists, led by Rev. Carl McIntire, supported rollback and total victory over Communism in the Cold War, which led to an uncritical devotion to Israeli policies.
The focus on the Six-Day War was borne out of discussions with professors Troen and Sarna. Dr. Troen introduced Olson to Palestinian Liberation Theology and Mainline Protestant approaches to Zionism and the land of Israel, while Professor Sarna taught him about American religion, Jewish-Christian relations, and institutional American Judaism. "I drew a lot on the work of the American Jewish Committee in interfaith relations in my dissertation," he says. "I sat down with Professor Sarna and said I wanted to research Christian attitudes toward Israel and Palestine. We worked through my ideas and decided on my dissertation topic through that discussion."
As a Navy Chaplain, Olson has continued to grow the understanding and appreciation of Judaism that he developed at Brandeis by serving with a Rabbi at his base. He has two main functions: caring for everyone and ensuring that servicemen of all faiths are able to practice their religion with dignity. Olson works with people of all faiths who are in trouble, whether it be with their command, in their relationships, with drugs and alcohol, or with their faith. The US government does not have a Department of Religious Affairs, so military chaplains fulfill that function as well. "This is a fascinating duty from an intellectual perspective. America is neutral with regard to religion, and so it is my responsibility to ensure that all religious organizations operating in the military environment are treated equally by our government. We have many religious minorities in the military, and I have the responsibility to ensure that they have the resources, space, and leadership to practice their religion."
Now that he is serving in the military, Olson regards his time at Brandeis as a foundation for future success. "For me, it was providential to study at Brandeis," says Olson. "I matured intellectually, spiritually, and ethically under my wise teachers. I'm proud to be a 'Brandeis man' and to have absorbed the great ideals of this institution."
"All I can say is thank you to Brandeis University, the Department of Near Eastern and Judaic Studies, the Schusterman Center for Israel Studies, and my teachers–who sharpened my character and made me the good husband, father, and military leader I am today."