Jeremy Mele, MA'18, Applies His Passion for Philosophy to a Bid for Elected Office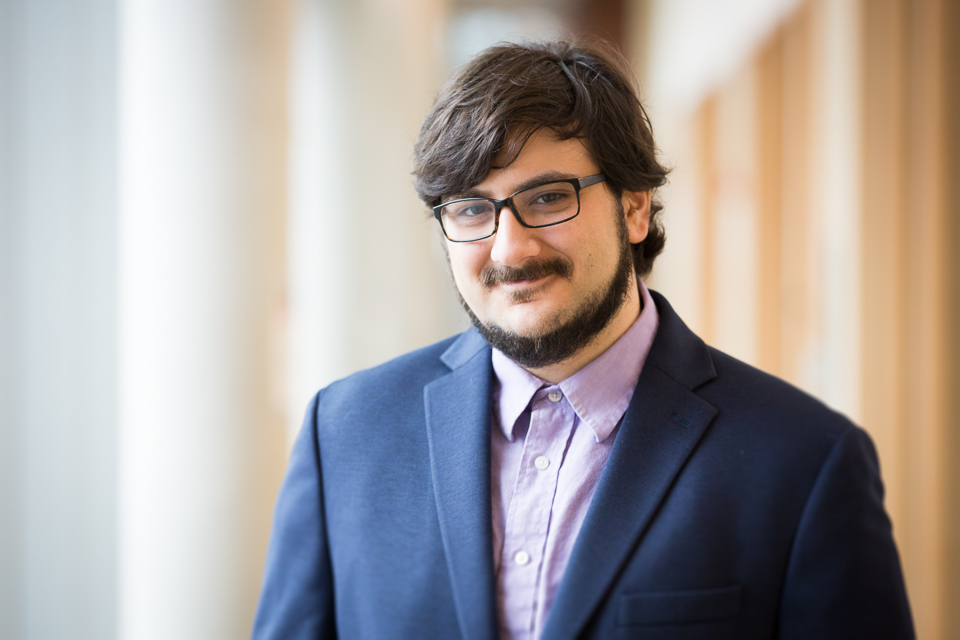 Photo Credit: Simon Goodacre
February 11, 2019
At the end of his senior year of college, Jeremy Mele, MA'18, realized that he wanted to pursue a degree in Philosophy. He had developed an interest after attending several related classes at Salem State, which made him consider some of life's most challenging questions. "I've always been interested in figuring out how things work, and I felt at home in Philosophy, where the goal is to ask questions about how the world works and how it could and should work," he says. Little did he know that his interest in philosophy would eventually lead to a run for local office in his home state of Maine.
After researching several graduate schools, Mele settled on Brandeis. The program enabled him to study philosophy and hone his research skills without committing him to many more years in academia. The reputation of the university and its commitment to social justice made it his top choice.
Mele's experience at Brandeis has been overwhelmingly positive from both academic and social perspectives. He particularly appreciates the peer support in the graduate cohort's weekly Graduate Speaker Series, in which students present papers that they are working on for discussion and feedback. He "very much enjoyed the chance to listen, learn, and discuss" with his fellow graduates when they presented their work.
Mele also found mentors among the program's faculty members. Professor Kate Moran was particularly helpful in keeping him on track throughout his last semester at Brandeis and providing feedback on the various drafts of his thesis, "A Defense for Animals: Philosophical Arguments Against Animal Cruelty." He credits Moran with asking "thought-provoking questions" and "pushing back on my work where it needed to be made stronger." Mele even found support from faculty members outside his program. Bernie Yack of Brandeis' politics department, "whose passion bursts over into his enthusiastic lectures," helped Mele explore his key interests in ethics and political philosophy from an interdisciplinary perspective. All of these factors impacted Mele's thesis, in which he "attempted to provide arguments rooted in philosophy against ubiquitous defenses for the violent abuse of animals that occurs in various industries."
As he was writing his thesis, Mele was greatly inspired by the work of the Australian philosopher and noted animal welfare activist Peter Singer. In fact, it was Singer who inspired Mele to run for Maine's House District 19 in November 2018. His "drowning child" thought experiment caused Mele to reevaluate how he lives life and drew his attention to the terrible things happening around all the time. The thought experiment asks people to consider whether they would avoid jumping in a pond to save a drowning child because if it meant they were going to ruin their clothes and shoes. Of course, most people would choose to save the child in spite of ruining their clothes and shoes. But Singer asks, why then do most people not give the amount of money required for a pair of shoes to organizations that alleviate global poverty and disease, even though that money could save a child's life? "People live in poverty, corporations get away with unfair and exploitative labor practices, and climate change is putting us on the path towards global destruction," says Mele. People tend to not see these things as they are happening, and it can be easy to become complacent. As Singer points out, "just because something is out of sight, that doesn't mean we are justified in putting it out of mind." With this philosophy in mind, Mele ran for office as a way of living out the maxim of doing the most good that one person can do.
In many ways, Mele's background in philosophy has shaped his approach to politics. In his opinion, "elected officials, ideally, should have a strong moral compass." Although Mele was not able to overcome Republican Matthew Harrington in the election, garnering 1,471 votes to Harrington's 1,878, he still feels that the experience was worthwhile. "Running for office was incredibly rewarding. Hearing people's stories at the door, talking with them about the issues they care about, and opening new channels of dialogue were all things that were very powerful."
Mele is unsure about whether he will mount another bid for elected office, but he is eager to share his experience with others. "Democracies thrive when there are new and different voices making themselves heard," he says. "Far too often, local and state races go uncontested, and that is not healthy for a community. If you are thinking about running, do it! There are going to be tough days campaigning, and there are going to be some doors that are rough; some people will not be happy to see a politician, and they might have some, shall we say, choice words for you. For every tough door, though, there is going to be a person or family that you really connect with, who let you into their lives, if only for a few minutes. Running for office, as I say, can be stressful, but it is important work, and, ultimately, very rewarding."