Jill Martin '15 Hopes to Achieve Global Reach as a Social Media Entrepreneur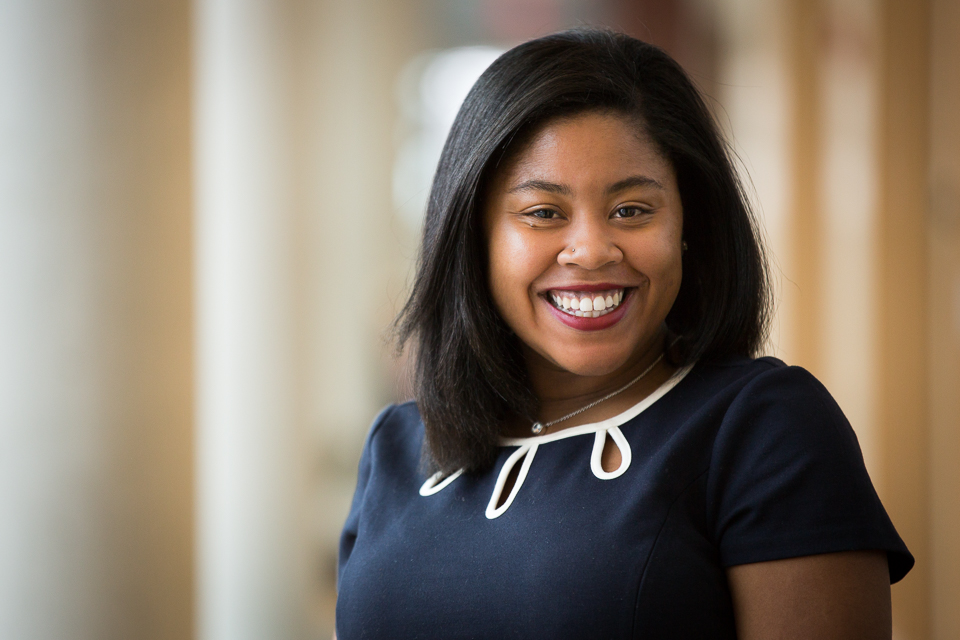 Photo Credit: Simon Goodacre
March 28, 2018
If you can catch her between trips to Cambodia, Singapore and India, you will find social media entrepreneur Jill Martin at Brandeis pursuing a degree in Global Studies. She completed her undergraduate degree in International and Global Studies at Brandeis in 2015. Now, she's back as a Diversity, Excellence and Inclusion Scholar and MA candidate, learning the skills she needs to give her startup social media consulting company worldwide reach.
"I was awarded the Posse Scholarship to attend Brandeis during my senior year of high school," says Martin. "I chose Brandeis because of the unique course offerings, brilliant professors and pledge towards social justice. As a graduate student, I chose Brandeis again because I knew that, if given the chance, I could also accomplish my dreams of being a global business owner and thought leader in digital media, globalization and subaltern studies."
As an undergraduate, Martin interned for Studio Coppre, Fidelity Investments, and Lionbridge Technologies, working in marketing and social media. Upon graduating, one of her managers at Lionbridge recommended that she explore the world and freelance for a while, so Martin moved to New Delhi, India, and decided that she wanted to become an entrepreneur in a rapidly growing international market for social media consultation.
"My research and academic focus has been on understanding the connection between digital media and globalization as they relate to creating new transnational networks, fostering non-traditional career paths and working as modes of protest for African-American women and Dalit women both in the diaspora and on the Indian continent," Martin says. "The Global Studies program has helped me discover new understandings of South Asian cultures and illuminated the roles technology has played in my life as a global entrepreneur and in the lives of subaltern women as we build transnational networks of solidarity and economic opportunity."
Martin first heard of the DEIS program through the Brandeis website and, upon hearing of its commitment to fostering non-traditional academic paths, knew she wanted to apply. "Coming back to Brandeis as a graduate student has been an amazing experience that feels like a second chance," says Martin. "As an undergraduate, I hadn't quite figured out my career path and I was so absorbed in what was happening around me that I didn't take advantage of the amazing opportunities Brandeis offers to students. After taking two years away from Brandeis to travel the world and build my own company, I couldn't think of a better place to be as I continue growing in my academic and professional careers. Now I look at every bulletin board, open every department email and attend as many events as I can."
Martin has found a welcoming and supportive group in her fellow DEIS Scholars, who she says give her an extra boost of confidence and a strong sense of community on campus. "Scholarships like the DEIS program work not only to provide the support students need to achieve their full potential, but also to encourage scholars to pave the way for non-traditional and unique career paths," says Martin.
Martin recommends to students considering entering the Global Studies program that they turn down no opportunities and keep their eyes open. "Leave nothing on the table. Every opportunity you have to apply for grants and fellowships, attend events and meet with faculty, do it! There is no better environment to foster your creativity and excellence. Even more importantly, there is no finer network than the alumni that have passed through Brandeis. Use these networks and opportunities and have the courage to push yourself to new heights."