Kristine Mackin PhD'14 Joins Waltham City Council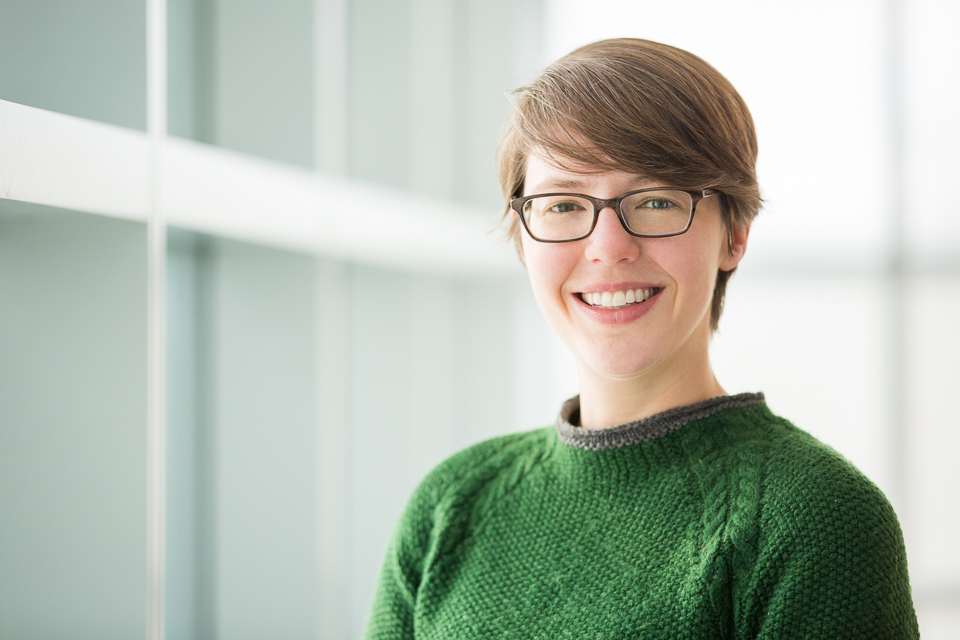 Photo Credit: Simon Goodacre
February 8, 2018
Kristine Mackin PhD'14, a graduate of the Biochemistry department, was elected to the Waltham City Council last year. She came to Brandeis in 2009 and studied the evolution of bacteriorhodopsin. She cites her lab's awareness of local and national politics as a factor in her decision to enter the political realm herself. We caught up with Kristine recently and asked her about her motivation for joining the City Council.
Waltham was recently named the Best Place to Live in Massachusetts by Money Magazine. In your opinion, what makes this city special? 
Waltham has a sign when you drive into town saying "America's History is Our History." What that means to me is that Waltham is the American melting pot; we have blue collar families who've lived here for decades, we have professionals like me who've moved in or come back after college, and we also have a huge and diverse immigrant population with 27% of residents being born overseas. This diversity makes Waltham an exciting and vibrant place to live, and even with our relatively large population, we are building community between all the different neighborhoods and groups.
What inspired you to run for City Council? Did the current political climate have any impact? 
I'd always had a long-term goal of getting into politics somehow, whether it be aiming to work at a government agency like the National Science Foundation, or with an advocacy group or running for office myself. But I always thought I needed to check of more prerequisites before I would be ready. Then in late 2016, along with many others, I was stunned to see the election of someone I thought could never achieve the highest office in the country. I immediately committed to doing more than just talking politics with my friends, and went to the first meeting of a group that eventually grew into Progressive Waltham. I considered running at that point, but it was still someday, maybe within the next few years, until one of the PW organizers called and asked me to run. It was easy to say yes, but like many women I had to be asked.
There has been a lot of talk about the need for more women in politics since the last presidential election. Do you think it is important to have more scientists in politics too? 
Yes, absolutely! If you are a scientist you have all the skills you need to run a campaign and succeed, and you also should have the ability to look objectively at data and draw reasonable conclusions. So much of current policy is shaped by people who are letting their own bias get in the way of listening to experts. Scientists can be biased too, but I think we have more practice setting those prejudices aside and considering new information that will help us achieve our goals. In addition, we need more advocates for the importance of basic research. Innovation is a huge part of the U.S. economy, and a big part of our cultural history. Without investment in the science being done at the academic level driving new discoveries, we run the risk of having an empty pipeline for new discoveries.
Waltham plans to open a new high school. You described this as a major issue facing the city during your campaign. What are your hopes for the new school? 
The School Building Committee has put together a fantastic plan, which is now being used as a model at the state level, and does an excellent job of supporting our educational goals. I am particularly excited about the new STEM cluster, where up-to-date science labs will share common spaces with computer labs and classrooms to allow students to do cross-disciplinary projects in a hands-on setting. In addition, the school curriculum will also include strong humanities programs, vocational programs, and the arts. I'm also excited about a new theater space, with modern sound and light tech for the students to use.
Waltham is currently pursuing Green Community certification, which you supported in your campaign. Why is it important that Waltham receive this certification? 
We are living in a time with enormous environmental change, and although many of the problems we are facing are on a global scale, each individual and community has an impact. The Green Community certification is important for two reasons; first, it secures funding from the state to allow Waltham to reduce negative impacts, and second, it symbolically states that our community understands the importance of being environmentally conscious. I hope that in addition to improving our energy efficiency at the municipal level, securing this status will help encourage all our residents to take action in their own lives.
Do you have any plans to pursue other political positions in the future? 
Right now I'm focused on doing the best job I can for our community, and I have an enormous amount to learn. I hope I will someday have the opportunity to make an impact on national science policy, whether that be through serving in elected office, working at a federal agency, or for an advocacy group.
What advice do you have for other members of the Brandeis community who might be interested in getting involved in their local politics? 
The first and most important thing a citizen can do is remember to vote, especially in primary elections, since in a lot of areas the winner of the primary is the de facto winner of the election. Second, don't feel like you have to do everything, or that you have to pick an issue because other people think it's important. If there are one or two issues that are most important to you, find a way to be involved in those. That might mean finding a local chapter of a political party, or joining a chapter of Progressive Massachusetts (or your state). It could be joining a PTA to advocate for education, or volunteering with an environmental group. If you can start making connections with people who share your passions, you can magnify your impact.