Laura Pasek, MAT'10, Has a Novel Approach to Teaching Electoral Politics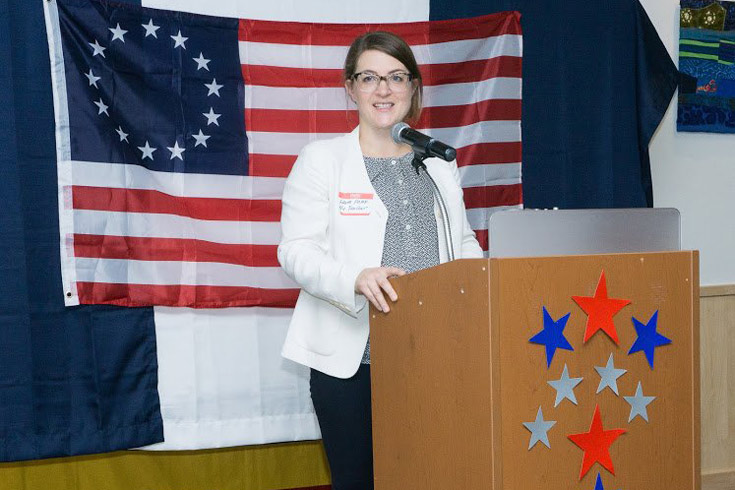 November 8, 2016
There has been a great deal of discussion about the lowering of discourse in the 2016 election cycle—so much in fact that one alumna of the Brandeis DeLeT program has decided to teach her students about electoral politics without referring to Clinton and Trump at all. Her approach has garnered so much attention that the Washington Post and The Atlantic have both published articles about it. 
Laura Pasek, MAT'10, who teaches General Studies at Hebrew Day School in Ann Arbor, Michigan, has assigned her third- and fourth-grade students roles in the election of 1800. Her students are portraying Democratic Republican Thomas Jefferson and Federalist John Adams.
"Asking students to perform roles in of historical electoral debates gives them the opportunity to really dig into the history of the period," says Pasek. "They are not just repeating what their parents think of the 2016 candidates, but taking time to develop their own opinions while listening and collaborating with each other." 
Pasek's chief objective in this project was to help her students learn how to disagree with each other while maintaining a respectful dialogue. "I want my students to get a head start on learning how to have these difficult conversations," she said. "I hope it will help them become more effective citizens when they are grown up!"
Read more about the project and learn how the students stepped up in "A Lesson in Democracy for 9-Year-Olds" in The Atlantic and "This school is holding a presidential election — but Trump and Clinton aren't on the ballot" in the Washington Post.