Fulbright Scholar Prepares for Journey to Romania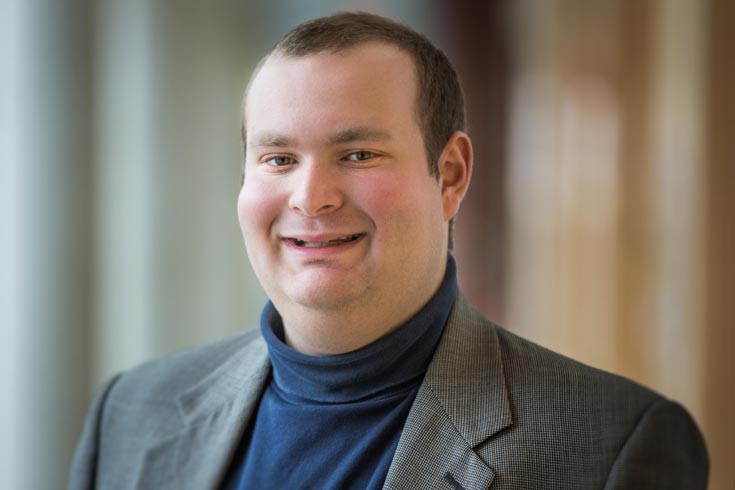 March 22, 2017
As a high schooler in Weston, Massachusetts, master's candidate Matthew Chernick, BA'16, traveled to Uganda as part of the first Weston-Uganda Exchange delegation. While he was overseas, Matthew volunteered with educators, acting as a teaching assistant and helping with outreach. His interest in educating youth persisted, and in October, Matthew will travel to Romania as an English Teaching Assistant for the Fulbright U.S. Students program. His decision to apply for the program was strongly influenced by the Fulbright's purpose of promoting international goodwill through educational exchange.
As Matthew researched countries for his Fulbright application, he realized that Romania would enable him to pursue the topics that interested him as a master's candidate in the Master of Arts in Comparative Humanities (MACH) program. "The nation is a location that unites my interests in Classics, European Cultural Studies, and Film Studies through its history and culture," he says. Romania was once Dacia, the farthest outskirts of the Roman Empire. As a result of this history, Romanian developed as a romance language that is very similar to Latin. "Given my background, I felt working under these conditions would offer a better chance at cultural immersion and communication," he says.
Matthew graduated magna cum laude in 2016 from Brandeis with a triple major in Film, Television, and Interactive Media; European Cultural Studies; and Classical Studies. With such a broad array of academic interests, Matthew was intrigued by the interdisciplinary focus of the MACH program, and he decided to apply in his junior year.
"MACH allows students to chart their own path, explore and expand their interests within an interdisciplinary and cross-cultural context," says Matthew. "While rooting my work in humanistic inquiry, MACH allows me to develop my own research and scholarly methodology." He was also attracted to the small size of the program, with its dedicated graduate level seminars, and salon style events that create a close community in the department.
For his master's degree, Matthew focused on "Film Studies with an interest in the early cinema and its relationship to opera, mass culture, Gesamtkunstwerk, the history of religion, and psycho-sociological theories." Matthew discovered these topics as an undergraduate — topics that he "wished to investigate further and in more advanced ways" as a MACH student.
As Matthew prepares for his time abroad, he is reflecting on his time as a graduate student. "MACH has been an outstanding experience," he says. "If you hold diverse, but intersecting, academic interests and want to explore how they can be developed, then MACH is right for you. I encourage any interested student to strongly consider the program."