PhD Candidate Hopes His Journey to Brandeis Will Be An Inspiration to Others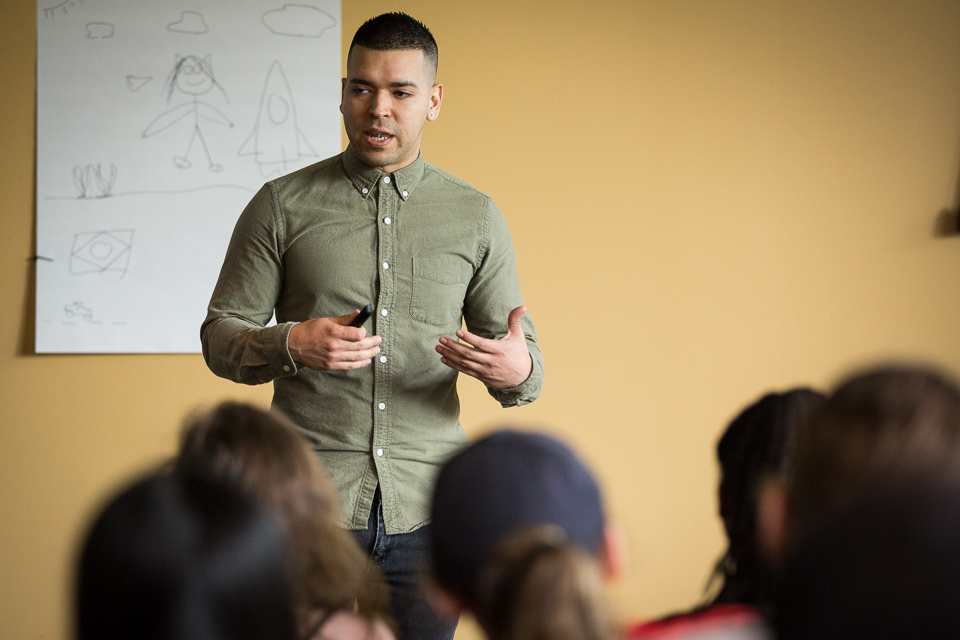 Photo Credit: Simon Goodacre
June 9, 2017
Although PhD candidate Raul Ramos spends most of his days studying neural circuit stability, there was a time when he did not seem destined for a life filled with microscopes and lab coats. "My journey to Brandeis is literally the struggle of my life," he says.
Ramos grew up in Texas. "I was always headstrong," he says. "When I was a teenager, that stubborn and defiant attitude lead to a lot of trouble." Ramos had several run-ins with the law and was eventually expelled from the local public school system. Many people in his community had determined he was a lost cause until a small private Christian academy decided to take a chance on him. It was during this time that his outlook started to change. "I learned that actions had consequences, and that I had to take responsibility," he says. "I was still headstrong, but I had shifted my perspective towards building a future for myself."
With a high school diploma and an entirely new attitude toward learning, Ramos threw himself into his undergraduate studies. Although his school had helped him turn his life around, he did not receive an extensive STEM education there. Hoping to pursue a degree in psychology, he began with a class in "Developmental Math," a course for students with below-average mathematical skills. After a poor start in the class, he ended up passing with one of the highest grades in the class and quickly realized that he wanted to expand his horizons beyond psychology. "I beat my own path as an undergraduate," he says, "following whatever caught my attention."
Ramos took a mix of social, physical, and life science classes. He also began participating in medical and research internships. "I participated as a research intern in several studies spanning the psychology of violence, epidemiology of zoonotic diseases, microbiology of anaerobic bacteria, the genetics of locomotion and sleep, and the organic chemistry of sugar signaling molecules." When graduation arrived, he realized, "I wanted to do something that required me to draw on the breadth of scientific skills and knowledge that I had acquired," he says. "Neuroscience is a field of science that requires an understanding of physics, chemistry, biology, engineering, and computer science." After a summer spent in a neuroscience lab at Brandeis—an experience funded by the National Science Foundation's Research Experience for Undergraduates program—he knew where he wanted to be.
At Brandeis, Ramos conducts interdisciplinary research in both Gina Turrigiano and Don Katz's laboratories. "We are attempting to connect the dots between changes at the cellular/molecular level and changes in behavior," he says. "Specifically, I am disrupting homeostatic synaptic plasticity at the cellular level using virus mediated delivery of a protein known to be important for the expression of synaptic scaling. I am injecting this virus into gustatory cortex and examining how it changes a rat's performance on a behavioral paradigm known as conditioned taste aversion." Research in this area has already revealed insights into epilepsy, autism spectrum disorders, and Alzheimer's disease. Ramos is very grateful for the "amazing friends, colleagues and mentors" that he has found at Brandeis. "It has been the most challenging, scary, and exciting thing I have ever done in my life," he says. "I feel incredibly fortunate to be in the neuroscience program at Brandeis. It is a very special science family."
A little while ago, Ramos volunteered for AAAS: Science Days in the Class Room, a program inspired by a series of "Science Pizza Talks" arranged by Anique Olivier-Mason PhD'12, Director of Education, Outreach and Diversity at the Brandeis Materials Research Science and Engineering Center. The program puts Brandeis PhD candidates in the sciences in front of local Waltham high school students. "I enjoy giving talks because I know that I am actively making a better future by inspiring kids to pursue science careers," says Ramos. Having "crawled out of a hole dug by bad decisions that not a lot of kids make it out of," he hopes that "they are able to see themselves and their struggles in my story."
Ramos is not entirely sure what his career path will be after graduation, but one thing he knows is that he wants to continue inspiring students to pursue careers in science. "I honestly believe anyone, regardless of their background, can find success in science," he says, "and that's a message I want to pass on."