Studio Art Student's Work Celebrates Science and Knowledge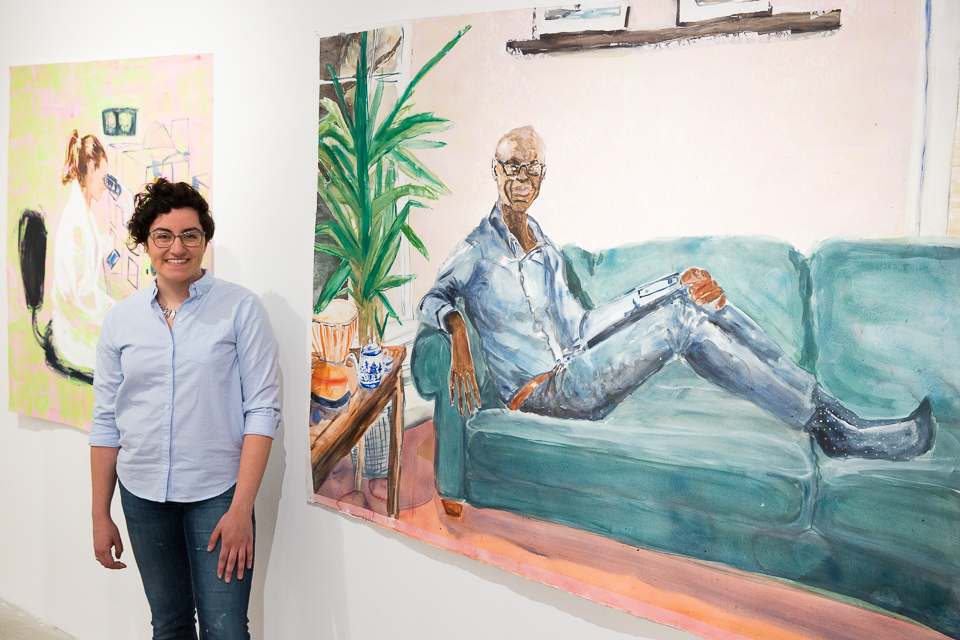 Photo Credit: Simon Goodacre
March 30, 2019
Abeer Pamuk | Graduate School of Arts and SciencesHaving a background in liberal arts, Sarah Valente was searching for an MFA program with strong mentorship opportunities and guidance. The postbaccalaureate program in studio art at Brandeis stood out because of its combination of interdisciplinary approaches, which offered her the opportunity to bridge her liberal arts background with the contemporary art world, and the close relationships that students build with faculty.
From the first time she set up a studio on campus, Valente was surrounded by faculty members who are eager to visit the space and provide feedback. "I feel deeply grateful for the Fine Arts Department at Brandeis," she says. "I have found a mentor in the faculty as a whole during group critiques and individually during studio visits." The faculty push students through creative blocks to enable them to take their art to "a whole new level."
The Brandeis program welcomes visiting artists to offer an outside perspective. These artists are in different stages of their careers, and they reveal various paths that students can consider taking after graduation. Two artists had a particular impact on Valente: Liz Cohen, who "inspired confidence in me to continue working with the community as part of my creative practice," and visiting critic Tom McGrath, who "was hugely impactful" in helping her learn how to communicate her work.
The Studio Art program also takes students on field trips, headed by the program's director, Ariel Frieberg. They feature excursions to many cities including New York and Boston and provide an opportunity for students to visit galleries, artist studios, and museum exhibitions. These trips are also a good time for students to bond with the rest of their cohort while discovering what contemporary artists are up to. "With Boston so close by we have been able to attend some great artist talks and museum exhibits," says Valente. "I find these trips energizing and come back to my studio refueled by what I experienced."
Valente is planning a series of portraits of scientists for her spring exhibition. She majored in chemistry as an undergraduate, so she has a deep appreciation for science and the scientific community. She surveyed some of her old science professors and friends for the project. In these paintings, she aims "to honor them as individuals and their accomplishments while celebrating underrepresented identities in the STEM fields."
During her preparation for the scientist project, Valente found herself fascinated by the bookshelves her friends had curated, which inspired her project for the annual Festival of the Arts. She is quilting a large-scale bookshelf installation using assorted fabrics with screen printed images of books. "An important part of the process has been collecting images of Brandesian bookshelves from around campus," she says. Valente hopes that the work will encourage individuals to reflect on their educational journey and how they fit into a larger informed, educated, and consequently empowered community. "This festival is a strong indication of Brandeis' strong support of the arts," she says.
After completing the program, Valente plans on continuing to grow her creative practice in the Boston area and is considering applying to an MFA program. "I feel more confident about applying with this experience and with the support of my Brandeis faculty mentors," she says.