Victoria Cheah Applies Her Unique Approach to Orchestration: "Plain but Lush, a Little Weird, and Informed by Electronic Timbres."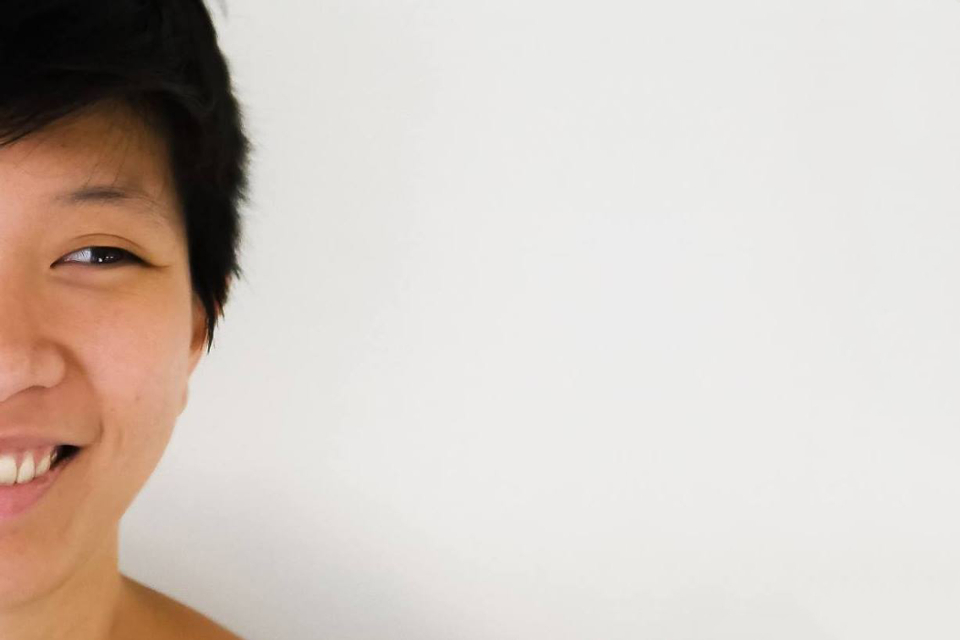 Aug. 19, 2021
Victoria Cheah PhD'20 has always felt passionate about music. Over the course of her life, the emotional impact that came from listening to and composing music has had a profound effect on her. "For me, music can sometimes get the closest to the feeling I get from real life experiences that are deeply touching," she says. "Working with music helps me understand and process experiences in life, and vice versa."
After completing her undergraduate degree at CUNY Hunter College, Cheah decided to apply directly to doctoral programs. She hoped for the financial support that a doctoral program would provide, giving her the flexibility and independence to learn more about Western classical contemporary composition as well as continue creating her own unique works. After some deliberation, Cheah felt that Brandeis' Composition and Theory Program would not only provide her the financial support, but also the right location, atmosphere, and expertise to help her pursue her goals. "Brandeis' program gave me the resources I needed," she says, including "lasting connections with mentors and colleagues" from Brandeis and the Boston area.
Recently, the training and resources paid off as Cheah received a grant from the New Music USA Creator Development Fund. As someone who has spent many years behind the scenes in stage and production management, administration, and other service capacities, being recognized as a composer through this grant is especially meaningful to Cheah. "As my first major grant, receiving a New Music USA Creator Development Fund grant makes me feel acknowledged by the institutional structure of our field," she says.
Cheah plans to put this grant to good use. Along with paying for living expenses, the grant will help fund a piece she is working on in collaboration with the New York-based quartet Yarn/Wire. "We began talking about the piece before the pandemic, and the process took its time, especially given the circumstances," she recalls. "Yarn/Wire and I workshopped the piece quite a bit over the rehearsal period, which was a really nice first rehearsal experience after [the COVID-19] lockdown here in New York."
For her project entitled "Ocean into wire," Cheah will experiment with sound using her own unique style. "I knew that I wanted to explore noise in this piece, and also continue working on my approach to orchestration," an approach Cheah refers to as "plain but lush, a little weird, and informed by electronic timbres." Though slowed by the COVID-19 pandemic, Cheah hopes to perform "Ocean into wire" soon. "We are aiming for a live premiere whenever that's comfortably possible," she says.
"Ocean into wire" is not the only project keeping Cheah busy. Like many composers, she is involved in many endeavors at various stages of completion. For a few years now, Cheah has been working on and off on a noise album for Flag Day Recordings, which "will involve lots of sine tones." Additionally, she recently finished a 40 minute piece for the violin/viola duo andPlay called "A butterfly on your shoulder into years and years to come" where Cheah explores "noise" from string instruments, and "the gradient between pitch and noise." Cheah is also headed to the University of Baltimore Maryland County as a guest composer with Cantata Profana in October where she will present an artist talk, give lessons to students, and attend a performance of her 2017 piece called "We drank wine from the bottle on a rooftop next to god."
Cheah is grateful for the training she received from the Composition and Theory Program. Through the encouragement, guidance and mentorship of her dissertation advisors, David Rakowski and Eric Chasalow—as well as a host of other faculty mentors both in and outside of the program—Cheah enjoyed a supportive community dedicated to helping her succeed. This includes Deborah Rosenstein, who Cheah says was "an important mentor for me while I worked for her in the Brandeis concert office." Yet, what Cheah appreciates most from her experience at Brandeis was the opportunity to be a mentor herself. "Music is a very social discipline," she says. "[My favorite part of the program was] teaching and working with the Brandeis undergrads…I got to know students and see them grow and change over the years."
For students who are considering pursuing a degree in Composition and Theory, Cheah advises casting a wide net. "Hang around and observe as many different aspects of the field as you can in order to better understand what you're getting into," she says. "While there's a lot to learn on a technical level, it's important not to separate music from the rest of the world, or from social or political contexts. It means something to choose to engage with the Western classical tradition in this day and age, and I think that pursuing an advanced degree in this field comes with a responsibility to push for change and make well-considered choices both in composition and in other professional activities."