Studio Art Program Provides Zoila Coc-Chang with the Tools to Pursue an MFA at the Yale School of Art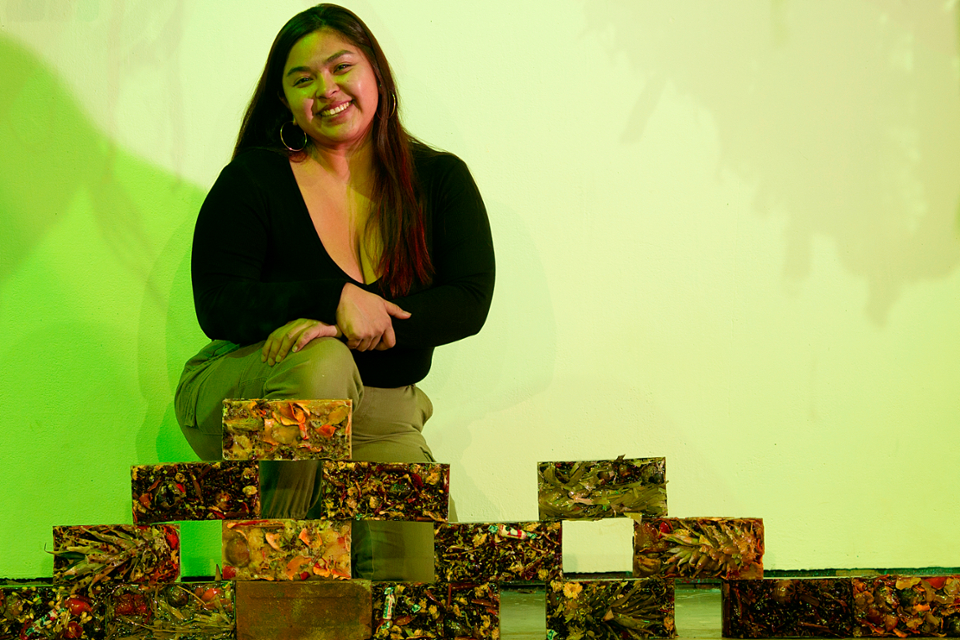 March 19, 2021
For Zoila Coc-Chang, her art has always felt like an extension of herself, allowing her to experience a versatility that she has not found anywhere else. She relates: "[Art] feels natural, but with an unexpected surprise at every corner."  
After her undergraduate experience in the Fine Arts department at Brandeis, Coc-Chang was a little apprehensive about jumping straight into graduate studies. Fortunately for her, Brandeis' post-baccalaureate program in Studio Art provided her with the opportunity to increase her skills and boost her portfolio: "I knew I wasn't ready to go straight into graduate school but wanted to upkeep a rigorous studio practice where I could work, learn, and experiment. Brandeis' post-baccalaureate was what made most sense for me." 
During her time at Brandeis, the post-baccalaureate program in Studio Arts provided Coc-Chang with a place where she could continue her education, gain experience through teaching assistantships, and have a supportive community to help her through the MFA application process. But what Coc-Chang likes most about the program is its close-knit community: "I like that I've been surrounded by people who are talented and as driven as me and I have professors who are very present in my work and process. This practice is really about learning from/through others and that's what I enjoy here."
Part of this sense of community stems from the mentorship of the Fine Arts department faculty. Having completed her undergraduate degree at Brandeis, Coc-Chang valued having esteemed professional artists who provided constant mentorship and feedback while contributing to the community through their own projects. She explains: "The faculty is inspiring because they're teaching while working on their own artistic careers. They're always willing to help in whatever way they can and have your best interests in mind."
Coc-Chang has also found that Brandeis's Rose Art Museum is an excellent resource for post-baccalaureate students. The museum has enabled students to appreciate more than 8,000 collection objects. In Coc-Chang's case, the Rose Art Museum has allowed her to "encounter works that feed to my practice in the most unexpected ways." A highlight was Howardena Pindell's exhibition What Remains to be Seen, which focused on Pindell's five-decades-long career exploring the intersection of art and activism. "[It] was truly inspirational and breathtaking in every sense of the word," Coc-Chang recalls. "[Pindell is] a resilient artist that delved into color and texture in a way that was exciting [while] addressing issues of racism, feminism, and more which the ramifications of are still felt today." Rose Art Museum exhibitions such as these have provided Coc-Chang, as well as her classmates, with rewarding and enlightening experiences.
Another major benefit that Coc-Chang sees from her experience in the post-baccalaureate program is the visiting artists series. She is convinced that having different artists with different experiences and expertise has been vital to her practice: "I am a firm believer that versatility and an open-mind will get you far in life and visiting artists have given me insight to further accomplish the work I started years ago." Not only has this contributed to her success as an artist, but Coc-Chang has also had the opportunity to meet artists whom she has great admiration for, such as Didier William.
In addition to Coc-Chang benefiting from outside artists coming into Brandeis, the post-baccalaureate program has also provided opportunities for her to travel to the artists. Through fully-funded field trips to locations like Boston, Rhode Island and New York, Coc-Chang has enjoyed meeting with established artists, viewing galleries, visiting artists' studios, and touring museums. The highlight of these experiences was when she was able to visit the studio of Leslie Wayne, her favorite of these field trips.
As it has turned out, Coc-Chang's decision to pursue and earn a post-baccalaureate degree in Studio Art at Brandeis has given her the experience and training that she needed to continue her scholastic journey. Currently, Coc-Chang is finishing her second semester at the Yale School of Art as a Master of Fine Arts candidate in Painting. She hopes that this will enable her to teach art in the public school system while maintaining a dedicated studio practice that "continues to give life to the work that I do in hopes that it reaches others to inspire them too."
To students who might consider pursuing studio art, Coc-Chang advises: "stay true to who you are and what you want to communicate with the world and the rest will follow." Though she recognizes that the journey of pursuing art is not an easy one, Coc-Chang encourages: "Make sure you surround yourself with people and environments/things that inspire you always because it can make all the difference.